Archive: November, 2009
Michael Klein, Philly.com
If The Next Iron Chef experience has taught Jose Garces one thing, it's a new appreciation of Japanese cuisine.
Garces and fellow contestants spent 10 days there this spring to shoot several episodes of the Food Network cooking battle, whose finale will be Sunday night (11/22).
Garces doesn't serve Japanese-anything at his stable of restaurants (Amada, Tinto, Chifa, Distrito, Village Whiskey, Mercat a la Planxa), but he says he was blown away by takoyaki.
Michael Klein, Philly.com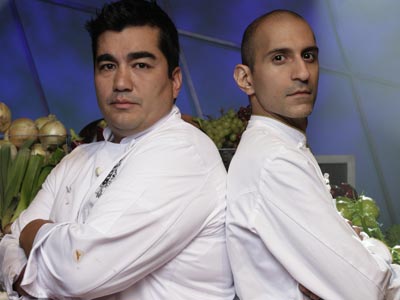 Last night, Philly chef Jose Garces survived a Japanese challenge on The Next Iron Chef, which puts him and NY's Jehangir Mehta into a one-on-one battle at Kitchen Stadium that will be shown Sunday (11/22) at 9 p.m. on Food Network.
The prize: The exposure of being an Iron Chef.
Hmm. New York vs. Philly.
Michael Klein, Philly.com
Based on a tour this afternoon, construction of Michael Schulson's pan-Asian restaurant, Sampan, is progressing nicely at 122 S. 13th St., just off Sansom.
He's expecting work to finish on Nov. 25, and an opening closer to Dec. 15.
Among the wows will be color-changing graphic walls on both sides, as well as an exhibition kitchen with counter seating.
Michael Klein, Philly.com
Today-- Friday the 13th -- is the appropriate opening day for Lucky 7 Tavern, Jud Bertholf's redo of Aspen in Fairmount. Further, he's scheduled to unlock the door at 25th and Aspen at 7 p.m. Here's a peek at chef Sean Pashley's menu, which he cautions is a work in progress. Bertholf is proudest of that Lucky 7 burger, which is topped with scrapple, pork roll, provolone, Cheddar and a fried egg.
Kitchen 233 in Westmont closed last weekend and is being presto-changoed into Treno Pizza Bar. Same owners, PJ Whelihan's. The idea is to keep the typical check (pizza, pasta, glass of wine) at $25. It opens Monday (11/16) and is open nightly. Chef is Todd Fuller, last at Tangerine in Old City.
The restaurant just off the Schuylkill at Route 23 and Moorehead Avenue in West Conshohocken that's been Chiquita Loco and Bergey's and Big Fish and ... will become two restaurants by next weekend. One side will be known as M Bar and the other will be Theresa's, an Italian BYOB. Theresa's will provide M Bar's food.
Michael Klein, Philly.com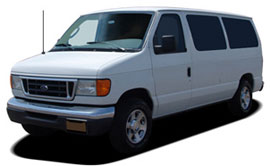 For 99.5 percent of the rock bands on tour, life on the road is not easy:
Economic realities dictate it. Unless you're an arena-filler, one-night-stand budgets seldom accommodate tour buses, which can cost $1,000 a day. The vehicle of choice is the 15-passenger Ford E-150 van, driven by a road manager and occasionally pulling a trailer, which is parked outside of lower-cost hotels.
Where thieves lie in wait. Those vans sitting in surface lots are easy marks.
Michael Klein, Philly.com
Burgers, burgers everywhere, and Jeff Jolles and his son Michael, who own Bain's Deli, are getting into the game with Burger Maestro.
Next week, they'll expand their footprint in the Bellevue's subterranean food court.
They have an in-house grinding machine, french fry cutter, and char broiler.
Michael Klein, Philly.com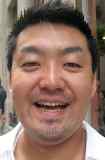 Hiroyuki "Zama" Tanaka is several weeks from opening Zama, his first Japanese restaurant, just north of Rittenhouse Square, where Loie used to be (128 S. 19th St., 215-568-1027).
Tanaka came to Philly from Japan about 20 years ago to study at Temple University, and ended up working at such restaurants as Pod and Morimoto.
He's retained Jun Aizaki of Crème Design Collective, who's created Amada and Distrito, to do the 80-seater, which will have an eight-seat sushi bar and a 14-seat private room.
Michael Klein, Philly.com
Sushikazu -- which won all kinds of praise among Blue Bell's sushi cognescenti -- closed recently.
But a popular Horsham sushi-ist is moving into the space at Routes 73 and 202:
Jay Park, who owns Yama in Horsham Square Shopping Center, near the Naval Air Station. Park worked from the mid-1980s through 1993 at the late Windows on the World in the World Trade Center in New York.