Archive: October, 2008
Michael Klein, Philly.com
Philly may be getting a branch of Max Brenner, Chocolate by the Bald Man -- a chocolate-themed restaurant chain -- at 212 S. 15th St. (15th Street just south of Walnut), in the storefront that last was West Coast Video. The deal was speculated this morning on the blog Foobooz, based on a liquor application posted Thursday on the front door.

My real estate source confirms that the "Max Brenner" on the liquor app and the multinational company (with units in NYC, Australia, the Philippines, Singapore and Israel) are one and the same, but cautions that it's not a fully signed deal. The building owner must apply for change-of-use permitting, a process that could take 60 days.

A Max Brenner rep told me the plan is for a retail store/restaurant, to open in late spring or early summer 2009.
Michael Klein, Philly.com
Iron Hill was the big medal-winner among locals over the weekend at the Great American Beer Festival in Denver. Philly's Lew Bryson won the Michael Jackson Journalism Award for trade/specialty media.

The locally connected winners and their medals:




Michael Klein, Philly.com
That was former Fox29 sports director Don Tollefson doing the sideline reporting from Sunday's Eagles-49ers game in San Francisco. Tollefson, let go this summer, told me that he got the call from Fox Sports in L.A. on Thursday. His wife, Marilyn, joined him and they plan to drive to L.A. to see today's Phils-Dodgers game. Tollefson, whose shoulder was banged up pretty badly in a car crash in March, said he was aching Sunday night after the game and the Eagles training staff helped pack him up with ice. Tollefson said he expects to do another game for Fox in a couple of weeks.
Meteorologist Rob Guarino has landed the morning weather job at the Hearst-owned ABC affiliate in Albuquerque, N.M. Guarino told me that this will be more than a mere weather job, as he will also be developing Web stuff for the station as well as for Hearst corporate. "This is where TV is going and this is where they will also use me beyond just TV," he said. He'll start Oct. 27, as I wrote in Sunday's column.
Michael Klein, Philly.com
Lynn Rinaldi of South Philly's Paradiso has gone down the block to open her next restaurant, Izumi, a Japanese BYOB, at the intersection of 11th, Tasker and Passyunk.

Izumi (1601 E. Passyunk Ave., 215-271-1222), which means "fountain" (as in, the one across the street), opened Thursday. There's a modern look, with dark, wooden tables and chairs, fuchsia linens and a really sharp sushi bar underlit with changing LEDs that cast a glow onto the bar stools. The windows along Passyunk and Tasker were wide open during tonight's great weather.

Menu includes a raft of sushi/sashami/maki; small plates -- such as seared scallop with a wasabi crepe, buffalo mozzarella and cashew herb butter ($10), okonomyaki (Japanese pizza, $10) and vegetable tempura ($8); and large plates (such as sushi and sashimi samplers for $15, $25 and $50, soy-glazed baby backs for $18 and pan-seared chicken teriyaki for $18).
Michael Klein, Philly.com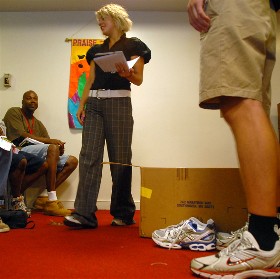 Center City's Anne Mahlum gets a shout-out this morning from Anderson Cooper on CNN's American Morning as she's been selected as one of 10 "CNN Heroes" -- everyday people from around the world who have accomplished extraordinary deeds in various fields.
Mahlum heads the nonprofit Back on My Feet, which, according to its website, "promotes the self-sufficiency of Philadelphia's homeless population by engaging them in running as a means to build confidence, strength and self-esteem."
Here's
an Inquirer story by Dan Rubin from last fall.
CNN got nearly 4,000 submissions from 75 countries for this.
Each honoree will get $25,000, and the public will be able to vote for the "CNN Hero of the Year" –- which will carry a $100,000 grant.
The award show will be taped at Hollywood's Kodak Theatre (home of the Oscars) on Nov. 22. It will be shown on CNN Thanksgiving night at 9 p.m.
Michael Klein, Philly.com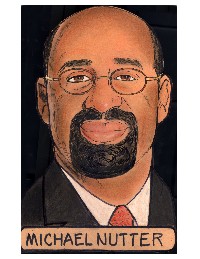 Michael Nutter has been immortalized in caricature, and the mayor's smiling face will go on the wall of the Center City Palm restaurant on Thursday.
Michael Klein, Philly.com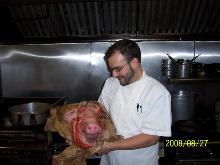 Tyler Black, chef at the new Mi Lah Vegetarian Restaurant in Center City, is a Culinary Institute of America graduate, and as such, has a wide-ranging kitchen background.
As a photo on his public MySpace page suggests (squeals?), Chef Black goes whole-hog into his work -- wherever he cooks.
Wilbur here is not on his menu at Mi Lah.
Michael Klein, Philly.com
John Mariani, whose list of best new restaurants for Esquire mag is the fall classic for foodies, has picked two Philadelphia restaurants for the first time: Zahav, Michael Solomonov and Steve Cook's refined Israeli spot at Society Hill Towers followed on a blog here, and Distrito, the lively Mexican in University City from Jose Garces.
Garces made it a two-fer. Mariani also named Garces' new Chicago restaurant Mercat a la Planxa to the list.
Rae was on Mariani's list last year. Bliss (under chef Francesco Martorella) was on it in 2004, and Lacroix at the Rittenhouse (under Jean-Marie Lacroix) was on it in 2003. That year, Lacroix also was Mariani's restaurant of the year.