Archive: January, 2010
Michael Klein, Philly.com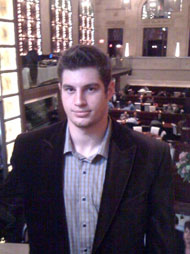 Union Trust, the steakhouse at 717 Chestnut St., is closed for lunch today because the Eagles have booked it for their annual postseason luncheon to honor sponsors.
The team got Stewart Bradley, Brent Celek, Omar Gaither, and Sheldon Brown (who never misses a game) to come out.
Michael Klein, Philly.com
The Center City District gathers 100-plus restaurants twice a year for Center City District Restaurant Week, this year running through Friday and again from Jan. 24 to 29.
Deal includes $35 for a three-course dinner or $20 for a three-course lunch, and are intended to represent a value over the regular price.
Of course, restaurants that lie outside of the zone feel slighted/left out, and stage their own specials.
Michael Klein, Philly.com
Mario Batali was in town with his wife and kids over the weekend, as my tipsters have been Babbo-ling.
Not surprisingly, his restaurant destinations fit squarely into his business model.
Saturday, the chef/restaurateur/media personality visited Amìs, Marc Vetri's Roman trattoria. Sunday, he joined a large party over pies and apps at Stephen Starr's Pizzeria Stella.
Michael Klein, Philly.com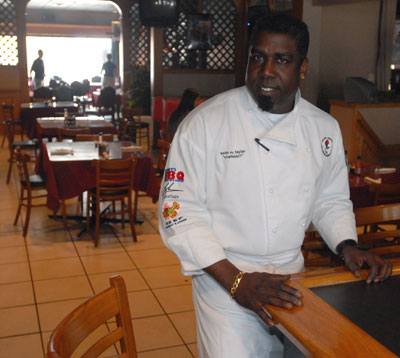 Though the website says otherwise, Keith Taylor tells me that he is out of Holy Smoke, 473 Leverington Ave. in Roxborough.
Last spring, the BBQ specialist set up shop in the former neighborhood bar, Farley's.
Taylor says his now-former partner is "in love with the Pabst Blue Ribbon crowd and college-age kids [who are] more interested in drinking than dining. We have parted ways amicably and I have retained and retooled the Holy Smoke concept."
Michael Klein, Philly.com
Updated post:
On the eve of the opening of Daniel Stern's R2L in Two Liberty Place comes word that Alex Ureña is out as chef de cuisine.
He's landed at Devil's Den, a gastropub at 11th and Ellsworth Streets, and he's figuring out a new menu. Meanwhile, DD chef Allen Dann gave two weeks' notice. Sligo, a pub in Media, confirms that he will start this weekend.
Michael Klein, Philly.com
Starr Restaurants will donate 10 percent of gross sales from all meals purchased on Monday, January 25 to the Clinton Bush Haiti Fund (CBHF).
Philadelphia's restaurants are Alma de Cuba; Buddakan; the Continental; Continental Mid-town; El Vez; Jones; Morimoto; Pod; Butcher & Singer; Barclay Prime; Parc; and Pizzeria Stella.
In New York City, it's Buddakan and Morimoto.
Michael Klein, Philly.com
To those who mourned the loss of Zot in Society Hill, there's hope and hops.
Bruce Nichols of Museum Catering, a founder of Philly Beer Week, is taking over the place (122 Lombard St.) with a beer-focused restaurant/bar called The Headhouse. (Pun! It's off Head House Square.)
He's looking at early March, in a partnership with landlord Madame Saito Ai.
Michael Klein, Philly.com
Argentina-born chef Lucas Manteca, who has a wide culinary resume from Costa Rica to the Ebbitt Room at the Virginia Hotel in Cape May and his own places (Sea Salt and Quahog's Seafood Shack in Stone Harbor), is coming to Philly with a BYOB.
He's going into 617 S. Third St., the spot in Queen Village that most recently was Gayle and previously was Azafran.
Name: Hoof & Fin.