Archive: January, 2010
Michael Klein, Philly.com
Lady Gaga won't be in Atlantic City Saturday night.
Her show at the Borgata in Atlantic City is off and she won't host a benefit after she got sick just before her show last night in West Lafayette, Ind.
The Borgata says her doc diagnosed her with dehydration and exhaustion and urged her to rest. The Borgata date was one of three canceled shows. (Borgata will give refunds; questions: 1-866-900-4TIX.)
Michael Klein, Philly.com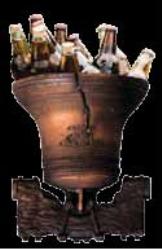 Maxim mag, which you read for the articles anyway, drops this bombshell in February's issue in a spread about beer:
"Sure, Portland, Oregon, still produces great suds (Widmer, Hopworks) — and, yes, you P-town natives are so cool because you all can telemark ski — but the crown of Best Beer Town has been swiped from you guys and smuggled back east to the scrappy and beer-soaked City of Brotherly Love."
The story gives a shout-out to Philly Beer Week and provides a history lesson ("The Constitution was hatched while dudes in wigs knocked back beer in Philadelphia taverns. Ben Franklin says so: 'Beer is living proof that God loves us and wants to see us happy.'").
Michael Klein, Philly.com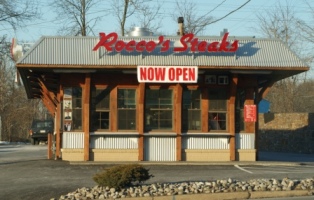 And to think all these years, you've been driving to a cheesesteak stand, getting out, and walking up to a window.
Rocco Desiderio has opened Rocco's Steaks in the former Tradewinds Drive Thru Coffee shack at 233 W. Lancaster Ave. in Paoli, down the pike from his former restaurant, Ristorante Verona in Malvern.
No need to get out of the car. Desiderio, who customarily dresses for work in an apron-topped designer suit, works the grill by the window.
Michael Klein, Philly.com
What kind of brave soul would open a year-round farmer's market in Philadelphia in the dead of winter?
A forward-thinking one. Just ask Kyle Perry, who's running one for developer Bart Blatstein at the Piazza at Schmidts in Northern Liberties, starting tomorrow.
"This is when we can get the better vendors," said Perry, who hopes to keep as many as he can once the weather breaks. The piazza's configuration of buildings minimizes westerly winds, and the vendors will bring their own plug-in space heaters.
Michael Klein, Philly.com
The James Beard House, the culinary mecca in New York, is really packing its schedule with Philadelphians.
Earlier this week, I told you about Le Bec-Fin's Nicholas Elmi and Georges Perrier going up for a Feb. 24 dinner.
Here are more:
Michael Klein, Philly.com
Vintage Irving, a wine bar in Union Square in New York, is Philly-bound, and is close to signing a lease at the Shops at Liberty Place.
Reps of both the restaurant and the shops confirmed the talks to me.
The space is on the second level, in a spot that was the Dale & Thomas popcorn store.
Michael Klein, Philly.com
The former Sal's and Frangelica on 12th St. (200 S. 12th St., at Chancellor Street -- see below) will become a sports bar. But, as co-owner Jeff Sotland tells me, with elevated comfort food ("not pub grub") and atmosphere that will be aimed at everyone in the neighborhood. They'll do the sports-bar theme in the basement and first floor, and turn the upper level into a lounge with low seating and cocktail tables. He hopes to open the second week of March. Sotland, brother Steve and general manager Chris Lyons also run Mikey's American Grill, a sports bar at Drexel. Name will be Tabu.
Details are scarce, but the crew from Phoenixville's La Taverna/Crazy Cactus is behind Matador, a Spanish restaurant coming to 110 N. Wayne Ave. in downtown Wayne, the former Freehouse and Mims Food + Drink.
View Larger Map
Michael Klein, Philly.com
South Philly raised sports talker Tony Bruno will add a local midday show on 97.5 the Fanatic, which also airs his syndicated nighttime show.
Starting Monday, he'll be joined by Harry Mayes from noon to 2 p.m. weekdays. He will do crosstalk with Mike Missanelli, who starts at 2.
Bruno's syndicated show, which 97.5 airs live from 10 p.m. to 1 a.m., is carried on about 275 stations. He's based in L.A. and plans to visit Philly six to eight weeks a year for remotes.
Michael Klein, Philly.com
Two restaurants are targeting Jan. 25 for opening day:
MIXX, the sports bar beneath Azie on Main, in the former Maia on Lancaster Avenue off the Blue Route in Villanova. A peek at a draft dinner menu finds such snacks as tempura calamari, buttermilk fried chicken, and fried cornbread, as well as entrees topping out at $18 (six-ounce filet; 10-ounce ribeye; veal cordon bleu). Lunch menu includes $10.50 and $15.50 platters, including filet, teriyaki-glazed BBQ shrimp, and salmon meuniere.
Maru Global Takoyaki (255 S. 10th St.), which will feature the round pancakes known as takoyaki that are a Japanese street-food staple. Details here.
Michael Klein, Philly.com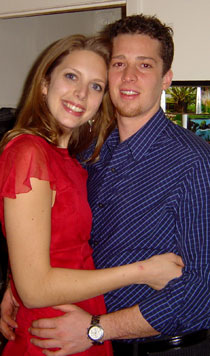 Things are really cooking in the kitchen at Fond, the nifty little BYOB on East Passyunk Avenue.
Partners Jessie Prawlucki and Lee Styer got engaged over the holidays, and Tuesday was their first day back.
The couple, both in their mid-20s, met four years ago at the Culinary Institute of America, and worked at Le Bec-Fin before opening with front-of-the-house partner Tory Keomanivong nearly five months ago.