Archive: January, 2009
Michael Klein, Philly.com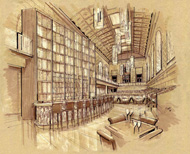 Lots of restaurants are on the way, despite the miserable economy.
Keep in mind that many were conceived in flusher times. Whether the brisk pace of openings continues is anyone's guess. Every economy supports "little projects," such as the Wings to Go opening imminently at 15th and Vine Streets and the Chili's under construction to replace the Houlihan's at Noble Square in Jenkintown. As for larger-scale works, I'm hearing about three in the pipeline. None has been fully signed and sealed. Two are in Center City (from two of the city's most-respected chefs) and a third will be an ambitious tavern operator's foray into University City with a novel pizza/beer concept.
Here's a sampler of what's on the immediate radar, according to their respective owners.

Michael Klein, Philly.com

Radio host Chris Booker, let go suddenly by Q102 last May, signed a deal today to do afternoons on New York's WXRK ("K-Rock"). He starts Wednesday.
This is a homecoming for Booker, thrust in the limelight from time to time in the last year because he's the boyfriend of anchor Alycia Lane.
After starting on K-Rock's evening shift in 1996, Booker met Howard Stern, who called him "Booger" on his show and gave his career wings. Booker left K-Rock for a spell in 2003 and returned to do afternoons in 2005. He left New York for Q102 in 2006.
Michael Klein, Philly.com
Michael Ortega, who has had the Tex-Mex cantina Pico de Gallo on the northwest corner of 15th and South Street for six years, told me over the summer that he wanted to branch out. He'll be getting his wish in the next couple of weeks, now that he has a line on a liquor license.
He won't go far -- right across the street, into the southwest corner of 15th and South.
Here's how it will play out: The main operation of Pico de Gallo, which will be more refined in cuisine and decor (and will include a full bar), will occupy the southwest corner. The present Pico de Gallo, where beer is served, will be set up as a takeout-delivery operation called Pico To Go with a lower-priced menu (most dishes under $6.50).
Michael Klein, Philly.com
The Kildare's Irish Pub at Head House Square (Second Street just north of South) is giving way to the Get Happy Pub.
On Monday, Kildare's boss Dave Magrogan sold the pub to veteran barman Paul Lauriello, the former managing partner of Kildare's King of Prussia and a five-year Kildarean. Lauriello will run the front of the house, and his wife, Christine, a caterer, will be chef.
Get Happy will open tonight. They're going for comfort foods and a "Cheers"-style scene. As for Kildare's, Magrogan says he's aiming toward college towns as he expands.
Michael Klein, Philly.com

Three 10 o'clock news shows in town?
CBS3 is cooking up plans for a 10 p.m. newscast on its sister station, CW Philly 57, to go up against Fox29 and the MyPHL News at Ten Powered by NBC10.
If what I'm hearing is true, the CW Philly's half-hour show's anchor would be CBS3's Dave Huddleston -- putting him up against Fox29, his old station.
Michael Klein, Philly.com
There's not much turnover in the kitchen at Fork, one of the early comers to the Old City restaurant scene (1997) and one of the area's most decorated restaurants.
But with chef Thien Ngo announcing his retirement after seven years -- he's going home to Vietnam -- owners Ellen Yin and Roberto Sella tapped an old-timer to replace him.
Not that Terence Feury is old. He's just seasoned. He most recently was executive chef at Maia in Villanova, after tours with the Ritz-Carltons in Georgetown and Philadelphia, Striped Bass in Philadelphia and Le Bernadin in New York.
Michael Klein, Philly.com

The live, call-in show of Tony Bruno, one of the first sports talkers on WIP, just got a pickup from ESPN950.
The South Philly-raised Bruno, who lives in Venice, Calif., will take the 10 p.m.-to-1 a.m. slot.
First night will be Monday, Jan. 12, and as one of the few Eagles boosters on national radio, he says he's itching to talk up the Eagles-Giants game.
Michael Klein, Philly.com
Chipotle is opening a spot at 3925 Walnut St. in University City, and it'll give away burritos and drinks on the day before its opening. (How this will affect business at Distrito around the corner is anyone's guess. Philly.com's Jonathan Tannenwald points out the new competition for the nearby Qdoba.)
Hours will be 11 a.m. to 8 p.m. Jan. 15. Opening is Jan. 16.
Michael Klein, Philly.com
With the Gallic success that is Parc dancing in his head, Stephen Starr says he will revive the Blue Angel at 706 Chestnut St., which he opened in October 1999 to good notices. He closed it in 2003, citing boredom with the French bistro concept and soft business, and retooled it as Angelina, a pricey, garish Italian, which lasted a hair under two years.
Starr had been kicking around other concepts for the vacant space, including a gastropub and an oyster house called Littleneck.
Starr told me that Blue Angel will open at the end of March with decor that will be "similar" to the original. Not that he has to buy much. When asked, Starr said he stores certain pieces from his closed restaurants in a warehouse.
Michael Klein, Philly.com
Azul Cantina, the seven-month-old lounge at 10th and Spruce Streets, is likely in its final weeks with a Mexican approach.
Much as was rumored last week, George Markakis has found buyers: George Anni and R. Evan Turney, who also own the nearby Valanni and Mercato. (Anni had looked at the space before Markakis took it over; it previously was an utterly forgettable pizzeria/bar called Sauce.)
In a phone chat Friday, Anni confirmed the sale talk but added that plans for the restaurant and its new name have not been firmed. "We don't even have a signed deal yet," Anni said.