Archive: August, 2009
Michael Klein, Philly.com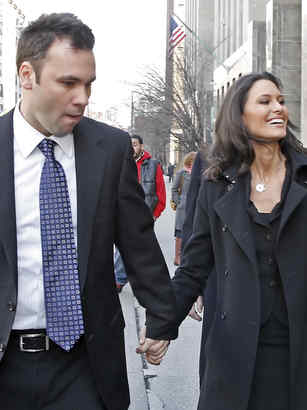 CBS3 alumna Alycia Lane signs on Wednesday (8/19) at KNBC, the NBC owned- and -operated station in Los Angeles, as a weekend anchor and general assignment reporter.
The station announced today that Lane takes over for Kim Baldonado, who last month was promoted to anchor the middays and the weekly News Extra, which focuses on investigative reporting.
"Alycia is an experienced anchor and skilled reporter who has a tremendous ability to engage and connect with the audience," said KNBC president Craig Robinson in a statement. "Her energy and talent will be great assets to KNBC, and we look forward to her contributions to our newsroom."
Michael Klein, Philly.com
Clark Gilbert, whose background includes Taquet, Fountain at the Four Seasons, the Saloon and La Terrasse, is cooking up a BYOB at 232 Woodbine Ave. in Narberth, which last was Margot, also a BYOB. (Owner Margot McGinley told me that she closed her three-year-old bistro last month as the birth of her third baby approached.)
Gilbert is calling it Gemelli and he's positioning it as a dinner-only neighborhood place in its look, feel and ambitions when it opens in very early September. (Minor redecorations.)
Menu will be Italian-American with "French sensibility" -- simple, straightforward -- and, as he stresses, value. He wants the check to be around $30 per person, and he'll offer a five-course tasting menu for $40.
View Larger Map
Michael Klein, Philly.com
Reese Witherspoon made an appearance at Parc on Rittenhouse Square last night, and she was not out with Jake Gyllenhaal.
Her mother, Betty, was in town.
They had glasses of rose, plus salade verte, skate Grenobloise, and half-roast chicken with a side of seared spinach. The actress -- who signed autographs for those who asked (politely) -- had the baked chocolate mousse, while her mother went for sorbet.
Michael Klein, Philly.com
Wharton grad Munish Narula, whose Indian restaurant/delivery operation Tiffin is expanding far beyond its roots at 710 W. Girard Ave. on the western edge of Northern Liberties, has gone into the Indian pizza business.

Get the door, it's Desio's?

Tiffin etc. opens Tuesday (8/18) next door to his flagship, in what used to be a sketchy pizzeria at 712 W. Girard.

Narula popped a hole in the party wall and painted the dining room red and orange, adding white subway tile along the wall. There are a few tables up front for full service.

Tiffin etc.'s menu
is what Narula and his chef, Hari Nayak, call Indian street food: parathas (stuffed, pan-fried whole-wheat flatbreads, served with boondi raita, a yogurt sauce), kati rolls (wraps), and Indian pizzas.
The pizzas, thin-crust and available personal and large, were developed from scratch, including the sauces. Think of them as variations of Tiffin's menu on a pie. The meats are prepared in the tandoor.
The curious should try a beverage, most of which are savory. Masala Pepsi is based on cola, but it's infused with a lip-puckering combination of pepper, cumin, lemon, and black salt.

Hours will coincide with Tiffin's, 11:30 a.m. to 9:30 p.m.
Michael Klein, Philly.com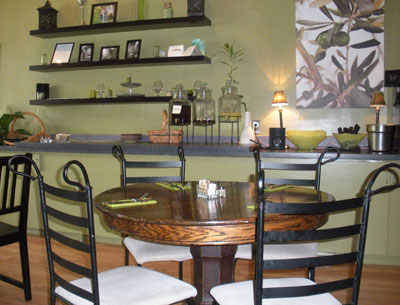 Doings in West Chester:
Olive Branch (142 W. Gay St., 610-431-7141) is a cutesy BYOB from Jon Rusakov and Marie Cantatore. Breakfast menu includes breakfast sandwiches, waffles, eggs, and pancakes. Segues into tapas, salads, and sandwiches for lunch, and then adds a menu combining tapas-size and regular-size portions (short ribs, risotto, flank steak; prices top out at $22.95). Hours are 7 a.m. to 3 p.m. Mondays, 7 a.m. to 10 p.m. Tuesdays through Fridays, and 8 a.m. to 10 p.m. Saturdays and Sundays. Interesting BYOB policy; it offers virgin drinks but will offer a free splash of alcohol on demand.
The former Alberto's Trattoria at 116 E. Gay St. is being redone as Nonna's, a moderate-priced Italian with bar, from Marisa and Sean Powell of Pietro's Prime. Marisa Powell, from West Chester's Giunta grocery family, is hoping to open in mid-September. Chef Tami Oelkrug, a veteran of Dilworthtown Inn, has worked for the couple since Pietro's opening two years ago.
Michael Klein, Philly.com
Marty Grims is revamping his year-old fast-casual Du Jour in the Symphony House at Broad and Pine Streets.
He'll call it Chew Man Chu, a moderate-price dumpling, noodle and wok bar-restaurant, with a menu of Chinese, Thai and Vietnamese dishes in a lively, fun, casual and fast-paced environment; it will do delivery. Hopes to open in mid-September.
"We need more of a destination there," Grims says.
Michael Klein, Philly.com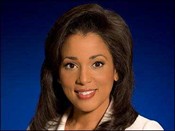 CBS3 has not renewed the contract of weekend evening anchor Mary Stoker Smith, and her final newscast was Sunday (8/16).
She joined the station in December, 2005.
She came to the station from WPHL-TV, where she was coanchor of WB17 News at Ten since April 2005.
Michael Klein, Philly.com
Con Murphy was a guy from Limerick you just wanted to be with.
Maurice Collins wants his new pub, named after Murphy, to be a place you just want to be in.
Collins and Liam Kelly, who founded Tir na Nog, are looking at mid- to late-September for Con Murphy's at 17th Street and the Parkway, in that corner space in the Windsor that previously housed Peacock on the Parkway and Kujaku. (One working name for the project, when I wrote about it in January, was SnugBar.)
View Larger Map