Archive: February, 2009
Michael Klein, Philly.com
Chip Roman of Conshohocken's Blackfish told me that he's moving his Jersey Shore operation from Avalon to Stone Harbor. He expects to open by Mother's Day in the former Henny's, a block off the bay at 9628 Third Ave., with a liquor license. It would be a year-rounder. His Conshy spot will remain, of course.
His goal is to open a boutique green hotel across the street in the future.
Michael Klein, Philly.com
Billy Joel and Elton John's joint tour will stop at Citizens Bank Park at 7 p.m. July 30, while the Phillies are on a West Coast swing.
Philly hosted the piano men's first-ever match-up, in 1994 at the late Veterans Stadium. (So why aren't they playing the Spectrum before its demolition?)
Tix on sale at 10 a.m. Saturday through ComcastTIX at 1-800-298-4200, on line at ComcastTIX.com, in person at the Wachovia Center box office or at select Acme Markets.
Michael Klein, Philly.com
Chef Matt Levin, who parted company with Lacroix at the Rittenhouse in December, says he is about to sign a lease at 201 Green St. in Northern Liberties. It's the ground floor of that great big warehouse-y looking building just off Second and Spring Garden Streets, across from Penn Herb.
He'll call the place Masano, using the first two letters of himself and sons Sam and Noah. He hopes to open this summer, cooking in a style that's similar to the edgy eats he did at Lacroix but at lower prices.
Levin is partnered with the Eagles Jon Runyan.
View Larger Map
Michael Klein, Philly.com

Melanie Fitzpatrick, 24, a nursing student from Folsom, is featured in an SI.com piece on NBA dancers.
Michael Klein, Philly.com
Here's the menu for Chifa, the new Jose Garces Peruvian-Cantonese restaurant that opens Tuesday at 707 Chestnut St.
Michael Klein, Philly.com
Jay Henson, formerly at Happy Rooster and more recently at the Inlet at the Jersey Shore, is joining Silk City at Fifth and Spring Garden at the beginning of March, says owner Mark Bee. Same American concept. Bee is aiming at May 1 for his 50-seat outdoor beer garden.
Also on Spring Garden Street:
Bill Papatolis says he's bringing back his Spring Garden Restaurant on the southwest corner of Fourth and Spring Garden in about three weeks. Spring Garden, an old-time Greek diner, lost its lease two years ago when the adjacent supermarket was being developed. He struck a new deal with the building owners and has rehired much of his old staff.
Michael Klein, Philly.com
Justice, executive producer/sidekick on Wired's Chio in the Morning show, was fired Friday.
A station official said it was not related to a round of budget cuts at Beasley Broadcasting.
Justice, at the station nearly three years, told me today that he had heard rumblings that his contract would not be renewed and he called a meeting with management that "didn't go very well."
Michael Klein, Philly.com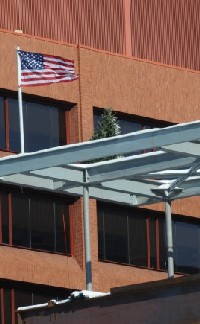 Construction of the National Museum of American Jewish History's new home at Fifth and Market Streets is proceeding apace. It was topped off last month.
Perched on the structure are an American flag and, as tradition dictates, a Christmas tree.
Or, as PR/ad man David Neff wonders, is that a Hanukkah bush?
Michael Klein, Philly.com
Restaurateurs are grumbling about business, but there seems to be no great slowdown in projects.
Here are a few:
The Center City location of Cherry Hill's The Kibitz Room is under construction at 1521 Locust St. There's a long story behind the pedigree, but the short version is that it's unrelated to Kibitz in the City at Seventh and Chestnut Streets.
Aoi, that done-up-in-black Japanese place at 1210 Walnut St., has gone away. Next week, a new owner will open it as Aki -- also Japanese but without Aoi's all-you-can-eat feature. (They would charge dearly for uneaten pieces.) The new interior is dazzling. And whilst on the topic of Japanese dining in Center City: Genji, at 1720 Sansom seemingly since Tojo was in power (OK, August 1994), has been sold and is now known as in Kin Gyo. Same setup.
Derek Davis of Manayunk fame is opening a Roman-style pizzeria at Temple Hospital in North Philly. Pizza Rosso (3240 N. Broad St.) could be online as early as next week.
The 1623 E. Passyunk Ave. storefront that was Roselena's is on its way to new life as Michael's Cafe. Owner is keeping much of the wonderful kitsch and adding his Fiestaware collection.
Michael Klein, Philly.com
One feature that so many new restaurants lack is a hint of romance: twinkling candles, subdued lighting, dark wooden furnishings, a mellow vibe.
Nicholas J. Cassidy and Hector Torres have solved it with Sauté, their BYOB, which opened Tuesday in Queen Village (775 S. Front St., 215-271-9300) after eight months of intense construction at what was La Creole. As in, the only way in and out of the basement was through a trapdoor behind the bar; they built a staircase and sealed the door.
Torres, who opened Roy's and worked in the front of the house at SoleFood at the Loews, runs the dining room. The Le Cordon Bleu-educated Cassidy, last at Alma de Cuba, cooks a style that's French-influenced American. (Among apps are escargot and charcuterie, and there's a hamachi ceviche on there seemingly as a tip to Douglas Rodriguez.)