Archive: December, 2011
Michael Klein, Philly.com
Fourth and Market Streets turned into food-truck central this morning as reporter Karen Hepp talked up The Inquirer's food section on Fox29's Good Day show.
Critic Craig LaBan's hands and voice made a cameo.
The Inquirer's coverage is here.
Michael Klein, Philly.com
The Marathon Grill at 1339 Chestnut St. is out of business after at least a decade. It has confirmed in an email:
Due to increasing rental expenses, Marathon has elected to close its Broad and Chestnut Street location. Marathon has been operating restaurants in this City since 1984 and will continue its commitment to focus on its primary passion of serving locally sourced, quality food at affordable prices to Philadelphians at its other Center City restaurants located at 16th and Sansom Streets, 19th and Spruce Streets, 1818 Market Street and 10th & Walnut.
The 10th and Walnut Street location, as reported earlier this week, will close at the end of the month as the settlement of a lawsuit brought by investor Bernie Spain against the Borish family, which controls Marathon. Spain has retained Barry Gutin and Larry Cohen (Cuba Libre) as operators, with Matt Levin (ex-Adsum) coming on as chef. Renovations will begin in January.
Michael Klein, Philly.com
Two projects are in the final weeks of construction:
Hickory Lane, which will partner chef Matt Zagorski and manager Jack Henderson in a BYOB at 2025 Fairmount Ave. (across from Eastern State Pen), is waiting for a health department inspection. The guys did almost all the work themselves - yielding a classy, rough-hewn look, while keeping all fingers intact. Zagorski was chef at Rouge, and Henderson was the early money partner at the space's previous occupant, L'Oca.
Lemon Hill, replacing Lucky 7 at 25th and Aspen Streets, is shooting for a soft opening Dec. 26. It's the team from Franklin Mortgage & Investment Co. with a menu created by Supper chef/owner Mitch Prensky being driven by the restaurant's brick oven.
Michael Klein, Philly.com
Where do you get a grilled cheese sandwich or eggs or a salad at 3 a.m. on South Broad Street?
Come Dec. 8, you'll have the Broad Street Diner at Broad and Ellsworth Streets, reopening that morning (around 7 a.m.) and promising 24-hour service.
The Broad Street closed about five years ago and has just sat there, on the southern doorstep to the Avenue of the Arts. A few years ago, Stephen Starr signed an agreement for it but later walked away.
Michael Klein, Philly.com
Looks like two failures at 1725 Chestnut St.
The Famous Dave's BBQ outlet has shut down after one year, following the short-lived Goodburger.
Next!
Michael Klein, Philly.com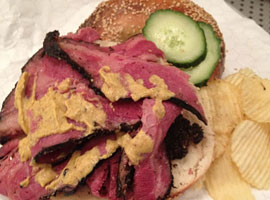 Pastrami from Katz's Deli?
Yes, yessss, yessssssssss.
Spread Bagelry (262 S. 20th St.) has been promising pastrami from the New York landmark, and it's making good on it starting Dec. 7.
Michael Klein, Philly.com
The Cambridge is the name that Chris Fetfatzes and Heather Annechiarico of Hawthornes (11th and Fitzwater Streets) have attached to their next restaurant, at 1508 South St., due to open in the spring.
It's now Tritone, which remains open as the liquor license is transferred. Fetfatzes describes The Cambridge as a neighborhood bar serving an eclectic, homespun menu (similar to Hawthornes', but different).
They'll have a woodburning stove for grilled meats and bar food, and a variety of beers. Though it will open at 3 p.m. daily initially, hours will expand to lunch.