Archive: January, 2011
Michael Klein, Philly.com
The Dandelion at 18th and Sansom Streets is starting a free Speaker's Corner series -- basically inviting a guest once every few months to share knowledge. The first will be Feb. 1 at 6 p.m. with Alex Talbot and Aki Kamozawa from Ideas in Food. The Inquirer's Rick Nichols will moderate. Come early. This event will be packed.
---
Drinker's West (3900 Chestnut St.) is starting a monthly Cult TV Quizzo series. First outing is Tuesday, Jan. 18 at 8 p.m. and the topic is It's Always Sunny in Philadelphia. Teams of 2 to 4 people will compete for TV show-themed goodies and a top prize that includes a $50 gift certificate with a round of drinks. The lowest-placing team will win the Charlie Kelly Award. Other quizzos: Arrested Development (Feb. 8), Lost (March 1), and Buffy The Vampire Slayer (March 22).
Michael Klein, Philly.com
Interesting how Walnut Street has changed in the last year. (Or should that be chained?)
Susanna Foo gives way to Chipotle, an Apple store arrives, and now another out-of-towner is setting up.
Le Pain Quotidien, an elegant but informal Brussels-rooted cafe now in 19 countries, is prepping its first Philly location at 1423-25 Walnut (215-751-0570).
Michael Klein, Philly.com
Jolly Weldon, whose Jolly's Piano Bar at 20th and Chestnut Streets has revived the tradition of dueling pianos, is fixing up a landmark restaurant space in the Springfield, Delaware County, area for a second location.
Jolly's will roll out as soon as Valentine's Day, he predicts, in the former Rosario's at 13 S. Morton Ave. in Morton.
The building will host the dueling-piano concept, a sports bar, a grill room, and a 200-seat banquet facility. The sports bar/grill will open first, with the entertainment on tap for March. Chef Steve Quici will do American cuisine.
View Larger Map
Michael Klein, Philly.com
John Anderson texted this morning with news that Solaris Grille was done after a 15-year run at 8201 Germantown Ave. in Chestnut Hill.
"We had a great run, but I have struggled to keep it going for the past two years," he wrote.
A Solaris outpost in Worcester Township lasted only a short period in 2009-10. The business was operating under Chapter 11 of the Bankruptcy Code, which with the closing is expected to be converted to Chapter 7 (liquidation).
Michael Klein, Philly.com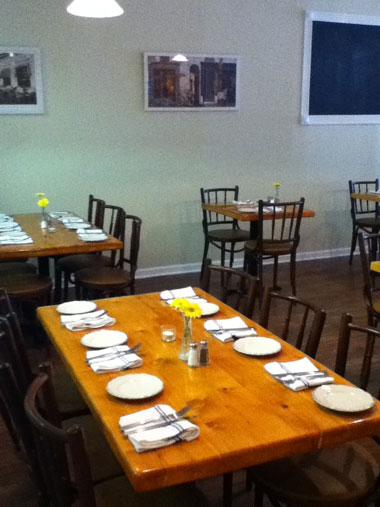 It's been something like two years that Pascual "Pat" Cancelliere has been trying to open 943, his Argentine-Italian BYOB, open in the Italian Market. (It's at 943 S. Ninth St., hence the address.)
Now, Cancelliere says, it's down to one health inspection that, fingers crossed, would allow him to unlock the door as soon as Tuesday (1/18).
The dining room, which has been ready for weeks, is adorable -- well-spaced, lacquered wooden tables, dishtowels as napkins, sunny flowers, open kitchen. Befitting the homespun theme, he has an accordion, a guitar, and a bottle of wine in the window of the former gift shop.
Michael Klein, Philly.com
Rick's Steaks, which left the Bellevue's food court in late December, has a new home:
The food court of Liberty Place, where Jake's and Mike's have sold sandwiches
Debut will be 10 a.m. Friday (1/14). Hours will be 10 a.m. to 7 p.m.
Michael Klein, Philly.com
Michael Klein, Philly.com
Simon Pearce, a nifty gift shop outside of West Chester combining a glassblowing operation and a restaurant by the banks of the Brandywine, announced this morning that it's closing after 10 years.
Sixty-five people are employed there.
The restaurant and glassblowing are done. The retail store's last day will be Feb. 13.