Michael Klein, Philly.com
With the second anniversary of their hit East Passyunk BYOB Noord on the way, Joncarl Lachman and Bob Moysan are planning a second restaurant in South Philadelphia.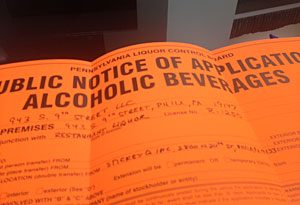 This new restaurant will include a bar as it takes over 943 S. Ninth St. in the Italian Market.
The glass storefront and the distinctive black-and-white-tile entryway - across the street from Villa Di Roma, the original Di Bruno Bros., and Blue Corn - has no name yet.
Michael Klein, Philly.com
Society Hill Society, the ambitious bar-restaurant that replaced the easygoing Artful Dodger at Second and Pine Streets, is closed, and it might be permanent.
The yearling, which opened in April, last served over the weekend. Suppliers told me that owner Mary Beth Gallo has asked them to pick up their leased equipment. Gallo was unavailable for comment.
Earlier this week, operator Reed Barrow said he would provide a statement about the restaurant's future. Today, he did not respond to requests for comment.
Michael Klein, Philly.com
The crew from Memphis Taproom, Local 44, Strangelove's and the soon-to-open Clarkville have released info on their next project:
Coeur will take over the short-lived Mildred at 824 S. Eighth St,. in Bella Vista.
Leigh Maida, Brendan Hartranft and Brendan Kelly promise "a classic, back-to-basics menu a la Montreal in a cozy and casual neighborhood setting."
Michael Klein, Philly.com
Old Original Bookbinder's, a Philadelphia institution for decades, is being revived at the hands of Jose Garces and crew.
On Friday, Jan. 9, the former bar reopens as The Olde Bar (125 Walnut St., 215-253-3777), a reinterpretation of an oyster saloon.
And it's pretty much as you remember it, though more polished: dimly lit, oldtime globe fixtures, tin ceiling, mirrors, red booths, shaded lighting on the tables, candles. "I look in all these booths, and I see my family," said Erich Weiss, who is in charge of the beverage program.
Michael Klein, Philly.com
Michael Schulson is expanding his holdings on 13th Street south of Sansom Street.
In December 2009, he opened Sampan, a modern Asian small-plater, at 124 S. 13th St.; he followed that up the following spring with Graffiti Bar in the back alley.
Now he is going next door with an ambitious, two-level project called Double Knot, due to open this summer.
Michael Klein, Philly.com
Celebrity Cruises is removing one annoyance from the Center City restaurant experience:
The parking charge.
On Thursdays during the January edition of Center City District Restaurant Week (Jan. 22 and Jan. 29), the cruise line will pick up the parking tab at four Parkway garages that serve many of the participating restaurants - the Curtis Center at Seventh and Sansom Streets; 12th and Walnut; 12th and Filbert Streets; and Liberty Place on 16th Street between Chestnut and Market Streets.
Michael Klein, Philly.com
The Lola Bean, a coffee shop that opened in September 2010 on a once-empty strip of Frankford Avenue north of Girard Avenue in Fishtown, will serve its last lattes on Jan. 16.
Owners Erica Zito and Mary Button took to Facebook to announce the impending shutdown, thanking their customers and staff and calling it "a very difficult decision to come to, and we can't imagine that there would ever feel a right time to make this choice. ..."
"Now we have decided it's time to focus on our family, our beautiful son who brings us endless joy, and our future ventures."
Michael Klein, Philly.com
Geechee Girl Rice Cafe - a Mount Airy staple - has closed after nearly 12 years, but it's not going quietly.
Friends of the chef/owner Valerie Erwin are arranging what they call the Geechee Gala, a tribute on Saturday Jan. 10 to the woman who brought the foods of Georgia and South Carolina's low country to the fore in Philadelphia.
Among the organizers are folks from Weavers Way, Slow Food Philly, Feast Your Eyes, Les Dames d'Escoffier, the Philadelphia Women's Culinary Guild, Anson Mills,and World Wide Stereo.