Archive: August, 2011
Michael Klein, Philly.com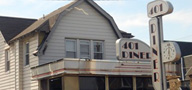 Emboldened by their success at Isabella in Conshohocken, Tom Richter, Peter Richter, and chef Michael Cappon are sprucing up the 401 Diner on the other end of town, at Fourth and Fayette Streets. (See the glowing LaBan review here.)
The 401, which closed last winter, is due to reemerge later this month with a new concept, branded as "Comfort with a Conscience." Cappon will offer a healthier take on comfort food with an emphasis on local, organic and sustainable ingredients.
The interior and kitchen are being revamped, and Tom Richter himself is designing a new glass mosaic for the exterior. It will be BYOB with no corkage, and they're planning to offer seasonal mixers to accompany spirits, plus live music on the weekends.
Michael Klein, Philly.com
The Daves here at philly.com are abuzz with anticipation over Famous Dave's promo Dave's Day, which means a free entree if your name is Dave and a half-price offer if your middle name is Dave.
It's Sunday, Aug. 14.
Michael Klein, Philly.com
Let's be patient with Tommy Joyner and Jamie Lokoff and crew at the new Milkboy as it opens on the southwest corner of 11th and Chestnut Streets.
A year and a half in the making, Milkboy, an offshoot of the popular Main Line hangout, rolls out first thing (6 a.m.) Monday, Aug. 15 with beverages. A week or two later, breakfast/lunch/dinner will come on board, courtesy of chef Jon Bohn, a Culinary Institute of America grad, who plans to cook the basics.
Mid-September comes the heart of the matter: live music six nights a week upstairs.
Michael Klein, Philly.com
Sometimes, you hear a restaurant name and just wonder...
In Center City, the Tria name is golden: casual wine/beer bars in Washington Square West and Rittenhouse Square serving interesting cheeses and light bites.
Then a smaller third restaurant came on board last October at 3131 Walnut St. at The Left Bank in University City, and its name was Biba.
Michael Klein, Philly.com
Busy, busy times for Michael Chow as he uses August to open two Sang Kee restaurants.
Friday, Aug. 12 is the grand opening of Sang Kee Noodle Bowl at 4755 West Chester Pike in Newtown Square (610-353-5353), which was last Parker's Prime.
Chow is a consultant on the restaurant for Win and Sutida Somboonsong, who own such western-suburbs spots as Thai Pepper in Ardmore, Teikoku in Newtown Square, Azie in Media, and Azie on Main and Mixx in Villanova.
Michael Klein, Philly.com
The de-China-fication of Chinatown continues.
Yesterday, I described a forthcoming Korean restaurant from Cherry Hill's Sammy Chon's K-Town BBQ setting up in Chinatown, as well as Ramen Boy, an offshoot of Chinatown's Yakitori Boy.
Today, I chatted with Kenny Poon, who three years ago opened the fun/casual Ken Shin Diner at Third and Spring Garden Streets in Northern Liberties.
Michael Klein, Philly.com
For all the Center City hubbub, Chinatown is a peaceful place.
Turnover is comparatively low, and life goes on.
But witness some activity, and none of it is uniquely Chinese:
H.K. Golden Phoenix at 911 Race St., which had been doing banquets and dim sum since 1996, is closed.
Hop Sing Laundromat, the stylish bar at 1029 Race St., is about a month away. Or so.
As tipped by Drew Lazor at City Paper's MealTicket blog, the crew from Yakitori Boy on 11th Street is prepping a ramen restaurant at 204 N. Ninth St. Owner Nelson Tam tells me that the Yokohama-style shop will be called Ramen Boy and is scheduled to open in November.
And get ready for a Chinatown branch of the energetic Sammy Chon's K-Town BBQ. Sam, whose flagship is in Sawmill Village in Cherry Hill, tells me he has a spot that's not quite signed. Hence, no address for you yet. Sooner, he expects to open an "express" version in Cinnaminson, serving Korean hoagies, tacos, burritos, rice bowls, entree salads, and Korean fried chicken wings. all under 10 bucks.
Michael Klein, Philly.com
When Audrey Taichman wants something, she gets it.
Taichman, owner of Audrey Claire and Twenty Manning on the same block of 20th Street near Rittenhouse Square, wanted the restaurant community to come together last September to help the Philadelphia Live Arts Festival & Philly Fringe. And she did it, roping encouraging dozens of restaurateurs and chefs to throw Feastival, which was one heck of a party at a warehouse in Northern Liberties that raised hundreds of thousands for the performing arts. (The next Feastival will be Sept. 14 at Pier 9. Details here.)
Emboldened by her success, Taichman turned her attention to a back-burnered project that would showcase local chefs, putting them closer to the public than ever.