Archive: August, 2010
Michael Klein, Philly.com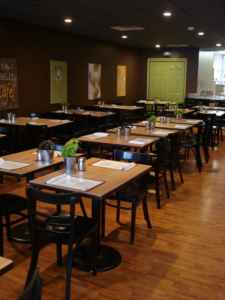 Even Gordon Ramsay couldn't save Hot Potato Cafe in Fishtown.
The disconnected phone number, a sign on the door, and plaintive comments on its Facebook page show that the three-year-old BYOB on Girard Avenue has closed. Management confirmed the closing Monday as its lease expires Aug. 31.
A Craiglist ad, posted Thursday, advertises the business as a "turn-key" operation because management is moving on.
Michael Klein, Philly.com
NBC10's 10! show (11 a.m. weekdays) has arranged fill-ins with host Bill Henley:
Love Boat alumna Jill Whelan: Aug. 26-27.

Recently beached Wired 96.5 morning sidekick G-N Kang: Aug. 30-31.

Former NBC10 reporter Karen Hepp: Sept. 1 and 2.

Singer and former 10! cohost Lauren Hart: Sept. 3.

Mount Laurel-turned-Orlando TV anchor Eryka Washington: Sept. 7-8.

Former NBC10 reporter/anchor Tiffany McElroy (mother of a little girl with Fox29's John Bolaris): Sept. 9-10.
Michael Klein, Philly.com
Tired of burger shops?
How about meatballs.
Marabella Meatball Company, a mostly quick-serve operation, is planned for 1211 Walnut St., next to the Citibank branch (to the left, as you're looking at the bank).
View Larger Map
Michael Klein, Philly.com

Doylestown's Justin Guarini is Broadway-bound.
Guarini, 31, the Central Bucks East grad who was runner-up to Kelly Clarkson on the first season of American Idol -- has landed a role in Women on the Verge of a Nervous Breakdown, as Lincoln Center announced.
He'll play Carlos opposite Brian Stokes Mitchell and Patti LuPone.
Michael Klein, Philly.com
Snackbar, the cute spot at 20th and Rittenhouse, keeps wavering between "restaurant" and "bar." Now, you'll see paper over the windows. It's coming back as more of a bar, effective Thursday or Friday, says owner Jonathan Makar. He's ripped the tiny bar out of the corner (no, wiseguy, he didn't take a Chainsaw to it) and the new one will hold 10 to 12 seats. Menu has been revamped to focus more on apps, small plates, and items for grazing. I expect to post a menu later.

All you fame seekers: The Next Food Network Star will be at the Loews on Aug. 31 to search for contestants for Season 7. See the flyer here.
Michael Klein, Philly.com
No shock here:
NBC has just announced that NBC10 anchor/reporter Kristen Welker is joining NBC News as a network correspondent based in Burbank, Calif.
She's been out there since June, on what was originally billed as a loan.
Michael Klein, Philly.com
PJ Whelihans is going into the former Primavera Pizza Kitchen in Downingtown, aiming at a late fall opening. This will be the 13th restaurant under the PJW Restaurant Group and the ninth under the PJ Whelihans label.

From all the attention that's being paid to the renovations at Doc Watson's, the landmark on 11th Street near Jefferson, it's time to address a big piece: The name. It will be called Blue Bear Tavern when it opens at the end of the year.

The deal that would have moved the Sea Isle City landmark Busch's has fallen through, per a story in the A.C. Press. Busch's was a topic of Craig LaBan's Shore restaurant roundup last month.
Michael Klein, Philly.com
Actor Charles S. Dutton is in town to do a gangster movie, as he told people at Rouge on Rittenhouse Square Tuesday evening.
He and several associates enjoyed a window seat at the boite.