Archive: July, 2011
Michael Klein, Philly.com

Harry G. Ochs, which in May left its 105-year home at Reading Terminal Market during a tiff over unpaid rent, is a butcher without a block again.
Owner Nick Ochs has left Main Street Market in Manayunk, where he had briefly worked as head butcher at its counter.
"I decided to split," Ochs told me. "It wasn't working for us."
Michael Klein, Philly.com
"Chef's Corner," our philly.com/Food how-to video series, continues with a beef from Erin O'Shea of Percy Street, who demystifies the humble beef brisket.
"You got your moist, you got your lean," she explains, tackling a whole brisket.
Take out your knife and follow along.
Michael Klein, Philly.com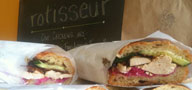 Two Rittenhouse Square restaurants expand their hours, effective Thursday, July 14.
a.Kitchen -- and someday I'll get over the idea of starting a sentence with a lowercase letter -- goes the breakfast route. You have to try chef Bryan Sikora's housemade English muffins, which he'll top with locally raised sausage, cheese and eggs. Menu is up on a.kitchen's website. When weekday lunch starts Monday, July 18, hours will be breakfast through late night, seven days.
Rotisseur on 21st Street south of Chestnut -- whose specialty, rotisserie organic chicken, drew a few happy clucks from The Inquirer's Craig LaBan -- starts weekday lunch. Among the specialties is that Viet hoagie known as banh mi, studded with chicken.
Michael Klein, Philly.com
Lots, lots going on in George Reilly's world.
The English-born former Parc bartender and his fiancee, Laura Catlaw, are getting ready for their wedding this Saturday (July 16), which dovetails nicely in the stress department with the opening two weeks later of The Twisted Tail, a bourbon and blues restaurant on Head House Square (Second Street, above South).
Michael Klein, Philly.com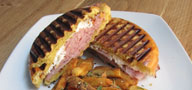 Opa, the Greek newcomer at 1311 Sansom St., starts weekday lunch on Monday, July 18 in a bold and gutsy way: comping dine-in eaters with the pressed sandwich known as a "toast."
Opa's "zambon kai tiri" is made with Lancaster County ham, Manouri cheese and honey mustard dressing and is served with oregano fries.
Also on the lunch menu (top price: $11) are a watermelon and feta salad, an omelet, and the bifteki (burger).
Michael Klein, Philly.com

The owner of McDain's, a casual eatery and driving range near Pittsburgh, has banned children under 6.
"This is not a kid-oriented place," Mike Vuick told the Pittsburgh Post-Gazette. "There are many child-friendly restaurants that are a lot cheaper to go to."
He told TV station WTAE: "Nothing wrong with babies, but the fact is you can't control their volume. And there may be restaurants that prefer to cater to such things, not here. I think it's the height of being impolite and selfish and so, therefore, I instituted a policy."
Michael Klein, Philly.com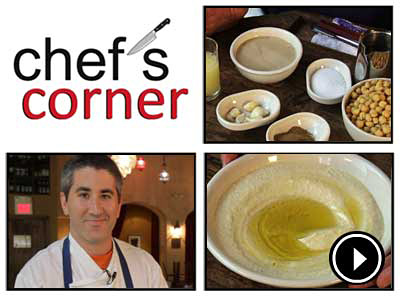 How does James Beard winner Michael Solomonov make that lusciously yummy hummus tahina at Zahav restaurant?
In the new installment of our new "Chef's Corner" how-to video cooking series here on philly.com/Food, Mike Solo shares his secrets.
Break out your food processor and follow along.
Michael Klein, Philly.com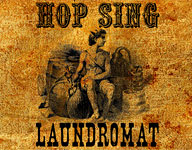 Before the final touches go into a restaurant, the splash page goes up -- a "coming-soon" sign on the web.
Over the weekend, the mysterious Hop Sing Laundromat at 1029 Race St. posted its page; here is the background on the project.
Tashan, the stylish Indian restaurant from Tiffin's Munish Narula at 777 S. Broad St., is web-ready, too. Tashan, incidentally, now has an Indian master chef, Sanjay Shende, working with exec chef Sylva Senat. Some background is here.