Archive: July, 2010
Michael Klein, Philly.com
Friday Night Lights visited Philly on Tuesday to shoot portions of the series finale.
(Yes, the series finale. It will air next season.)
Stars Kyle Chandler and Connie Britton, who play a Texas high school coach and his wife in the NBC series, started midafternoon at Temple University.
Michael Klein, Philly.com
That whooping sound from the west side of Rittenhouse Square is general manager David Benton and staff of the Rittenhouse Square exulting over a Travel + Leisure mag announcement.
August's issue contains the news that the Rittenhouse, an independent, was selected by readers as the No. 2 "small hotel" in the continental U.S. and Canada, behind the Hotel Bel-Air in L.A., which is actually closed for renovation. Numbers 3 through 5 are the Auberge Saint-Antoine in Quebec City and a tie between the Eliot in Boston and the Rosewood Inn of the Anasazi in Santa Fe, N.M.
Overall, the Rittenhouse was No. 52 worldwide on T+L's top 100.
Michael Klein, Philly.com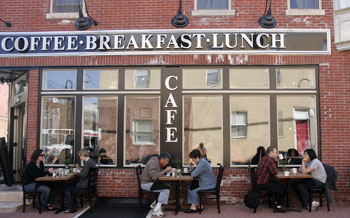 The breakfast-lunchery Green Eggs Cafe, which opened just before New Year's at 1306 Dickinson St. in South Philly, is fixing a second location. This will be in Northern Liberties, in a space that co-owner Stephen Slaughter wants to keep under wraps (preferably one of their breakfast wraps). He's hoping to open around Labor Day. Same concept/menu, but longer hours: 7 a.m. to 4 p.m. daily. Here's Craig LaBan's two-bell look at the original.

Food is an art. Richard Vague and his merry band from the Philadelphia Live Arts Festival and Philly Fringe are planning a benefit called Feastival on Sept. 15 at the festival's hub (Fifth Street and Fairmount Avenue) that will pair the cultural and culinary communities. Event chairs Audrey Claire Taichman, Michael Solomonov, and Stephen Starr, with developer Gabe Canuso of Brown Hill Development and real estate lawyer Tony Forte of Saul Ewing, have lured such names as Jose Garces, Georges Perrier, Michael Schulson, Ellen Yin, and Marc Vetri. Restaurants/food businesses on-board so far include: Amis, Audrey Claire, Bar Ferdinand, Buddakan, Capogiro, Continental, D'Angelos, El Rey, Fork, FruitFlowers, Le Bec Fin, Garces Trading Company, La Colombe, Lacroix, Le Castagne, Matyson, Melagrano, Metropolitan Bakery, Midatlantic, Modo Mio, Nectar, Noble, Osteria, Parc, Percy Street Barbecue, Pizzeria Stella, Pod, Pumpkin, R2L, Ristorante Panorama, Rouge, Sampan, Supper, Sweet Freedom Bakery, Twenty Manning Grill, Union Trust, Vetri, Xochitl, Zahav, and Zama. At $200 a head, it's not a cheap ticket, but it's a benefit for the arts, right? Info here.

Philly Beer Week will return for 2011 from Friday, June 3 through Sunday, June 12.
Michael Klein, Philly.com
Nothing official yet from the Apple folks, but my sources say a delay in interior finishings (and two other Apple store openings this weekend) have led Apple corporate to push the planned opening of the retail store at 1607 Walnut St. to Friday, July 30 at 5 p.m.
Michael Klein, Philly.com
Camden County-bred Kelly Ripa started her TV career on the old Dancin' on Air series on Channel 17.
And now the daytime talker/pitchwoman will get a blast from the past on Nov. 19 when the Broadcast Pioneers of Philadelphia honors her as its Person of the Year with a banquet at Bala Golf Club, a few minutes from the Channel 17 studios. Tickets will go on sale in September.
Dancin' on Air, a teen-dance show, was produced by Broadcast Pioneers members Frank Nise and his son Michael.
Michael Klein, Philly.com
The HeadHouse, the "craft beer cafe" that opened only a month ago in the Lombard Street former home of Zot, is closed through the summer. Partner Bruce Nichols told me that he needs to reconceptualize. The news was first reported by Beerlass, who attributed the reason to a chef who quit. Nichols said it was more involved than that but would not elaborate.

Rita's, the water-ice company that brands itself "Rita's Italian ice" because

heaven

forbid it should honor its Bensalem roots as it aims to a national audience, has generously donated $575,000 to Alex's Lemonade Stand Foundation through its four-week "paper lemon" program, where customers kicked in money.

Mustard Greens, the Chinese destination on Second Street between South and Bainbridge, has reopened after a renovation that spruced up the bar, opened the facade, and changed the flooring. Same fabulous softshells and dumplings.

The forthcoming Philly branch of the New York restaurant Serafina is unaffected by this legal maneuver at 10 Rittenhouse, according to insiders. Serafina's target opening is November.
Michael Klein, Philly.com
The National Association of Broadcasters is out with its finalists for its Marconi Awards.
Pierre Robert of WMMR (93.3) is among five nominees for major-market personality.
WMMR is one of five nominees for rock station of the year.
Michael Klein, Philly.com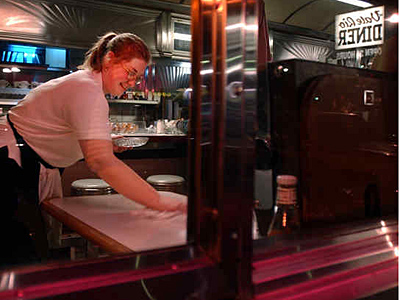 The Inquirer's aptly named Bonnie Cook today tells the story of the sale of the Phoenixville diner Vale-Rio and how it's being offered for sale on eBay.
Here's the listing, whose price is listed at $225,000.
The classic 1948 diner closed in February 2008 and was moved from its longtime spot at Nutt Road and Bridge Street to make way for a Walgreens and a Starbucks.