Archive: July, 2009
Michael Klein, Philly.com
Paul Green and eight Philly- and New York-area members of the Paul Green School of Rock All Stars taped a performance to be included in a combined season finale of the VH1 series Celebrity Rehab and Sober House.
They all flew to Hollywood on Friday after getting the invitation just three days before. Randy Alexander of Marlton's Randex Communications scored the gig.
The episode's centerpiece was a Saturday night benefit concert for the school's music-education fund, with the kids backing Ace Frehley of Kiss, Mike Starr of Alice in Chains, Steven Adler of Guns N Roses, Kyle Gass of Tenacious D as the house band at the Henry Fonda Theater's Music Box on Hollywood Boulevard.
Michael Klein, Philly.com

Center City Realtor Reid Rosenthal was booted off ABC's The Bachelorette on July 14's show, leaving Ed Swiderski and Kiptyn Locke competing for the hand of Jillian Harris.
Where's Rosenthal? He didn't show up for last week's "The Men Tell All" episode.
ABC has repeatedly declined requests for any sort of exit interview until the finale Monday (8 to 10 p.m.).
Michael Klein, Philly.com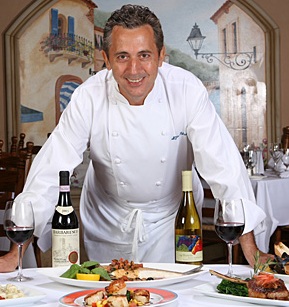 Nunzio Patruno of Nunzio Ristorante Rustico in Collingswood was chosen Friday morning as one of five weekly nominees for Live With Regis & Kelly's "Ultimate Hometown Grill Off."
This week's topic is "steak," and Patruno's recipe is Bistecca Alla Fiorentina.
A customer of Patruno's sent in a nomination video. You can go online, watch the videos, and vote at www.LiveRegisandKelly.com. Voting in this round closes Sunday (7/26) at 10 a.m.
Michael Klein, Philly.com
A few notes:
Luca Sena of Ristorante Panoroma and the Penn's View Hotel has much going on. He's a partner in Kong, Michael O'Halloran's Asian restaurant opening in Northern Liberties in about two weeks. Last year, Sena bought the Snow White Diner at Second and Market Streets and presented plans to redo it. While Sena is too shy to talk, friends tell me that he's not going to "Continentalize" the Snow White; rather, he'll add a second floor and keep it as a diner. Timetable is not set.
Max Brenner, Chocolate by the Bald Man, the carbo-lover's dream on 15th Street just south of Walnut, raised eyebrows (mine, anyway) by opening at 9 a.m. weekdays for breakfast in addition to its lunch, dinner and late-night offerings. Well, three weeks after opening, it's now limiting breakfast service to weekends.
Michael Klein, Philly.com
Kate Gosselin and two of her brood (plus one child's friend, and security guards) took in Thursday's Jonas Brothers concert at the Wachovia Center. They attended the sound-check, as well.
Before the show, Nick Jonas was spotted having a catch outside the center in a backstage parking area -- sending a few fans into screaming fits.
(This post has been edited.)
Michael Klein, Philly.com

Here's some more info about Avril, the 50-seat French BYO coming to 134 Bala Ave. in Bala Cynwyd, in the corner space across from the Bala movies that was Café Shira.
Opening will be Aug. 5.
Owners are chef Christian Gatti and his wife, April Lisante, who spent 10-plus years as a reporter, food writer and editor at the Philadelphia Daily News.
Michael Klein, Philly.com
Variety reports that Denzel Washington will indeed shoot Unstoppable, Tony Scott's runaway-train movie, this fall. He may be taking a pay cut to satisfy 20th Century Fox bean-counters.
The action-adventure story, about a train loaded with chemicals, will be shot partly in Pennsylvania -- mainly upstate and in Western Pennsylvania.
Washington told clerks at a Rita's water ice stand recently that he'll be spending time in the area because his son Malcolm has enrolled at Penn.
Michael Klein, Philly.com
Back in April, chefs Jeremy Duclut of georges' in Wayne and Peter Karapanagiotis of Privé in Old City taped an episode of the Food Network show Chopped, the Ted Allen-hosted culinary contest.
The network initially had it scheduled for Aug. 25, but now it's been pushed into October.