Archive: June, 2010
Michael Klein, Philly.com
Charlie Day and Glenn Howerton cut up yesterday in a conference room at Harrah's Chester casino as they shot scenes for the sixth season of It's Always Sunny in Philadelphia with Phillies players Ryan Howard and Chase Utley.
Day (Charlie) was impersonating Frank (Danny DeVito) at a Pennsylvania SPCA banquet. The twist here is that the Mac (creator/star Rob McElhenney) is a big fan of Utley's. Though McElhenney didn't get to act with the second baseman, he got to chat with him in his executive producer's role.
Danny DeVito and a bunch of Sunny cast and crew took in last night's fête de la music at the Sofitel: live jazz duo out front, a DJ in the bar, and comp hors d'oeuvres. The Sunny folks are in town shooting today.
Michael Klein, Philly.com
Gotta love Rob Wasserman's sense of humor. For today's reopening of 500º (1504 Sansom St.), he has named the burger of the week the "The Spontaneous Combustion," the cause of the fire that closed the place for two weeks. Crafted by Matt Levin, the burger has homemade hot sauce, pepper jack and smoked mayo.
Paesano's, the sandwicheries in Northern Liberties and Italian Market, will begin offering gluten-free bread, starting next week. Owner Peter McAndrews tells me that his kids have celiac disease. The bread he'll use is expensive, so he'll have to charge $1 extra. His South Philly shop has gone to seven-day operation.
And in non-sandwich news: Stephen Starr has won the catering contract at the Philadelphia Museum of Art, replacing Restaurant Associates after 16 years.
Michael Klein, Philly.com
For half the winter, Aramark and the Phillies developed a signature hot dog to be served this season at Citizens Bank Park. (See story.)
Three possibilities were put up to a public vote, and the South Philly Dog – a roast pork-like sandwich topped with broccoli rabe, spicy roast peppers and sharp provolone cheese on an Italian roll – was the wiener, announced around opening day.
The South Philly Dog is being served at the ballpark.
Michael Klein, Philly.com
Munish Narula, the owner of Tiffin, is partnering with Dranoff Properties on an upscale Indian restaurant that will be opening this winter at Dranoff's new project at 777 S. Broad. All seats will have a view of the open kitchen and the restaurant will wrap around the corner of Broad and Catharine.
No name yet, according to Narula, whose Tiffin has locations in Northern Liberties, Wynnewood, Elkins Park, and Mount Airy. (A Bryn Mawr location is on the way.)
In a statement, Narula says the new restaurant will use sophisticated Indian grilling methods including Tandoor (a clay oven), Sigri (char broiler), and Tawa (cast iron griddle). "Food will be seasoned with subtle, yet complex marinades and seasonings then cooked using one of these ancient methods and served in small plates," he says.

An open kitchen will be the visual centerpiece of the restaurant where every seat will provide guests with a view of the artisanal custom made ovens.
Michael Klein, Philly.com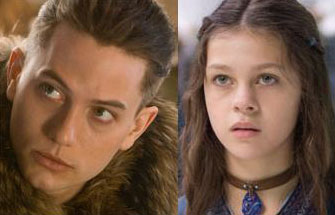 Just announced: Jackson Rathbone and Nicola Peltz, two young stars of the M. Night Shyamalan flick The Last Airbender, will appear at Saturday's "Taste of Philadelphia" festival at the Great Plaza at Penn's Landing.
They will appear at 12:30 p.m. and sign autographed posters at 1 p.m. (You need a wristband to get in line for the autograph; they'll be available at 11 a.m.).
The film, shot here in spring 2009, opens July 1.
Michael Klein, Philly.com
The cast and crew of the FX comedy It's Always Sunny in Philadelphia have made their annual trip east to shoot scenes, mainly exteriors to give the show a hometown flavor. As I previously reported, they will be working here Monday, June 21 and Tuesday, June 22 only.
They will appear the evening of Wednesday, June 23 at an invitation-only grand-opening party for Mac's Tavern, 226 Market St. in Old City. Cast members Rob McElhenney, Kaitlin Olson, Glenn Howerton, Charlie Day, and Danny DeVito are due to walk a red carpet about 8 p.m. McElhenney and Olson are among the bar's investors.
McElhenney, Olson, Howerton and some production folks visited Mac's Saturday night and mingled with the locals.
Michael Klein, Philly.com
500°, the burger joint at 1504 Sansom St. shuttered by fire on June 4, will return Tuesday (delayed a day), says owner Rob Wasserman, who also owns Rouge on Rittenhouse Square.

Jet Wine Bar, an international snack-and-wine operation I first mentioned here way back last summer, is shooting for a mid- to late-July opening at 1525 South St., says owner Jill Weber, an archaeologist working in Syria at the moment. (If you need a taste, check out Weber's blog here.)
Note: This post was corrected.
Michael Klein, Philly.com
Sunday will mark the soft opening of Olive on 3rd, Christine Fischer's cozy BYOB in the former Ava at Third and Gaskill Streets -- between South Street and Lombard Streets (518 S. Third St., 267-519-9498).
First day -- Father's Day! -- will feature a prix-fixe menu and comp dessert as Fischer eases the staff into the fray.
Fischer, paired in the kitchen with Gildardo Zavala Cortes, has been in catering and restaurants since 1995. She briefly owned the BYOs ChriStevens and Astral Plane Millenium.