Archive: June, 2009
Michael Klein, Philly.com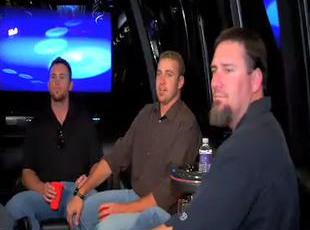 In the second episode of "The Pen" -- the MLB Network reality series about life in the Phillies bullpen* -- pitchers Chan Ho Park, Chad Durbin, Clay Condrey, Brad Lidge, Jack Taschner and Scott Eyre take a limo ride from San Diego to Los Angeles.
The episode, narrated by Mitch Williams, is on at 9 p.m. Sunday (6/21). MLB will be taping shows until the All-Star break.
In this preview, taped late June 4, we see Lidge chat up a woman at a drive-through** to plug the show and the guys discuss whom they'd like to have dinner with -- dead or alive. Names they toss out: John Wayne (Condrey), Ben Franklin (Taschner), Cy Young (Park) and Jesus (Durbin).
Michael Klein, Philly.com
The Rittenhouse Square lounge Strongbox, which opened at 2029 Walnut St. in March, is closed for regular business till Labor Day, says owner Brett Perloff.
"Due to a few factors including the annual exodus to the shore of our clientele, the current economic state and our venue becoming more and more popular for private events, we have decided ... to take advantage of the slowdown in order to complete renovations and tweaking of our product," he said in an e-mail. The club was closed last Saturday night.
Perloff, whose company Perl Media is handling nightlife promotions in Atlantic City's Chelsea Hotel with Premiere Hospitality Group, said Strongbox is available for private parties and special events. Thursday night, he is running a victory party for regular customer Brian Lemke, who last week won the $5,000 buy-in, no-limit hold 'em event at the World Series of Poker in Las Vegas.
Michael Klein, Philly.com
The Best and the Brightest, the Philly-shot comedy that has Neil Patrick Harris and Bonnie Somerville playing parents from Delaware trying to get their kid into a ritzy Manhattan school, is looking for actors.
The "type"? Talent that's "comfortable with nudity for background work."
An e-mail from Mike Lemon Casting, forwarded to me by a local actor, says the background talent will be portraying "NUDE people in a sex club, dancing and 'hanging out.' There will be NO simulated sex of any kind. Talent will need to be comfortable with being NUDE." The work will be done next week.
Michael Klein, Philly.com

California Tortilla -- a franchise operation out of sunny Rockville, Md. -- will mark the opening of its first store in Philadelphia on Tuesday (6/23) by giving away burritos and drinks.
It's in the Far Northeast at 10000 Roosevelt Blvd., at Red Lion Road. Giveaway will run from 11:30 a.m. to 1:30 p.m. and from 5 to 8 p.m.
The first 10 people in line at the beginning of the day will also get one free burrito per week for one year. The next 20 in line will receive one free burrito per week for one month.
Michael Klein, Philly.com
Georges Perrier has extended his novel promotion at Le Bec-Fin that allows patrons to pay what they wish for a four-course tasting dinner.
July's seatings have sold out, so the phone lines are being open for August.
It's limited to 20 people a night for the 7 p.m. seating Mondays through Thursdays.
Michael Klein, Philly.com
April Lisante, who spent 10-plus years as a reporter, food writer and editor at the Daily News, is going into the restaurant biz with her husband, Christian Gatti.
It'll be Avril -- French for "April" -- a 50-seat white tablecloth BYO at 134 Bala Ave. in Bala Cynwyd, in the corner space across from the Bala movies that was Café Shira.
Food will be provincial Southern French with a little Northern Italian, including homemade pasta and bread plus flatbread from a pizza oven. Apps will be in the $8-$12 range, with entrees $22-$32. They're hoping to open Aug. 1.
Michael Klein, Philly.com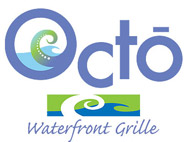 Octo Waterfront Grille threw the doors open over the weekend for a soft opening at 221 N. Columbus Blvd., on the pier that was Rock Lobster for many years. Grand opening is Thursday.
Most dinner entree prices are under $25.
Here are PDFs of the lunch and dinner menus, served daily. See this post for renderings.
Michael Klein, Philly.com
Look for chef-restaurateur Jose Garces (Amada, Tinto, Distrito, Chifa) at 8:50 a.m. Tuesday on NBC's Today show. The 2009 James Beard Award winner for Best Chef, Mid-Atlantic will discuss his first cookbook, Latin Evolution, and prepare halibut fish tacos from the book. Garces' next restaurant, Village Whiskey, is now expected to open at 20th and Sansom Streets in late July.

Set your DVR for 12:35 a.m. Thursday on CBS, as Derrick Pitts, chief astronomer at the Franklin Institute, will talk about Galileo on the Late Late Show with Craig Ferguson.