Archive: April, 2012
Michael Klein, Philly.com
Monday, April 16 is the opening date for HipCityVeg, a vegan fast-food cafe at 127 S. 18th St., on the block north of Rittenhouse Square that's also home to Serafina and a.kitchen.
In her ownership debut, Nicole Marquis, a former manager at the late vegan landmark Horizons, wants to make vegan grub "convenient, affordable, and delicious."
Chef Rich Landau, who transitioned from Horizons into the white-hot destination restaurant Vedge, mapped out the menu, which will be executed by chef Lauren Hooks. Landau also inspired the shop's name, Marquis said.
Michael Klein, Philly.com
Peter McAndrews' Italian-influenced bar, La Porta, is due to open May 1-ish in Edgemont, outside of Media.
The chef - who has Modo Mio, Paesano's, Monsu and Popolino in Philly - took over the Locust Crest Tavern off Route 352, sprucing it up while keeping the oldtime flavor.
Though billed as a pizzeria, note the creative touches on the menu, including an antipizza section, with such dishes as spicy wood-roasted mussels, almonds, lemon, herb butter.
Michael Klein, Philly.com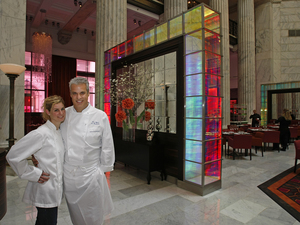 While in town visiting his 10 Arts at the Ritz Carlton - which somehow is going on without Jennifer Carroll in the kitchen - chef Eric Ripert sat for a Q&A with GrubStreet. Notably, Ripert took the time to tout Stephen Starr, calling him "the king of restaurants." (Post is here.)
Meanwhile, Carroll is hard at work on the Bravo series Life After Top Chef. On Monday, she and a camera crew stopped at Samuels & Son, the seafood wholesaler, at its South Philly headquarters.
Carroll was blown away.
Michael Klein, Philly.com
Why is this Passover different from the last five Passovers?
Max & David's, the destination kosher restaurant in Yorktown Plaza in Elkins Park, won't be reopening after the holiday.
"We made kosher cool again," said owner Steve Katz, with a bit of leavening, er, levity. He added that he pulled the plug because he was losing money. "I'd rather give the money to charity," he said.
Michael Klein, Philly.com
The Shanachie, an Irish pub/music venue that opened in 2004 in the heart of Ambler, folded at the end of March.
Owners Ed Egan and Gerry Timlin told the local Patch that "personal issues" led them to shut down.
Chiropractor-turned-restaurateur Dave Magrogan, who has been on a development tear lately, confirms that he is in talks to take the space. But while the neighbors are speculating that he will install his bar concept Kildare's, he is thinking about a Doc Magrogan's Oyster House.
Michael Klein, Philly.com
Entrepreneurs Gerard Olson and Daniel Endicott are previewing Forest & Main, Ambler's first brewpub, with an eye toward opening Friday, April 13.
Over the course of more than a year, they've transformed a circa-1880s Victorian house at Forest and Main Streets (!) into a bar-restaurant, squeezing their brewing equipment into a later-vintage expansion of the house.
The century-old spot, replete with knickknacks and plank flooring, looks its age. The first-floor bar in the parlor is snug, and there's a small dining room on the first floor. There's additional dining upstairs.
Michael Klein, Philly.com
A most impressive two years for Steve Slaughter and crew at Green Eggs Cafe, the bruncherie.
Opened on Dickinson Street in South Philly.
Opened on North Second Street in Northern Liberties.
Expanded South Philly.
Opened Stateside, a two-bell gastropub on East Passyunk
And now: The third Green Eggs Cafe is looking to open

April 16

at 13th and Locust Streets, sharing the building with the new Nest Gym. (It's the former Signatures strip club.)
Bright, open look, with wooden tables topped with plants, and a fieldstone wall housing a TV.
Same menu as the other locations.
Michael Klein, Philly.com
Since the days of Marabella's, restaurants occupying the building at Skippack and Penllyn-Blue Bell Pike in Blue Bell - across from the Blue Bell Inn - have failed to gain traction:
The Blue Horse limped along, followed by Domenico's seemingly for five minutes. Now, Chef Salvatore is on its way out after 18 months. Chef Salvatore De Cristofaro tells me that he's returning to Italy to shoot and produce a TV show.
New occupants, who plan to take over without a shutdown, own the popular Buona Via in Horsham. Buona Via's Salvatore Carratta says he intends to install a wood oven for pizzas and will rename the place L'Angolo Blue.