Archive: April, 2011
Michael Klein, Philly.com
Jim and Kristina Burke are not the only couple deciding to close their fine-dining restaurant (South Philly's James) as they shift to a new concept in Center City.
Horizons, the honored vegan destination on Seventh Street south of South Street, is preparing to move on after five years. Timetable has it remaining open till July 4 or so, pending transfer of the liquor license.
Husband-wife team Rich Landau and Kate Jacoby are staying in the game. They are preparing to sign a lease for a new spot in Center City, as they want to, in their words, "take the next step."
Michael Klein, Philly.com
Vesuvio, at Eighth and Fitzwater Streets in Bella Vista, has given way to Little Bar, a jazz club. The changes began in December, when Michael D'Addesi closed to fix the building. He reopened the bar area in February. Effective April 29, the rest of the former dining room will be set up as a "bar room" that will feature live jazz till midnight with players such as Greg Matthews. The menu is here. Friday night music schedule is here.
---
The former Pico de Gallo space on the northwest corner of 15th and South Streets is due to open in June as Sawatdee (that's Thai for "hello"). Project lead is Samarn "Tony" Inchote, a former chef at the Dmitri's in Queen Village, returning to his culinary and personal roots. BYOB, casual. Pico de Gallo exists on the southwest corner of 15th and South as the Baja Room.
Michael Klein, Philly.com
Wednesday, April 13* is the first public night for Talula's Garden, the collab between Aimee Olexy and Stephen Starr at 210 W. Washington Square. (* Opening date has been changed.)
Concept is garden to table, and Olexy considers TG as an urban extension of her Talula's Table in Kennett Square.
The outdoor patio will boast a mini-garden in addition to seating beneath a pergola made of reclaimed wood; the dining rooms play out under enormous Alice Waters quotations printed on the upper walls.
Michael Klein, Philly.com
Kevin Sbraga, winner of the seventh season of Bravo's Top Chef, and Chip Roman, chef/owner at Blackfish and the new Mica, have something in common: a background in Georges Perrier's kitchens (Sbraga at Le Mas and Roman at Le Bec-Fin). They'll team up for a collab dinner at Blackfish, in Conshohocken, on May 2. It's $85 for the five courses. Menu is TBA, and RSVPs go to Blackfish.

---
Aaron McCargo Jr., winner of The Next Food Network Star a couple of years back (and now host of Big Daddy's House), has started a foundation. Play to Win Inc. targets at-risk high-schoolers in Camden, whence he came.
Michael Klein, Philly.com
TuB, the Philly-rooted premium gin, will mark the 78th anniversary of the Cullen-Harrison Act by offering throwback-priced 25-cent gin drinks on Thursday, April 7 at five watering holes: Franklin Mortgage & Investment on 18th Street, PYT in the Piazza at Schmidt's, Prohibition at 13th and Buttonwood, South Philly Taproom at 15th and Mifflin, and Grey Lodge on Frankford near Harbison. Hours will vary.
Um, the Cullen-Harrison Act?
It was the move that spelled the beginning of the end of Prohibition by allowing beer and wine to contain 3.2 percent alcohol. FDR signed it into law April 7, 1933.
Michael Klein, Philly.com
Two years in the making, the Fairmount restaurant/wine bar Fare is looking at a debut before Memorial Day at 2028 Fairmount Ave., across from L'Oca. Owner David Orphanides, chef Tim Bellew, and general manager Robert Amar have sustainability, local products, and organics on the mind. See the website, which just went live.
---
Two Japanese-relief fundraisers out there now:
Ooka restaurants in Montgomeryville, Doylestown, and Willow Grove, along with Komé in the Lehigh Valley, plan to raise $10,000 for the Japanese relief efforts by selling Japanese Relief Rolls — featuring shrimp tempura, cucumber, tobiko caviar, and topped with avocado, Albacore tuna, and spicy cream sauce. One hundred percent of the $12 price per roll will be donated to an organization helping with relief efforts in Japan.
Michael Klein, Philly.com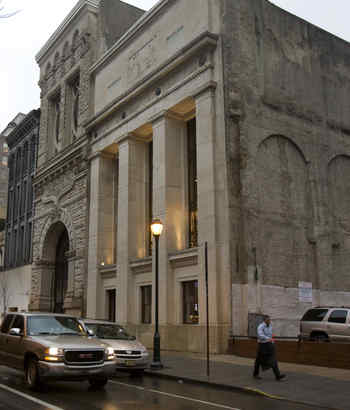 The posh Union Trust steakhouse, which opened at 717 Chestnut St. in early 2009 amid the Center City steakhouse boom, filed for bankruptcy protection Thursday, March 31. (The news was first reported on Foobooz.com.)
The steakhouse company's two current officers -- Joe Grasso and Garrett Miller, both founders -- told me that the business will remain open.
In an interview, Grasso and Miller said Union Trust is stronger than it has ever been, that financial controls have finally made it profitable, and that the filing was intended to "bring order to a chaotic situation." In other words, to ask U.S. Bankruptcy Court to arrange what they call a "fair" repayment schedule for banks, investors, and companies involved in the construction and to "take the emotion out of it."
Michael Klein, Philly.com
Stuart Davis of Cherry Hill won the grand prize in the fifth annual Man-O-Manischewitz Cook-off for his Japanese-influenced chicken and egg donburi recipe. He topped four rivals March 31 in New York.
Davis, a father of four who teaches at Temple Beth Sholom in Cherry Hill, got a prize package totaling $25,000, which included kitchen appliances and cash.
Recipe: