Archive: April, 2009
Michael Klein, Philly.com
ESPN's Sal Paolantonio will host Mike Missanelli's radio show with Harry Mayes on Monday (4/20), from 3 to 7 p.m. on ESPN950.
Sal Pal ordinarily shows up on Tuesdays, talking NFL topics.
Michael Klein, Philly.com
Since Harry Kalas' death last Monday, news reports had said that his private burial would be "early next week."
But the family, which had generously participated in the public tributes to the hall of famer, decided to hold the funeral immediately after the public memorial at Citizens Bank Park. Saturday afternoon, after the singing of "High Hopes," the Phillies players placed Kalas' white casket into a hearse. The driver proceeded to Laurel Hill Cemetery, where family members and his closest friends held a graveside service. Many returned to the ballpark for the night game against the Padres.
Like his buddy Richie Ashburn, a transplanted Midwesterner who found love and respect here, Kalas will always be a part of Philly. Ashburn rests in Gladwyne, while Kalas is in Fairmount Park.
Michael Klein, Philly.com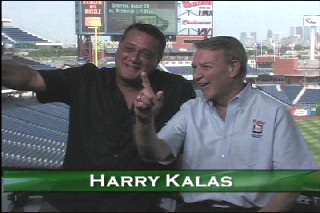 Entertainer Eddie Bruce -- 'member him from the TV show Dancin' on Air? -- has been given the nod to lead "High Hopes" on Saturday at Harry Kalas' memorial at Citizens Bank Park.
Bruce, who'd known Kalas since 1981 (both DOA and the Phils were on Channel 17), says: "I hope I can do it justice. By that, I mean, I don't want to sing it too pretty because Harry never did. He sang it straight from the heart. I want everyone to join in and sing it as loud as they can, from their guts, so Harry can hear us. I don't care how it sounds. I just hope it is filled with spirit."
Bruce adds that honored that the family considered him worthy. "For Eileen to ask me personally shortly after Harry died probably means the most," he said.
Michael Klein, Philly.com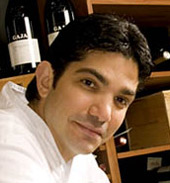 Chef Luke Palladino, who oversees Specchio and Ombra plus the casual Risi Bisi at the Borgata in Atlantic City, is leasing the space that last housed Les Bons Temps at 114 S. 12th St. for an Italian wine bar/restaurant. (This morning, Foobooz.com posted what it described as a rumor that the place was "sold" to an unnamed Borgata chef and that it would reopen as an Italian restaurant.)
Palladino's cuisine will be regional Italian based on his travels; the restaurant's name is still under wraps.
Palladino's partner is Philly-born Eddie Bianchini, former owner of Hotel Les Muscadins in Mougins, France, and the Lenox Room in New York.
Michael Klein, Philly.com
From the Boot, the Italian BYOB in Lafayette Hill, is taking over the former Agave Grille/Ralph's space in downtown Ambler.
The Ambler spot, which co-owner Bob Devine says he hopes to open midsummer, will have an 18- to 20-seat bar as well as private-party space that Lafayette Hill lacks. Both places will have the same menu.
Michael Klein, Philly.com
Expect an opening later this month for a branch of the sports bar JD McGillicuddy's at 421 N. Seventh St., next to the Electric Factory. The opening has been about a year in the making, mainly due to licensing issues.
The spot was last Whiskey Dix Saloon, which neighbors and cops branded a nuisance bar.
Michael Klein, Philly.com
Mary Lattimore, Brooke Sietinsons and Margaret Ayre of the Valerie Project will perform in the Comcast Center lobby from noon to 1 p.m. Friday 4/17 to plug the movie The Soloist.
(So they're not soloists, but you get the drift. It's music.)
Local visual artist Rah Crawford will be there, creating a work on-site.
Michael Klein, Philly.com
Woe betide anything carrying the "Penguins" name.
Comcast Spectacor has prevailed upon the operators of Collingswood dry-cleaning establishment Penguin Cleaners to eliminate the word for the remainder of Eastern Conference Quarterfinals, which start Sunday.
At noon Thursday, Flyers alumnus Bob "The Hound" Kelly will help hang a Flyers banner outside of the store and cover the word "Penguin."