Archive: March, 2011
Michael Klein, Philly.com
La Colombe owners Todd Carmichael and Jean Philippe Iberti are starting to share their stash of 40,000 kilos of Haitian Blue Forest, an heirloom coffee variety that is grown semiwild in the mountains of Haiti.
Free tastings will be offered from 10 a.m. to 5 p.m. Friday, March 18 at their Rittenhouse Square shop (130 S. 19th St.). Carmichael describes the flavor as "Ethiopia meets Costa Rica."
Carmichael traveled to the impoverished country a couple of months ago to strike up business deals with the small farmers.
Michael Klein, Philly.com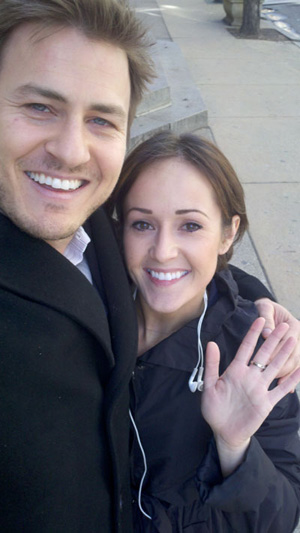 Fourth-year Penn Dental student Ashley Hebert, previously eliminated from The Bachelor, was announced early Tuesday as the next Bachelorette.
ABC used Jimmy Kimmel's show to introduce her, following The Bachelor's finale. Brad Womack chose Emily Maynard.
"I think it all turned out for the best," she told Kimmel. "When I saw him on that date [with Emily], I could see in his eyes that he was really happy, so it gave me closure."
Michael Klein, Philly.com
If you bought today's Groupon offering $30 worth of food for $15 at Franco's Trattoria on Ridge Avenue in East Falls, be advised that the restaurant has closed for good.
Groupon's offer says the deal is "sold out" and that 105 people bought in.
A woman who answered the phone at the restaurant, whose building is owned by Sherman Properties, acknowledged that the restaurant was no longer in business.
Michael Klein, Philly.com
Grabbing the gusto, Jersey Shore star Mike "The Situation" Sorrentino has been booked for an appearance from 5 to 7 p.m. April 1 at the State Store at Franklin Mills Mall in Northeast Philly.
He will sign bottles of the protein-added Devotion Vodka, for which he is shilling. You have to buy a bottle ($25.99) to get in line for the signing.
That night, Sorrentino has been booked to attend a public party at the nearby Parx Casino in Bensalem. His arrival is scheduled for 9 p.m. and it's free to observe.
Michael Klein, Philly.com
Maureen and Mike Mattson of Audubon, Camden County -- rather, their toddlers Franny and Bridget -- have won the LIVE! With Regis and Kelly "Great Days Start Here" video contest, in which viewers create videos that show how they start their days.
Maureen and Mike, who learned of the win on Monday's show, had the kids act out how Regis and Kelly get going in the morning. Very cute.
They and five other contestants won $5,000 in prize money, and now they'll receive an additional $15,000.
Michael Klein, Philly.com
Collingswood has been undergoing a game of restaurant dominoes.
The last move has been made, so let me recap:
Alex Capasso moved his Blackbird Dining Establishment from 619 Collings Ave. a few blocks away, into a portion of his West Side Gravy at 714 Haddon Ave. Both share the space in a neat set-up that manages to give prime window seating to patrons at both the polished Blackbird and the casual West Side Gravy. It's the former Woolworth's.
Michael Klein, Philly.com
Chef Shawn Sollberger and concert promoter Bryan Dilworth are targeting a soft opening tonight (Friday, March 11) for Gunners Run, their pub in former Swift Half space at the Piazza at Schmidt's. It's along the Second Street side, at Wildey.
They've bumped up the seating, adding banquettes to the tables, booths, and bar (which has 10 beers on tap). On weekends, the long communal table will become a make-your-own-Bloody Mary bar, with dozens of ingredients.
Sollberger's resume includes Davio's, Capital Grille, and his former Montco restaurants Blue Horse and Ravenna. Dilworth expects to lure some of his music acts for impromptu performances; the piazza's stage at his doorstep is quite fitting.