Archive: December, 2011
Michael Klein, Philly.com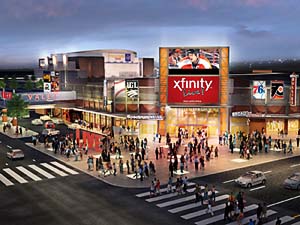 Comcast and its NBC brand will be amply represented at the new Xfinity Live! sports/entertainment complex on the former site of the Spectrum in South Philadelphia.
So will local restaurants, including Victory Brewing Co., Original Philadelphia Cheesesteak Co., Chickie's & Pete's, and Nick's Roast Beef.
The project, whose working name was Philly Live, has the backing of the hometown cable giant.
Michael Klein, Philly.com
When built from scratch, many restaurants take a year or more to open.
"Or more" will cover the long flight of The Pickled Heron in Fishtown, opening this week.
I first spoke with Todd Braley and Daniela D'Ambrosio in August 2008, as they charted plans for the French-inspired BYOB with the punny name at 2218 Frankford Ave.
Michael Klein, Philly.com
The spot in East Falls that's been home to Verge and Franco's Trattoria is being revived this week as In Riva, a Southern Italian (wood-fired pizzas, antipasti, specialty cocktails, modest prices, you know the drill) in industrial surroundings from chef Arthur Cavaliere. Official opening will be Dec. 12.
The well-traveled Philly-born Cavaliere, 31, points out that he's never cooked Italian on a commercial basis, "but this is my food." He started in the biz as a teenager working as a line cook for Derek Davis up the way in Manayunk. He went on to work for and with Stephen Starr and Jose Garces at the opening of El Vez and eventually Amada. Cavaliere came back to Starr in 2006 as executive chef at El Vez and then landed as executive chef of Parc. Then he skipped town for D.C. to work for Michel Richard as executive chef of Central Michel Richard. He then opened Mani Osteria & Bar in Ann Arbor, Mich., with fellow Starr/Garces alum Adam Baru.
In Riva (4116 Ridge Ave., 215-438-4848, www.in-riva.com) is a partnership with developer Mark Sherman, who owns the bricks. Cavaliere said he got a call from Sherman, a family friend, in the last days of Franco's Trattoria.
Michael Klein, Philly.com
There are at least two sides to every story, and the seemingly abrupt closing of the Marathon Grill at 1339 Chestnut St. on Dec. 7 is no different.
Marathon released a statement late that evening, explaining: "Due to increasing rental expenses, Marathon has elected to close its Broad and Chestnut Street location."
Philadelphia Municipal Court records show Marathon was evicted from its location of 15 years over back rent of more than $186,600. The landlord filed suit back in March. Several extensions delayed any action. (See the notice.)
Michael Klein, Philly.com
Not satisfied with simply selling BMWs, Cortright Wetherill Jr. of Devon Hill BMW has gotten himself into the restaurant business.
Due to open Dec. 19 is Ella's American Bistro in Wayne's Devon Square (214 Sugartown Rd., Wayne), named after his mother. (Not to be confused with Ela, the Jason Cichonski-Chip Roman newcomer in Queen Village.)
Executive Chef Matt Schuler - a Johnson & Wales University grad who was born in Lancaster and raised in Georgia - is cooking from scratch and doing the local-sourcing thing (sustainable, naturally raised, organic, chemical-free, etc., etc.).
Michael Klein, Philly.com
Hundreds of people stood in line between noon and 1 p.m. on Friday (12/9/11) in the rotunda at the Shops at Liberty Place to get free cookies baked by six city chefs during a taste-off orchestrated by Philadelphia magazine.
Donald D. Groff of the Daily News reports that each taster was given one ticket to place in a ballot box of his/her favorite.
When they were tallied, the winning cookie was the Spiced Caramel Chocolate Tuiles, round with ginger, lemon and spices with a disc of chocolate placed on top. The winning recipe was created by Frederick Ortega, executive pastry chef at Lacroix.
Michael Klein, Philly.com
Al Paris has cooked all over this town - and at such wildly different restaurants: City Grille on City Avenue, Rococo on Chestnut Street, Oberon on Chestnut Street, Guru on South Street, Circa on Walnut Street, Zanzibar Blue at the Bellevue, Warmdaddy's on Front Street and later Columbus Boulevard.
Tells you two things. One, that he's got moves, shuttling easily among American, Southern and Asian cuisine. Two, that he's old. Not really - early 50s.
Next up: A project that smacks of something even older. He and Robert Bynum of Warmdaddy's are opening Heirloom, a 50-seat BYOB, in the trolley turnaround at the top of Chestnut Hill (8705 Germantown Ave., 215-242-2700; next to Thai Kuu) that many may remember as the old Roller's Market. Debut is up for Dec. 16.
Michael Klein, Philly.com
Chick-fil-A will award a year's supply of meals to the first 100 adults in line on the morning of Dec. 15 at its new location, 621 Woodbury Glassboro Road in Mantua, Gloucester County.
The line officially opens at 6 a.m., Wednesday, Dec. 14, with the free meal cards being awarded Thursday sometime between 6 a.m. and 6:10 a.m. The restaurant will open immediately thereafter.
If there are more than 100 people by 6 a.m. on Wednesday, Dec. 14, all 100 spots will be determined by a raffle. See complete rules here.