Archive: December, 2009
Michael Klein, Philly.com

Want to bunk or eat at the new Le Meridien hotel at 1421 Arch St., across from the Municipal Services Building and around the corner from the Convention Center expansion?
Hang on about four more months.
Though it has appeared finished for some time, Starwood's grand opening is now set for April 15.
Michael Klein, Philly.com
They own a Philly bar on TV, why not for real?
Rob McElhenney and Kaitlin Olson, the husband-and-wife team who play Mac and Sweet Dee on It's Always Sunny in Philadelphia, will be partners in an Old City bar, now operating as Skinner's, at 226 Market St. The info was rumored yesterday on Phoodie.info but not confirmed.
Local attorney William Morrin confirmed that the couple will be investors but not operators.
Michael Klein, Philly.com
Philadelphia International Airport blasted out a press release this morning about tomorrow's ribbon-cutting for a cell-phone waiting lot, a boon for the motorists being ticketed for idling on access roads and ramps.
Ah, but the document's revisions were left in for all to see, and for some reason the phrase "convenient and well-lit area where drivers can safely wait to pick-up passengers arriving at the Airport" was deleted.
The release now simply reads: "The new Cell Phone Waiting Lot is free and located on Airport property. It provides spaces for 150 vehicles and is a one-minute drive to the baggage claim areas."
Michael Klein, Philly.com
Wasn't too long ago that Phillies fans were swiping their credit cards to obtain #34 Cliff Lee gear.
Today, the Phillies have some jerseys and T-shirts left at the Majestic shop at Citizens Bank Park, and if you act now, they're half-off.
Move 'em out!
Michael Klein, Philly.com
Potito's Bakery at 1614 Ritner St. in South Philly, which closed in June, reopens today.
The business lost steam after the 2005 death of founder Carmen Potito.
Daughter Cristina Potito-Benigno and her husband, Matt, are running it.
Michael Klein, Philly.com
Stephen Starr and Jose Garces are responsible for some of the city's most-buzzed-about restaurants.
Here's what they have on the books for 2010.
Follow along:
Michael Klein, Philly.com
Basketball legend Shaquille O'Neal, in town for tonight's Cavs-Sixers game, stopped at the Comcast Center, presumably for high-level meetings.
Shortly after the 1 p.m. start of the 3-D Comcast Holiday Spectacular show in the lobby -- in which he appears -- the man himself emerged from an elevator, put on 3-D glasses, and watched part of the show.
Comcast CEO Brian Roberts joined him for a few moments while passersby and Comcasters snapped away.
Michael Klein, Philly.com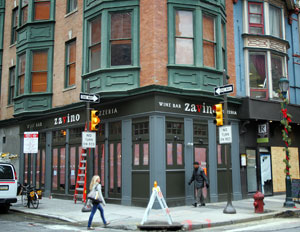 Zavino, the spiffy pizza-wine bar coming to the corner of 13th and Sansom, has delayed its opening to Dec. 30.
Meanwhile, peruse chef-owner Steve Gonzalez's menu -- a brilliantly tight selection of easy-on-the-budget antipasti, a few hot dishes, and pizzas -- all befitting the snug space. (The dominant feature is a white marble-topped bar.)
Gonzalez also has set up a one-person charcuterie station, with slicer, in a corner of the 30-something-seat dining room.
20091216093250003
Michael Klein, Philly.com
A "wow" moment for Bibou, and for Philly.
The 32-seat Bella Vista BYOB is seventh in Alan Richman's list of GQ's 10 Best New Restaurants of the Year, coming out in the January issue. (How especially refreshing, given that Bibou does not have a public-relations machine behind it.)
Richman, who wrote for the old Evening Bulletin eons ago, blurbs:
Michael Klein, Philly.com
Two restaurants do not a trend make, but here are two vegetarian offerings on the way.
Ross Olchvary, who was sous chef and chef de cuisine at Horizons, is hoping for a February opening for a vegan (yes, vegan) BYOB at 450 Union Square Drive in New Hope, near Triumph Brewery's New Hope location. His name is Sprig & Vine.
Thoreau, the vegetarian from Blue Sage chef-owner Mike Jackson under construction at 1033 Spring Garden St. (photo), has set a Feb. 2* opening. He'll remain with Blue Sage (in Southampton, Bucks County), which he still owns with his ex-wife, Holly. He's also going for a liquor license.