Archive: October, 2010
Michael Klein, Philly.com
Falafel Factory, which started serving healthful variations of falafel in February in a storefront on 18th Street near Chestnut, is down for the moment, as suggested by the padlock on the door. When owner Rob Rimeris returns my call, I'll have more.

The zoning hearing for the proposed 1200 Bank, the upscale billiards hall at 12th and Chestnut Streets, has been postponed from today. The project has raised opposition from local NIMBYs spooked by the prospect of a roof deck.

Brown Betty's, the dessertery with locations in Northern Liberties, Rittenhouse, and Liberty Place, is doing a charity thing around its third anniversary. Those who go on Brown Betty's Facebook page and make a donation to Feed America for $3 (the price of a cupcake) can print out their proof of donation and redeem it for a free cupcake on Oct. 20.

Liberte, the French restaurant/lounge in the lobby of the Sofitel (17th and Sansom Streets), opens this weekend.
Michael Klein, Philly.com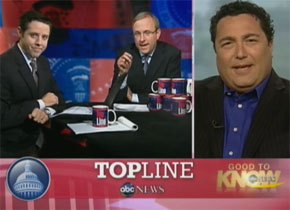 Glassboro actor Damian Muziani has been making the talk-show rounds to distance the national Republican Party from a political TV commercial in West Virginia.
The commercial drew fire for its having been shot at the Oregon Diner in South Philly -- using casually dressed Philly actors to play West Virginia diner patrons as they attack West Virginia Gov. Joe Manchin, who is running for U.S. Senate.
Adding to the stink was the use of the phrase "hicky, blue-collar" to describe the diner patrons' look.
Michael Klein, Philly.com

Denise James hasn't been seen on Action News since January, when she went out on leave with a shoulder injury.
She now says she is officially gone after 23 years at the ABC station, because her position was eliminated.
She is teaching broadcast-news writing at Temple University and "living life."
Michael Klein, Philly.com

What was Denim Lounge on the second floor of 1712 Walnut St. will open Friday (10/15) as Whisper, a private club open Thursdays through Saturdays.
And though the website says nothing yet, I can say it will have six bars and three lounges offering bottle service amid an atmosphere of dramatic lighting, mirrors and sound. General manager is Denim alumnus Chris Nork
Decor highlights
Deep eggplant walls with antique mirrors and tufted sofas
400-square-foot dance floor, above which is a tiered series of three platforms including the DJ booth, stage area accommodating live performances and VIP bottle service and a glass floor dance booth
150-inch clear holographic rigid HD projection screen surrounded by a Victorian brass frame reflecting a custom-built modern-aluminum chandelier that hangs above 65 feet of etched concrete front bar
$250,000 lighting system anchored by iconic "W" shaped polished aluminum box truss, and surrounded by krypton lights, strobe lighting, lasers, and high-resolution LED tiles
50-seat VIP area, covered with reflective latex imported from France, allowing guests to catch a glimpse of themselves and other patrons.
Private lounge called "Shhh."
Entire building lined in material to create a noise barrier.
Security team of at least 20 people with 35 surveillance cameras throughout the interior and exterior of the property.
No sneakers, work-boots, hats, T-shirts, and athletic gear allowed.
Michael Klein, Philly.com
Phillies ready to sweep the Reds ... Eagles in San Francisco to play the Niners.
At the same time.
What was a Philly sports fan to do? Besides dial-flipping.
Michael Klein, Philly.com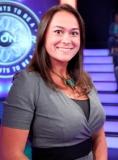 Diana Zalewski, 25, a recruiter and a 2003 grad of Mount St. Joseph Academy in Flourtown, gets grilled Tuesday and Wednesday by Meredith Vieira on Who Wants to Be a Millionaire (12:30 p.m., 6ABC).
Her mother, Eugenia, was her on-air companion. She told producers that if she won big on Millionaire, she would pay off her student loans, produce a nature program, buy a family home at the shore, and visit Tanzania to view the wildebeest migration.
She's an adventure-seeker: The show's PR rep says she has trekked in Africa to see gorillas, has gone swimming with sharks, bungee jumping and played with tigers in Thailand.
Michael Klein, Philly.com

What's with rapper-actors and their cognac?
Chris "Ludacris" Bridges' brand is Conjure, and he's due at the State Store at 119 W. City Ave. in Bala Cynwyd from 5 to 7 p.m. Oct. 27 for a tasting and bottle-signing, as the Liquor Control Board announced.
Bottles ($32.99) must be prepurchased.
Michael Klein, Philly.com
Steve Bucci has returned to CBS3's sports department, three years after he was downsized following a decade at the station.
It's freelance work, tied mainly to the Phillies.
Since his layoff, he has appeared on Fox29 and Comcast SportNet.