Archive: September, 2010
Michael Klein, Philly.com
Fox yesterday announced that Fox29 anchor Kerri-Lee Halkett, who has been out on personal leave since Sept. 8, had resigned effective next month.
My sources said that she wants to spend more time with her son, Van, 5, and that she is being courted for work near the family vacation home in Connecticut.
She and her husband, Bala Cynwyd-based environmental lawyer Kirt Mayland, live in Center City.
Michael Klein, Philly.com
Everyone seems to be doing those group-coupon deals, where you and others put down cash, which gets you some product at a 50-percent discount..
OpenTable, the reservationists, just expanded its own program into Philly with Spotlight.
Each week's restaurant starts out as a secret. OpenTable posts hints on the company blog and visitors can post their guesses. Shortly after the secret is revealed on Tuesday evenings (usually around midnight), visitors can buy into the deal and encourage friends to do the same. When the maximum number of spots has been filled, buyers will be alerted via email and will receive a coupon to bring to the restaurant.
Michael Klein, Philly.com
Four months ago, Matt Levin was named executive chef at Rouge on Rittenhouse Square, a move that sent eyebrows north as he was at the time developing his own restaurant, Adsum. He and owner Rob Wasserman installed Trevor Budny as chef de cuisine.
Well, Adsum is going great guns in Queen Village and now ...
The other shoe has to drop.
Michael Klein, Philly.com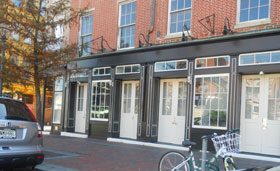 It's called PBR and it's not a beer.
It's Philadelphia Bar & Restaurant, a new gastropub at Market and Letitia Streets (120-122 Market St.), across from Franklin Fountain, in what was Triada.
Shawn Gormley and Nicolas Moore were bartenders at Lucy's Hat Shop, though they say they are focusing more on food here.
Michael Klein, Philly.com

If you haven't seen Kerri-Lee Halkett on Fox29 recently, it's because she is on personal leave and is due back in mid-October, according to a station rep.
No one is discussing the matter, and she's been unavailable to chat.
Her last day on the air was Sept. 8.
Michael Klein, Philly.com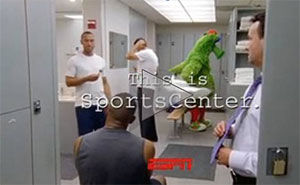 The 30-second ESPN SportsCenter commercials are among the cleverest spots on TV, and one that premiered today is no exception.
It shows Yankees star Derek Jeter at a sink in the ESPN locker room, holding his razor (naturally, made by his sponsor Gillette), which is covered in green fur.
Jeter accuses others of using the razor, before the culprit emerges from the shower.
Michael Klein, Philly.com
Buddakan executive chef Mark Hellyar is quite the kitchen scientist.
He recently started dunking his homemade green-tea cookies in liquid nitrogen. After giving a little bath, he scoops them out and feeds them to patrons. When they hit the warmth of the mouth, steam erupts from every orifice.

Guests at the recent Feastival fund-raiser got a taste of the smokin' dessert, which he offers tableside at the restaurant.

Michael Klein, Philly.com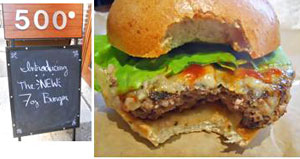 500º, the burger shop at 1504 Sansom St., supersized itself this morning.
In a bid for more business, the shop has increased its 5½-ounce patties to 7 ounces, and dropped most other prices by 50 cents.
That means that the most popular menu item -- the "classic" cheeseburger with Bibb lettuce, tomato, fries, and a drink -- is now $9.99 including sales tax.