Archive: September, 2008
Michael Klein, Philly.com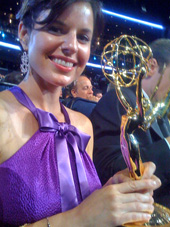 Someone's cell phone was out when Meredith Scardino, a writer for The Colbert Report and Radnor High School grad (class of '94), shared an Emmy Award Sunday night for writing for a variety, music or comedy program. Scardino grew up in Villanova and lives in New York City. She has also written for Letterman and Best Week Ever.

Michael Klein, Philly.com

Jose Garces, the restaurateur who beat Bobby Flay on an "Iron Chef America" episode recently, will talk up his new cookbook, "Latin Evolution," on the CBS "Early Show" about 8:30 a.m. Monday.
Michael Klein, Philly.com
That flurry of black limos and guys with earpieces in front of Le Bec-Fin on Walnut Street meant a VIP luncheon on Friday. It was the Iraqi president, Jalal Talabani, his son Qubad, and family members, plus Iraqi security and Secret Service. Chef Georges Perrier personally took the orders: tomato salads and foie gras (tsk, tsk -- Talabani just had heart surgery at the Mayo Clinic); main course was sole meunière. The Talabanis were spotted Wednesday at the Bombay Club in D.C.
Michael Klein, Philly.com
Flurry of activity around Rittenhouse Square. Mix, the brick-oven pizzeria, coffee shop and salad bar at 2101 Chestnut St., opened Wednesday (9/17). Melograno's relocation into 2012 Sansom St. should be ready to roll Friday (9/19) after a plumbing snafu. El Fuego's long-delayed second spot at 2104 Chestnut St. (across from Mix) is up for Monday (9/22).
Michael Klein, Philly.com
Remember the olden days when you actually had to sit through the concert to hear what was performed?
Janet Jackson, who we know is capable of surprises, has already released the set list for her Oct. 2 show at the Wachovia Center, where LL Cool J will be on the bill.
Pleasure Principle
Control
What Have You Done For Me Lately
Feedback
You Want This
Alright
Miss You Much
Never Letchu Go
Come Back To Me
Let's Wait A While
Again
So Excited
So Much Betta
Nasty
All Night
Rock Witchu
Together Again
Young Love
Say You Do
Don't Stand Another Change
Doesn't Really Matter
Escapade
Love Will Never Do
When I Think Of You
All For You
Got Till It's Gone
Call On Me
That's The Way Love Goes
Lonely
Funny How Time Flies
Anytime, Anyplace
Discipline
Black Cat
Scream
If
Rhythm Nation
Luv
Enjoy
Michael Klein, Philly.com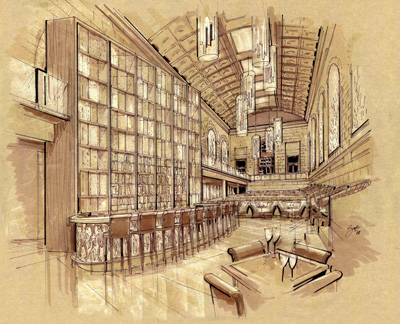 Union Trust is one of three downtown steakhouses under construction in onetime bank buildings for fall openings. Designed by DAS Architects, UT will take advantage of the high ceilings in the former Jack Kellmer jewelers at 717 Chestnut St.
UT, like Del Frisco's Double Eagle (15th and Chestnut Streets), installed a mezzanine to break up the enormous room.
Timetable is mid-October. Del Frisco's Double Eagle is saying mid-November, and Stephen Starr's Butcher & Singer at 15th and Walnut Streets (the old Striped Bass) is up for the third week in November.

Michael Klein, Philly.com
With the Spectrum counting down its final year, nostalgists are coming out of the woodwork. Here's a list compiled by Comcast-Spectacor's Ike Richman of what is believed to be all music shows staged at the Spectrum since 1967.
(My own Spectrum concert first was David Bowie on March 15, 1976. Most memorable show was Billy Joel on Dec. 6, 1977. The scariest event I'll admit to was the Bee Gees on Sept. 21, 1979 ... fifth-row seats, thanks to my sister ... my hearing came back sometime after the Iranian hostages were freed.)
Any quibbles or corrections? Contact me at mklein@phillynews.com, and I'll forward to Richman.
Michael Klein, Philly.com
Stephen Starr shut down Striped Bass, but that doesn't mean he's out of the seafood business. He says he will convert the old Blue Angel/Angelina at 706 Chestnut St. into an oyster house called Littleneck next year. (When he says "next year" in mid-September, he really means "next summer.") He initially had planned a gastropub for the spot, but that is now off the table. Littleneck will be across the street from Jose Garces' planned Chifa at 707 Chestnut, up for spring 2009.
Starr also told me that he is leaning against creating an izakaya (Japanese pub) in the Lanesboro that he had announced a few months ago.
Speaking of shellfish: David Mink says there's still no timetable on the reopening of Sansom Street Oyster House, which closed in June under operator Cary Neff. Mink and his son, Sam, own the bricks.