Archive: June, 2010
Michael Klein, Philly.com
Honey's Sit 'N Eat, the most popular breakfast/brunch spot in Northern Liberties (and darn good for dinner), just signed for a second location.
It's the northwest corner of 21st and South Streets, in a building formerly occupied by Graduate Hospital, according to Veronica Blum, who with her Mallin Panchelli Nadel Realty partner Steven Clofine handled the deal.
"It feels like a good spot. We've been looking for a while," says Honey's femme side Ellen Mogell, who with partner Jeb Woody have no timetable yet.
View Larger Map
Michael Klein, Philly.com
Budget cuts have hit Clear Channel's Philadelphia cluster again.
Not only was Golden Girl relieved of her Power 99 show this week, but Richie Rich -- the durable mixer/DJ/remote host who'd been at Q102 and My 106.1 for 18 years full and part time -- was shown the door.
Michael Klein, Philly.com
Mac's Tavern, the Old City bar that grand-opened Wednesday night, has as many investors as it has beer lines.
Most owners have ties to St. Joseph's Prep, including Matt Battipaglia, Ben Haney, Dennis Hart and Eric Vesotsky, plus It's Always Sunny in Philadelphia creator/star Rob McElhenney (and his wife/co-star, Kaitlin Olson).
But how about Preston Elliot, half of WMMR's Preston & Steve morning show. He's got a piece of the action, too.
Michael Klein, Philly.com
CBS 3 paid off its Stanley Cup bet with sister station WBBM by having Tony Luke cheesesteaks delivered to to morning news anchor Dan Jiggits -- hot -- at 6 a.m. Thursday.
How'd this happen? The station had the frozen steaks and rolls overnighted to Carly Ciarrocchi, 25, niece of CBS3's Pat Ciarrocchi, who works for Radio Disney in Chicago doing promotions. She heated them up (as well as the Whiz) and made the delivery. Had the Flyers prevailed, WBBM would have sent deep-dish pizza.
The delivery was taped and will be shown Friday on The CW's edition of Eyewitness News.
Michael Klein, Philly.com
Busy Wednesday night at the Center City steakhouses:
That was Robert Redford among a party of four at Barclay Prime on Rittenhouse Square. He'll be speaking to the Chamber of Commerce about entrepreneurship on Thursday.
Danny DeVito and a small crew hit Butcher & Singer at 15th and Walnut Streets before he attended the grand-opening party of Mac's Tavern in Old City -- co-owned by his It's Always Sunny in Philadelphia castmates Rob McElhenney and Kaitlin Olson. Around midnight, DeVito left in a taxi -- riding in the front seat.
Michael Klein, Philly.com
This one is a ways away, but why not be the first on your blog, er, block, to know: Hop Sing, an upscale Chinese resto-lounge, at 1029 Race St., where Indonesia used to be. Owners are keeping a lid on details for now. If you're an old coot like me, the name will ring a bell. If not, there's Wikipedia.
Table 31 has not only installed wicker furniture and a real bar in the plaza in front of the Comcast Center (17th and JFK Boulevard). Later this summer, there are plans to build an enclosure so the patio can be used 10 months a year, says chef/owner Chris Scarduzio. The enclosure will be topped by an orange roof and feature removable sides.
Wilmington has two newcomers -- actually one oldcomer and one newcomer. The oldcomer is the Columbus Inn (2216 Pennsylvania Ave.), which has been gutted and fabulously redone. It's bidding for business and leisure crowds as it tries to shake its old blue-hair rep. Chef Chris D'Ambro worked in Philly at Bocca. His dinner menu is here. His lunch menu is here. His brunch menu is here. His tavern menu is here. Wilmington's newer newcomer is FireStone (110 S. West St.), a grill-pizza-bar in a business park by the Christina River. Last occupant was CW Harborside. Interior has lots of fieldstone, and there's a pizza oven in the dining room. There's a large bar indoors, and a patio bar by the river that heats up at happy hour and for late night.
Michael Klein, Philly.com
Congrats to Glen Mills' Bob Wittman, the former FBI agent whose tales of rescuing some of the world's most prominent artworks appear in the new book Priceless: How I Went Undercover to Rescue the World's Stolen Treasures.
Variety reports that Graham King -- whose IMDB list brims with projects such as The Departed and The Aviator -- has bought the film rights, a mere four days after publication.
A script has not been written.
Michael Klein, Philly.com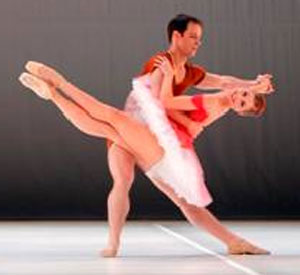 The Pennsylvania Ballet just announced the engagement of company member Lauren Fadeley and soloist Francis Veyette.
On a private island in the Bahamas on Sunday, he dropped to one knee in the water and popped the question.
The two, together for two years, met in 1997 at the Rock School for Dance Education. They reconnected 10 years later, when Fadeley joined Pennsylvania Ballet. They live in Center City with their cat, Lily, and dog, Emmett. No wedding date has been set.