Archive: April, 2009
Michael Klein, Philly.com
Ansill at Third and Bainbridge Streets in Queen Village now allows BYOB Tuesdays through Fridays in the dining room with no corkage fee. It's also offering a flashback to its predecessor, Judy's Cafe, by offering coupons good for 50-percent off the second entree of equal or lesser value when they return for dinner within two weeks. (In other words, after you eat dinner, you get a coupon good for your return visit.) Since Ansill is closed Sundays and Mondays, happy hour has been extended to Saturdays from 6 to 8 p.m. at the bar.
Michael Klein, Philly.com
March's Arbitron ratings came out yesterday, and as I slice and dice, here is the ranking of Philly stations in terms of audience share for mornings (6-10 a.m.). The stations themselves don't care for this stat. It counts all listeners, and stations sell their target demographics, whether it's persons ages 18-34, or men 25-54, or women 18-49.
1. KYW
2. B101's Tiffany & Michael
3. WMMR's Preston & Steve
4. WOGL's Breakfast Club
5. WHYY's morning edition (syndicated)
6. WIP's Angelo Cataldi show
7. WDAS's Steve Harvey (syndicated)
8. WMGK's John DeBella (who just reupped for three-plus years)
9 (tie). WRNB's Tom Joyner (syndicated)
9 (tie). WXTU's Evans & Andie (Scott Evans was let go last month)
11. WRFF (rock)
12. WPPZ's Yolanda Adams
13 (tie). Wired 96.5's Chio
13 (tie). The Beat 100.3
15. Q102's Elvis Duran (syndicated)
16. WPHT's Michael Smerconish
17. Ben 95.7's Marilyn Russell
18. WISX (My 106.1)'s Logan
19. WXPN's Michaela Majoun
20. WRTI's classical with Dave Conant
21. Power 99's Big Boy (syndicated)
22 (tie). Now 97.5
22 (tie). WYSP's Danny Bonaduce

Michael Klein, Philly.com
Michael Smerconish went public on his WPHT (1210) talk show with a tragic accident last Saturday, in which he accidentally ran over his son's cocker spaniel in the driveway of their home. Smerconish said he rushed the dog to three vets to no avail. Two months before, the family dog Checkers, a Lab, died at age 14 of natural causes.

"This was just devasting, just horrible," Smerconish told me. Though he now seems regretful that he discussed it on the air, he acknowledged that his confession opened the phone lines Monday with people telling what he called "amazing stories" about similar family tragedies.
Michael Klein, Philly.com
David Garry and Heather Gleason of Good Dog, the bar and burger destination on 15th Street north of Locust, are opening a spot called The Swift Half at the Piazza at Schmidts, the new mixed-use development along Second Street south of Girard. If you're driving south on Second Street, it's to your left in the building as you pass Bar Ferdinand on the right. (And while you're at it, Bunky, slow down. Second Street is not a drag strip anymore.)
"Upscale comfort food with a western European twist" is how Garry, a native of County Cork, describes it. It won't be a Good Dog, though there will be a quality burger on the menu. "I don't think the city's big enough for two Good Dogs," Garry says.
Target is May 16.
Michael Klein, Philly.com
Charlamagne starts May 1 as morning host on The Beat (100.3). The station has been doing a music-intensive show called The Morning Beat since it dropped Miss Jones in the Morning in January.
Charlamagne was billed as "Charlamagne Tha God" when heard as Wendy Williams' radio sidekick in New York. He was let go amid budget cuts last November.
At his previous stop in his native South Carolina, Tha God -- sorry, "God" just sounds too reverent in second reverence, er... reference -- issued a set of "Hip Hop Commandments." Interesting reading.
Michael Klein, Philly.com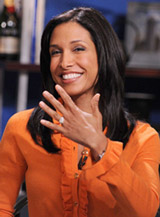 NBC10 alumna Tiffany McElroy, now co-hosting the morning news show at New York's WPIX, announced on the air that she's engaged to Jim Gibson, a Center City businessman who's a partner in a printing business. They met through friends, she told me.
McElroy has a 5-year-old daughter with former fiance John Bolaris of Fox29.
Post updated (9 p.m.).
Michael Klein, Philly.com
Maia, the ambitious Villanova cafe/restaurant/marketplace that opened just off the Blue Route only last May, has shut down, acknowledges general manager Nicole Pizzi.
The landlord is interested in putting in a new tenant in the upstairs and downstairs, says another manager.
In March, Maia closed its posher upstairs room to focus on downstairs.
Michael Klein, Philly.com
Octo Waterfront Grille, due to open by Memorial Day weekend on the former Rock Lobster pier on Columbus Boulevard, will host a job fair at the Hyatt Penn's Landing from 10 a.m. to 5 p.m. Tuesday and Wednesday.
Management seeks about 100 jobs for food servers, cocktail servers, hostesses, bartenders, bar backs, food runners, security, busers and other kitchen staff.

There should be no problem getting candidates, if my chat with Matt Doman, who is about two weeks from reopening the Broad Axe Tavern in Montgomery County, is any indication. Doman says he put out a call for resumes on Craigslist and got about 150 in less than a day.