Archive: February, 2012
Michael Klein, Philly.com
One of the more exciting restaurant projects I've followed from inception to opening is Alla Spina, the Italian gastropub from Marc Vetri, Jeff Michaud, and Jeff Benjamin. It's on Mount Vernon Street west of Broad, just a half-block from Osteria and next door to Stephen Starr's Route 6 and Joe Volpe's catering hall, Vie, at the old Wilkie showroom.
I chuckled during a walk-through in fall 2010 as Vetri bounded like a kid through the former auto garage, gleefully pointing out the skylights and how he planned enormous new-but-old-looking garage doors along the facade. The menu, he explained, would be rustic bar food, the better to go with an industrial interior. It would not be a wine bar but a beer bar.
Flash forward. Alla Spina is getting national attention. GQ named it one of five hottest restaurant openings of 2012. It opens to the public Feb. 27.
Michael Klein, Philly.com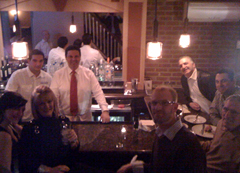 Restaurateur Jolly Weldon (Jolly's Dueling Piano Bar, Mammoni, et al) is behind Brick American Eatery, at 1708 Lombard St. (267-639-9440), whose "sneak peek" debut is penciled in for Friday, Feb. 17.
This spot was last Fish (and for many years was Astral Plane) before its recent move to the corner of 13th and Locust Streets.
Fish's Mike Stollenwerk, who still holds the lease and the chef's title, had intended to run Brick, but decided to put all his energies into his new seafooder.
Michael Klein, Philly.com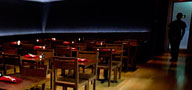 What to do with that grand white elephant at the Piazza at Schmidt's that was first known as Speck (never opened) and then as Raw at the Piazza (briefly opened)?
Raw's Tony Rim confirms that he is trying to line up a deal that will partner him with the crew from Old City's Red Zone.
The plan is a bar that will feature a wall of beer taps.
Michael Klein, Philly.com
Marcos Decotiis, who's been working at La Stanza at 20th and Oregon (he was seen in the restaurant's appearance on the Food Network's Restaurant Impossible last summer), is taking over at 1909 E. Passyunk Ave.
That space was Sticks & Stones before landlord Anthony Criniti locked out S&S's Nick Miglino over rent issues.
Decotiis will call it Noir, which will feature a '40s-/'50s-style American-French menu, jazz music, and black-and-white noir movies.
Michael Klein, Philly.com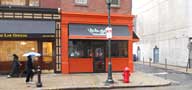 Chinatown's Ramen Boy, which opened last week at 204 N. Ninth St., has been closed by a gas-main issue. Check back here; I'll update the reopening when owner Nelson Tam gives the word.
In a seemingly more precarious situation, we have b.b. go, a Korean rice cafe at 18th and Ludlow Streets in Center City. A sign on the window last week referred to a family situation; it's still closed and the sign has come down.
Michael Klein, Philly.com
Big kudos to Chip Roman, whose yearling Mica in Chestnut Hill appears at #8 in GQ magazine's list of the 10 best new restaurants in America.
The March issue is on newsstands now. Link is here.
Critic Alan Richman is not too keen on the atmosphere and goes so far as to say, "The wine list isn't much."
Michael Klein, Philly.com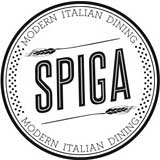 One of the bigger secrets is the Italian restaurant under construction at 1305 Locust St. by the team at Le Castagne. (The deal was signed last summer.)
At least I can now tell you the name: Spiga. Brian Wilson will slide over from Le Castagne to be chef.

Opening date does not seem to be far off.
Michael Klein, Philly.com
Bonte, the wafflerie, has opened a third Philly location. It's at 1910 Liacouras Walk on Temple's campus. Manager Kayur Popat owns Saxby's coffee locations here, and happens to be developing an Indian restaurant called Jalsa at 246 Market St. (Means "fun" and should be open within a month, he says.)
The second Philly location of European Republic, the Old City frite house, is up and frying at 602 South St.
The second Burger.Org, a sibling of the South Street storefront, has opened at 19th and Chestnut Streets, replacing Snow White.