Archive: February, 2011
Michael Klein, Philly.com
Audrey Taichman (Audrey Claire, Twenty Manning Grill) is taking over the corner spot up the block at 20th and Rittenhouse Square that previously housed Salt and Snackbar.
But she's planning something far more exciting and potentially far more substantial than another restaurant.
Cook will be a collaborative kitchen. Modeled on Stir in Boston, it will allow guest chefs (famous and not so famous) to prepare meals and host demonstrations for no more than 16 people.
Michael Klein, Philly.com
Monday (2/21) is the opening of Fathom Seafood House (200 E. Girard Ave., 267-761-9343), a casual, seafood-centric bar at Girard and Shackamaxon in Fishtown, pretty much diagonally across from Johnny Brenda's.
Chef-owner Mike Stollenwerk (of Center City's Fish and Bella Vista's Little Fish) has set up a 24-seat concrete bar, plus a few tables; beer list has 10 beers on draft (including locals, such as PBC's Seasonal and Kenziger, Flying Fish, and Yards) and 40-plus in bottles and cans.
He's tapping his sustainable sea suppliers to stock a raw bar, and the comfort-food menu includes cod pierogis, peekytoe crab fritters, marlin tacos, Fathom fries (topped with crab, crab gravy, and cheese curd), lobster grilled cheese, and a few riffs on classics: cod pierogis, swordfish schnitzel.
Michael Klein, Philly.com
Two Philly companies are collaborating on a food project:
Art in the Age, which markets Root liqueur, is working with Di Bruno Bros. on a limited-edition Root-washed Winnimere cheese made by Vermont's Jasper Hill Farm.
Di Bruno's is brushing the semi-soft, cow's milk cheese with Root during its two-month maturation.
Michael Klein, Philly.com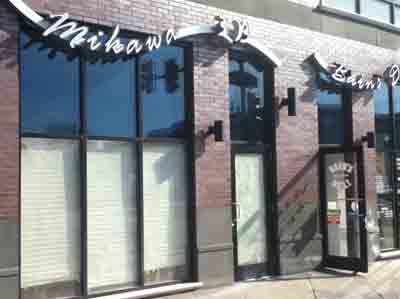 Anyone know a piano mover?
Jolly Weldon is taking over the restaurant space at the Academy House (1420 Locust St.) with Jolly's Dueling Piano Bar -- the concept he started last year at 2006 Chestnut St.
He says he needs more room and hopes to open there by March 31.
Michael Klein, Philly.com
Alex Capasso reopened his Collingswood comfort-fooder West Side Gravy on the eve of Valentine's Day, and it now shares the former Haddon Avenue Woolworth's store with his fancier Blackbird Dining Establishment, which moved in from Collins Avenue. It's a neat footprint as both BYOBs get window space, and they're separated by a high wall. Besides a kitchen and address (714 Haddon Ave,), they now also share a phone number: 856-854-3444.
---
Tequila Joe's in Oreland is now a BYOB ("till further notice," says owner John Anderson), open Wednesdays-Sundays.
Bubby's Brisket, literally a hole-in-the-wall (as in, serving hot dogs and roast beef behind a sliding glass door on 15th Street just above Arch), has opened a location in the food court at Moorestown Mall. PREIT, the mall operator, also says Red Mango, the South Korean fro-yo giant, has opened a kiosk at Cherry Hill Mall, near Macy's Court.
---
Michael Klein, Philly.com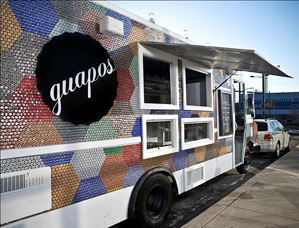 The whiff of spring in the air means that Guapos Tacos, the rolling comida operation that Jose Garces and designer Jun Aizaki have been working on all winter, is ready to roll.
You'll see it parked outside of Amada on Friday (2/18) for a staff-only private event, as Garces rewards his flagship eatery's employees for collecting the most of the 45,000 bottlecaps that adorn the truck.
The truck will be rented out for weddings, corporate events, and bar mitzvahs (two-hour minimum for 50-plus guests). This spring, it will tour the city (sort of like a Mexican Mister Softee) and will have regular stops announced on Twitter.
Michael Klein, Philly.com
Ink is barely dry on this one: John Brandt-Lee of West Chester's Avalon just signed the lease on a second restaurant. (He's been teasing his Facebook followers for days now.)
Brandt-Lee is taking over the former Jasper at 78 W. Lancaster Ave. in Downingtown for a pasta-focused BYO called, simply enough, Avalon's The Pasta Bistro.
This old house is being stripped down and modernized. Brandt-Lee wants an energetic vibe along with homemade pasta, flatbreads, salads, a sophisticated cheese program, and a 15-item antipasto platter with preserved tuna, roasted peppers, white anchovies, chili-cured olives, eggplant, zucchini, fried risotto, salumi, roasted beets, white beans, and such.
Michael Klein, Philly.com
Buy low, drink high? Brew-chip stocks? A beer market?
Center City Grille, across from the Philadelphia Stock Exchange at 10 S. 20th St., is reconceptualizing into Xchange Bar & Grille. Operator Doug Renthal says he'll pump up the craft-beer selection, cut the prices on the bar food, and aim at a nighttime crowd. For right now, Center City Grille is still open during happy hour.
There's more: