Archive: November, 2011
Friday, Nov. 18 is the stated opening night for Vedge, the romantic, polished vegan restaurant from Rich Landau and Kate Jacoby, who sold off their South Street-area Horizons earlier this summer.
At 1221 Locust St., the double-wide brownstone that formerly housed Deux Cheminees, they're veering away from the typical apps+main style of dining. Of course, they're still not using butter/cream and eggs.
The menu -- which is here -- is built around small plates. And here's the cocktail and beer list.
Michael Klein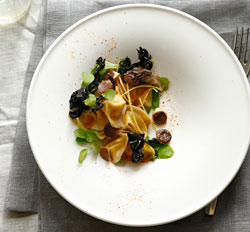 The artichoke agnolotti offered as a course at Mica in Chestnut Hill was named to Food & Wine's list of top 10 restaurant dishes of 2011.
F&W blurbed: Chip Roman is "an expert at restrained European cooking. Jason Cichonski, Mica's opening chef, loves unexpected combinations. Together they created these exceptional artichoke agnolotti. The centers are molten (made by wrapping pasta around the frozen filling), and the chefs amp up the intensity of the artichoke flavor by adding a touch of miso."
The piece is here.
Michael Klein
"Early February" is the target for a vegan fast-fooder just off Rittenhouse Square.
Nicole Marquis, who was a manager for two years at the late vegan destination Horizons, is behind the still-unnamed shop at 127 S. 18th St., the former Pad Thai Shack, between Sansom and Walnut Streets. (Marquis' working name is Marquis & Co.)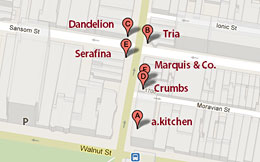 Horizons chef-owner Rich Landau, about to open Vedge later this week, consulted with Marquis. "It's delicious food you can sink your teeth into," she says about her burger-and-fries menu, all made without animal fats.
Michael Klein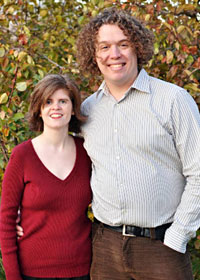 Lease in hand, Andrew Wood feels comfortable talking about Russet, the fine-dining BYOB that he and his wife, Kristin, plan to open in February at 1521 Spruce St., in the former Ernesto's 1521 Cafe.
The couple are veterans of Fork (him) and James (her).
Andrew Wood says he doesn't want to pigeonhole the cuisine into French, Italian or Spanish, but he'll incorporate many Euro stylings in a farm-to-table experience.
Michael Klein
At Farmers' Cabinet (1113 Walnut St.), across from the Forrest Theater (and next to the vegetarian temple Maoz), executive chef Jason Goodman and sous chef Steve Forte are creating their own sausages, terrines, and torchon in their spare time -- ambitious, soulful, labor-intensive dishes you won't find on the regular menu.
Goodman, who previously worked at Meritage and Le-Bec Fin, and Forte, previously at Fork after a spell at a farm-to-table restaurant in Virginia, have come up with a five-course tasting menu ($60) they offer Mondays to Saturdays:
Starts with pig's head terrine (Forte's specialty). Picks up with Goodman's torchon, in which he poaches the foie gras in duck fat. Next is Forte's rabbit cassoulet. There's Goodman's duo of elk, served with a celery-root puree and nebrodini bianco mushrooms. Pastry chef Justin Mauz concludes with a ginger snap ice cream sandwich.
Michael Klein

The Tilted Kilt, a Celtic version of Hooters, is setting up in King of Prussia, taking over the former Kildare's on Route 202 in front of the mall.
Franchisee Ron Chesler says he's planning for a March opening.
The pub is ranked No. 5 in Inc magazine's list of the fastest growing franchises in America.
Michael Klein

Seinfeld fans:
Larry Thomas, who played the Soup Nazi 16 years ago, will return to Doc's Gourmet Soup Bar (169 W. Girard Ave., at Hancock Street) for a meet-and-greet from 1 to 7 p.m. Friday, Nov. 18.
His appearance in January drew quite a crowd.
Michael Klein
Gordon Ramsay and the crew from Fox's Kitchen Nightmares are in town.
Tonight, they'll unveil the "new and improved" Chiarella's at 11th and Tasker Streets, and their next stop is Zocalo in University City.
For his next trick, Ramsay is behind a show whose rough title is Hotel Hell.