Archive: October, 2010
Michael Klein, Philly.com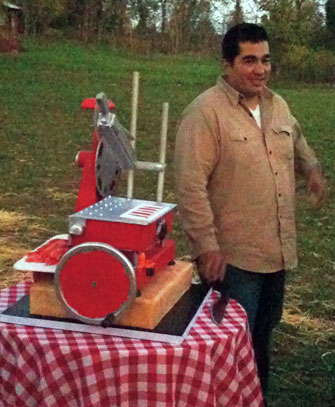 Marc Vetri gathered a group of friends and family Sunday night at Amis for his appearance on Iron Chef America, in which he went up against Michael Symon. Since so many foodies taped the episode while watching the Phillies, I'll spare any spoilers for now -- but you have till Tuesday.

Jose Garces closed Amada all day Sunday for a staff party at his newly purchased farm in Ottsville, Bucks County, to commemorate his first restaurant's fifth anniversary. Garces hired buses to transport the Philadelphians and got a cake made by Duff "Ace of Cakes" Goldman, which was in the shape of the meat slicer at Amada.
Michael Klein, Philly.com
That pile of mail inside the door of Ro-Zu, the Japanese BYOB at Seventh and Bainbridge Streets, can't be a good sign, though the tables are all set and the ersatz flowers still sit in their vases. Ro-Zu, which opened in February, had closed in late May as chefs changed. I'll update when owner Ralph Pecca calls back.

Food-loving Phillies fans should set the DVR for 10 p.m. Sunday, Food Network, as Marc Vetri (Vetri, Osteria, Amis) takes on Cleveland's Michael Symon on Iron Chef. The show was taped more than a year ago, and the secret ingredient and outcome have been kept under wraps.

Quotable: "When it comes to restaurants ... it always comes down to food and service. You could have the greatest online PR company working for you, but if you build a glitzy restaurant and the food tastes bad, the customers will never come back." - Michael Symon, in the Wall Street Journal blog "Speakeasy"

Still no winners in my guess-the-restaurant quiz. From the photo with this post, can you name the restaurant due to open the week of Oct. 25? Use the comments. I'll be back at noon with the answer, or sooner if a winner emerges.
Michael Klein, Philly.com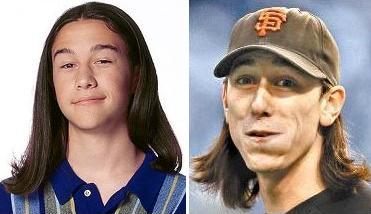 I'm not the first to mention this, but the resemblance between actor Joseph Gordon-Levitt (from his days in the sitcom Third Rock From the Sun) and San Francisco Giants pitcher Tim Lincecum is just plain freaky.
Michael Klein, Philly.com
The Pennsylvania Liquor Control Board dropped word late this afternoon that the Philly region's first wine kiosk will open 11 a.m. Saturday (10/16) inside the Fresh Grocer supermarket at 5000 State Rd. in Drexel Hill.

The temperature-controlled machine will stock more than 40 products, ranging in price from $5.99 to $39.99. The kiosk will operate from 9 a.m. to 9 p.m., Mondays through Saturdays.

Eventually, 100 kiosks are planned in stores across the state.

The LCB rolled out two kiosks -- at a Giant in Dauphin County and a Wegmans in Cumberland County -- on June 23. The LCB says more than 7,400 bottles of wine have been sold at the kiosks, which require purchasers to insert photo ID.
While an LCB employee watches the transaction on video, the buyer puffs into a built-in breathalyzer.
Michael Klein, Philly.com
Fightin' Phils? Not this time.

Phillies centerfielder Shane Victorino helped defuse a potentially nasty situation outside of the Rittenhouse Square bistro Rouge Thursday night.

A bystander who asked for anonymity said two groups of patrons -- regulars and some folks unfamiliar to Rouge staff -- were exchanging nasty words inside the restaurant, near a table occupied by Victorino and a group of his friends.
Victorino, who's listed as 5-foot-9, noticed tempers growing more frayed as they all stepped outside. He joined the combatants on the sidewalk, telling them to knock it off.
Michael Klein, Philly.com
Comcast SportsNet's outlets in Philly and the Bay Area have bet on the 2010 National League Championship Series.
Should the San Francisco Giants win, the Philly crew will send Ricky Bottalico -- nah, a batch of Superpretzels -- to the Willie Mays Boys & Girls Club at Hunters Point, a Giants banner will hang in the CSN Philly newsroom for a week, and CSN Philly exec Brian Monihan will wear a Tim Lincecum jersey and wig for a day.
If the Phillies win, the Bay Area CSNers will send Ghirardelli chocolate and sourdough bread to Philabundance, a Phillies banner will be displayed in the Bay Area newsroom for a week, and exec Ted Griggs will wear a Ryan Howard jersey for a day.
Michael Klein, Philly.com
With less than 24 hours before the opening of JG Domestic at the Cira Centre, Jose Garces' team has sprung the menus.
Garces, opening his seventh resto in five years, is keeping to his be-kind-to-farmers, all-American mission with this 150-seater, which also will house his corporate headquarters.
The portion of JG Domestic that spills out into the lobby features a "living wall" of plants hugging the windows' southern exposure facing 30th Street Station. Three podocarpus trees grow through the 18-seat communal table. Wooden shelves contain knickknacks for show.
Michael Klein, Philly.com
CBS just announced that Phillies first baseman Ryan Howard will do the Top Ten List on tonight's Late Show with David Letterman (11:35 p.m.).
He'll do it via satellite from Citizens Bank Park.
Also on the show are Sean "Diddy" Combs and Emma Stone.