Archive: October, 2009
Michael Klein, Philly.com
Nielsen's overnights are in, and as you'd expect, Fox29 dominated the evening's ratings with Game 1 of the World Series.
The telecast averaged a 44.5 rating and a 59.3 share, which translates to about 1,312,848 homes in the Philadelphia market.
Nationally, Fox pulled 17.7 million viewers.
Michael Klein, Philly.com
The space at 25th and Aspen Streets that was Aspen is coming back after a year-plus layoff.
Owner Jud Bertolf has picked a new name, after one of his favorite trivia questions: "What is the name of the bar in the Rocky movies?"
That would be Lucky 7.
Michael Klein, Philly.com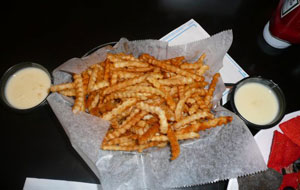 Aramark, concessionaire at Citizens Bank Park, did an online poll to ask fans about their favorite food served in Ashburn Alley.
With 1,300 votes cast, Chickie's & Pete's Crab Fries were ranked tops, but an Aramark spokesman cautioned that the polling was tight among the others: Bull's BBQ ribs, Campo's cheesesteaks, Planet Hoagie's sandwiches, Seasons Pizza's slices, the Schmitter sandwich, and Tony Luke's roast pork sandwich.
Numbers were not divulged, and the prize is only bragging rights.
Michael Klein, Philly.com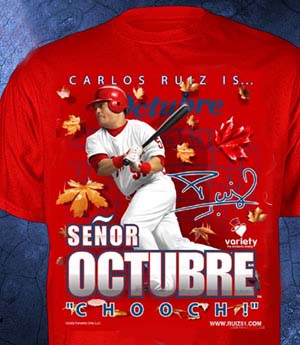 Phillies catcher Carlos Ruiz is out with a "Señor Octubre" T-shirt, and it's being sold with a cut of proceeds going to Variety, the nonprofit that provides opportunities to children with disabilities throughout greater Philadelphia.

The shirt can be purchased online at ruiz51.com for $18.99 or at any Acme for $16.99.
Michael Klein, Philly.com
Pete Rose, who sat in at 97.5 The Fanatic on Tuesday, will return from noon to 2 p.m. Friday (10/30) with Dan Schwartzman.
Rose will be patched in from Vegas, where the line on the Series is ...
Oh, never mind.
Michael Klein, Philly.com
Another fan-generated song:
"Parading Down Broad Street," produced by Stu Green for Stu62 Productions at Studio E in Upper Darby.
Studio E is owned by guitarist/songwriter/producer Bobby Eli, who performed on the original 'Boogaloo' session in 1967. (For the two guys, it was a reunion of a relationship that started in 1963, when Eli played in Herb Johnson & the Impacts, and Green was a freshman at Penn with a little side business booking West Philly bands into Penn frat houses.)
Michael Klein, Philly.com
Philly artists, including G Love (of G Love & Special Sauce), have gone into the studio under the name Guerrilladelphia for a Phillies fight song called "Unstoppable."
Besides G Love, that's Bryn Mawr rapper KUF KnOtZ on lead vocals.
Bristol-born Don McCloskey says: "I was watching the NLDS and came up with the chorus and the bass line. He passed the track to Kuf and then to G Love, who added harmonicas and vocals.
Michael Klein, Philly.com
Coquette at Fifth and Bainbridge Streets had faced a judgment from a former employee at owner Cary Neff's former establishment, Sansom Street Oyster House.
Community Legal Services doggedly pursued the unpaid wages, and got the sheriff's office to post notice of a sheriff's sale. That sale was to be held Thursday.
But CLS attorney Michael Hollander reports that the sale has been canceled as the judgment has been satisfied.