Archive: October, 2008
Michael Klein, Philly.com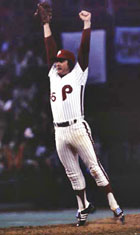 CW Philly will rebroadcast Game 6 of the 1980 World Series at 3 p.m. Saturday, leading into the Game 3 prelims.
Seldom does a press release manage to elicit goosebumps, but just dig this late-innings recap from the station's Shelley Hoffman:
This rebroadcast of Game 6 will treat viewers to some of the most nerve-wracking, intense and memorable moments of the 1980 World Series which occurred in the last two innings of this game. Phillies' ace Steve Carlton began the game in dominating fashion, holding the Royals scoreless through 7 innings. But after allowing the first two batters to reach base in the top of the eighth inning, Philadelphia manager Dallas Green inserted veteran closer Tug McGraw to finish the job.
McGraw got out of the eighth inning, only allowing one of Carlton's base runners to score on a sacrifice fly.
But McGraw struggled in the top of the ninth, giving up a walk and two singles. The Royals had the bases loaded with only one out. The atmosphere was tense. Frank White was the next batter and McGraw got him to pop up a foul ball on the first base side. Catcher Bob Boone chased it down and it appeared that he would make a routine catch. But as he was catching it, the ball popped out of his glove. An alert Pete Rose, also converging on the ball from first base, snatched the ball before it hit the ground to record the second out of the inning. That play remains one of the most-talked about foul pop-outs in baseball history.
Knowing he only needed one more out, McGraw was invigorated and went after Willie Wilson 1-2 early in the count. The next pitch was a fastball that struck Wilson out swinging
at 11:29 p.m. as McGraw leaped into the air and the crowd erupted into wild pandemonium as the Phillies captured the only World Series title in franchise history to date.
The 1980 World Series had many exciting moments, but Game 6 was arguably the most pivotal and memorable game of the series. And every Phillies fan most likely remembers where they were when "that pitch" took place.
Michael Klein, Philly.com

To answer the burning question, "Who will sing the national anthem at Citizens Bank Park for the Philly World Series games," I can tell you that teen country crooner Taylor Swift is up for Saturday's Game 3 and Philly diva Patti LaBelle is up for Sunday's Game 4.
Tim McGraw, son of 1980 World Series hero Tug McGraw, will be joined by a local member of Boys & Girls Clubs of America, to deliver the first game ball to the mound at Game 3.
Michael Klein, Philly.com

Action News reporter/weekend anchor Jessica Borg will return to her native New York at the end of the year after four years at 6ABC. Her agent, Mark Turner, says Borg has a new opportunity, which he would not disclose.
"Jess has had a great experience at Action News and enjoyed being part of a phenomenal team, but is now looking forward to her next challenge," Turner says.
Michael Klein, Philly.com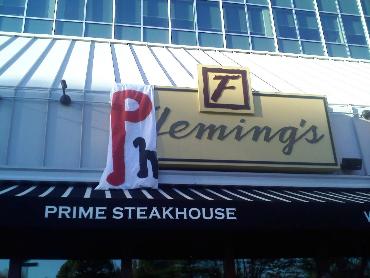 Pat English, general manager of Fleming's in Radnor, ordered up some phun.
Michael Klein, Philly.com
Tabloids have been dancing around the issue of a romance between onetime reality stars Carrie Underwood (American Idol) and Travis Stork (The Bachelor: Paris). From the looks of things Monday night at Parc on Rittenhouse Square (patting on back, toasts, hand-holding...), sparks are flying.
They just happened to end up in Philly together. Underwood, 25, performed Sunday at the Liacouras Center. Stork, 36, an ER doc, emerged from the Sofitel on Monday morning to do interviews in support of The Doctors, the medical talk show that airs weekdays at 3 p.m. on CBS3.
At Parc Monday night, a patron in a birthday party got a rise out of Underwood, who joined in singing "Happy Birthday."
Michael Klein, Philly.com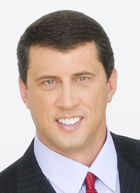 Joe Staszak, who's done sports reporting on and off for Fox29 since 2002, has just been signed as a full-time sports anchor/reporter, reporting three days and anchoring the weekends. (Bill Vargus has been doing weeknights at the station, which still has not named a replacement for Don Tollefson, who was let go in July.)
Terms were not disclosed, but smart money suggests that the deal is for two years.
The Berwyn-bred Staszak, 41, was first hired in 2002 as a fill-in sports anchor and associate producer for Eagles Game Day Live, which he did for two seasons. He returned in March as a freelancer. During this time, he also was in-game reporter for the Flyers and a sideline reporter for the Mountain West Network.
His past includes sports anchoring at WGAL-TV in Lancaster and CBS3, and he was a sports producer for WB17, plus sideline reporter for Phantoms, Wings and Kixx on SportsNet. Dating him even further, he was a live event producer and reporter for PRISM/SPORTSCHANNEL.
Staszak is a client of Philly attorney Lloyd Zane Remick, who by coincidence represents Fox29 traffic anchor Dorothy Krysiuk. Remick told me today that after seven years on the dawn patrol, Krysiuk "decided to seek another opportunities" and that her last day will be Oct. 31. A station spokeswoman said freelancers would fill in until a new hire is on board.
Michael Klein, Philly.com
As construction proceeds 24/7 at Del Frisco's Double Eagle, the mammoth steakhouse at 15th and Chestnut Streets, GM Shang Skipper tells me that the first night will be Nov. 25. Lunch will begin the following week.
In other steakhouse openings: Butcher & Singer is up for Monday (10/27) at the former Striped Bass (15th and Walnut Streets) and Union Trust has early February penciled in at 717 Chestnut.
Michael Klein, Philly.com
Brandy Bell, reporter/producer for Philly.com and a CBS3 alumna, says her boyfriend, Tom Truskey, popped the question Sunday at Morris Arboretum. He stopped in a rock garden, got down on one knee and offered up a rather blinding rock. Bell, 32, and Truskey, 44, who works with his family's mechanical-contracting company, have been a couple for a year. She's planning a September wedding.