Archive: January, 2010
Michael Klein, Philly.com
That LOVE sculpture set up in the Philadelphia Industry Lounge at the Sundance Film Festival is filling up with autographs.
Latest visitors: Lea Thompson, Lil Jon, Tom Arnold and up-and-coming actor Rami Malek, who appeared as the pharaoh in Night at the Museum, as well as its sequel Night at the Museum: Battle of the Smithsonian. While in the lounge yesterday, he got a call from his agent. He learned he was cast in the comedy Larry Crown, which is written, directed by and starring Tom Hanks and co-starring Julia Roberts. Malek and friends headed to the lounge's bar to celebrate with shots in With Love Philadelphia XOXO shot glasses (provided by the Greater Philadelphia Tourism Marketing Corp).
Michael Klein, Philly.com
Barry Sandrow says the sale of his Doc Watson's across from Jefferson Hospital is due on Thursday, Feb. 4, so it appears that the grand finale at the landmark bar will be Wednesday, Feb. 3.
Sandrow opened Doc's in 1971
As I reported in December, buyers plan an English pub called Sherlock's Tavern to open this summer.
Michael Klein, Philly.com
After a week of tests, Alex Plotkin has opened the Washington Square branch of his Chops steakhouse.
Price point is lower than the original Chops in Bala Cynwyd, and he's offering 60 wines under $60 (from a 2,000-bottle collection) as well as comp valet parking.
The building, formerly housing Oceanaire, got a makeover, including new art and -- you'll notice -- a hardwood floor to replace the carpet throughout. The raw bar is also gone, in favor of an expanded bar with lower-priced bar menu (including Maine lobster taco and a 10-ounce Wagyu Kobe burger with cheddar, lettuce, tomato, onion, Russian dressing, and fries for $15). He's also promising a full sushi selection.
Michael Klein, Philly.com
The new lunch menu at Union Trust (717 Chestnut St.) rolls out this week with five burgers, including a sweet-savory "Brunch Burger" ($13) with fried egg, maple-glazed bacon, and homemade English muffin, and "Le Mac Daddy," which for $25 includes foie gras, port-reduced onions, fried egg, and truffle aioli.
Union Trust Lunch Menu Winter 2010
Michael Klein, Philly.com
Fortunately, Philadelphia, a town with no celebrities, has HughE Dillon.
Paralegal by day, he is the town's lone paparazzo by night, covering birthday parties, charity events, and the odd guest appearance here and on his blog. Occasionally, guest appearances involve A-listers (such as Jack Nicholson or Reese Witherspoon) but more likely...
Well, consider the lineup from last weekend:
Michael Klein, Philly.com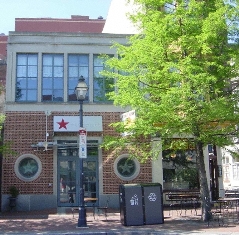 Itching to sink your cash (or, better yet, someone else's cash) into a restaurant or bar?
Here are a few places on the market (of course, everything is for sale, and many properties are on the market quietly):
131 S. 13th St.: At an asking of $1.7 million, the former Full Moon Saloon.
Michael Klein, Philly.com
With the Sundance Film Festival playing out in Park City, Utah, Philadelphia's film boosters are representing with the Philadelphia Industry Lounge, equal parts rest stop and information center.
It's stocked with Tony Luke's cheesesteaks, Tastykakes, and Peanut Chews and people from Janney Montgomery Scott (investments), Cashman & Associates (public relations), Cozen O'Connor (legal), the Greater Philadelphia Film Office, and DIVE Visual Effects (post-production).
Provost Displays created a replica of the LOVE statue that celebrity guests and VIPs are invited to sign. The statue will be auctioned off for charity. Philadelphia-based designer Lagos is providing gifts for celebrities and VIPs.
Michael Klein, Philly.com
It was a bu$y $aturday for Pamela Anderson as the actress/model/pitchwoman visited the Philly area to sign bottles of her Malibu (Blue) and Malibu Night (Pink) fragrances at two Main Line Rite-Aid stores.
She also stopped at the grand opening of 360, the nightclub at the new Parx Casino in Bensalem.
With each stop, she made at least one costume change.