Archive: January, 2009
Michael Klein, Philly.com
WYSP's Danny Bonaduce talks about radio, reality TV, boxing and life with a 26-year-old girlfriend, in a profile appearing in Thursday's Magazine section of The Inquirer. His ex-wife also weighs in...
I followed him for the day last week, meeting him at 4:30 a.m. in the gym in the basement of his apartment building, where he hit a heavy bag for 45 minutes. Bonaduce went to his four-hour show (6 to 10 a.m.), took business calls in midday about a few reality series he's developing (a lucrative sideline), did a second workout in the afternoon (sparring with a guy 17 years his junior), returned to the station to host his late-afternoon talk show for Los Angeles while he chugged Muscle Milk, did a third workout, and got home by 8. He said he's been off drugs for years, and allows himself no more than three drinks a day.
Saturday night, he'll fight Jose Canseco.
Michael Klein, Philly.com
Stephen Starr will be the guest judge on the "Restaurant Wars" episode of Bravo's hit show, Top Chef (10 p.m., Wednesday, January 21).
Starr said he couldn't talk about the episode. See a clip here.
"It was very interesting" was about all I could get out of him, though he said he asked producers for a Top Chef: Philadelphia.
Michael Klein, Philly.com
Adult urban-contemporary station WRNB (107.9), whose sound had been remarkably similar to that of WDAS (105.3), reformatted today to aim at a younger audience. Old school is out.
"We want to become the hipper adult [R&B] station," operations manager Elroy Smith told me. "We want a lane to ourselves."
"The new sound of 107.9 WRNB, R&B of the 90's and Today," as it's known, will feature Boyz II Men, Jodeci, Babyface, Maxwell, Mary J Blige, and Mint Condition.
Michael Klein, Philly.com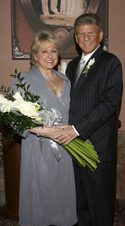 Bobby Rydell got married Saturday night to Linda Hoffman -- but it's not the Linda Hoffman who's the president of the Bobby Rydell fan club, as I erroneously blogged Tuesday night.
Yes. There are two Linda Hoffmans. They know each other. For a while when they lived in Montgomery County, they had the same dentist, family doctor, hair dresser and jeweler.
The Linda Hoffman who is the new Mrs. Rydell, 55, is a cardiac sonographer who met him in October 2007, said the "other" Linda Hoffman, who's the president of his fan club. Linda Ferrino Hoffman, the fan club president (who's known as Linda #1), has been married for 38 years to Jake Hoffman and lives in Margate.
Michael Klein, Philly.com
David Faustino, forever "Bud" Bundy of "Married ... With Children," will be here for an online chat at 11:30 a.m. Wednesday at Philly.com. Faustino stars in the Web sitcom Star-ving on Crackle.com.
Send questions now to mklein@phillynews.com.
Michael Klein, Philly.com
Attendees at a Philly-themed NFC championship game-watching party at the Sundance Film Festival in Park City, Utah, were amused when Dallas Cowboys' Terrell Owens showed up.
Two attendees told me that the mercurial former Eagles wide receiver made negative comments every time QB Donovan McNabb had the ball and was, overall, not very nice as he ate the food. A guest kept trying to give TO one of the Eagles hats that had been given out to the crowd, but he wouldn't wear one.
Michael Klein, Philly.com
George Anni and R. Evan Turney's takeover of Azul Cantina at 10th and Spruce Streets is proceeding. It'll be transformed into a pub.
Change is coming slowly. Turney, the chef, is revamping the menu, starting at Center City Restaurant Week, which runs Jan. 25-30. Turney tweaked several items from the existing menu, and added all three of the third-course options – the tilapia, roasted chicken and flank steak.
See the Restaurant Week menu here.

Michael Klein, Philly.com
Alison at Blue Bell, which shut down in September as chef-owner Alison Barshak devoted her time to building her new place (Alison two in Fort Washington), will reopen Feb. 5.
In an e-mail to customers, she wrote: "You're not the only ones chomping at the bit for the first restaurant to re-open. Chef Anthony Bonett is dying to get back into the kitchen. During his three months working the front of the house at A2, he's been dreaming about what he'll do at Alison at Blue Bell. The menu at Alison at Blue Bell will reflect his Italian heritage, focusing on Mediterranean fare including housemade pasta. One of my favorite appetizers on the new menu is the Spanish Octopus, Potato, Chili Peppers, Scallion, Smoked Paprika Aioli. Many of you will be happy to hear that we're bringing back the Brussels Sprouts! Entrees include Pork Chop Milanese, Mozzarella & Arugula Salad; Shellfish Risotto, Toasted Almonds, Citrus; and Rock Shrimp with Potato & Goat Cheese Ravioli. We envision a more casual atmosphere with dishes ranging from $5 to $22. Cash only. Alison at Blue Bell will be open for dinner only on Thursday, Friday & Saturday nights."
Michael Klein, Philly.com
Real estate insiders have received a fairly detailed solicitation about Patou, chef Patrice Rames' French-Mediterranean restaurant-lounge in Old City. (See details here or here.)
No price is attached, but I've seen listings in which the asking was $3.4 million for the whole shebang, including a four-story building.
Patou, which opened in December 2003, is very much still in business. Manager Mark Hoyt told me that the property has been sale for a year now. "It's not a fire sale. Patrice will sell if someone meets his price," he said. "So far, no one has. Given the climate, I don't think anything will happen anytime soon."
Michael Klein, Philly.com
Justin Hoke, last at the Georges Perrier-Chris Scarduzio joint Table 31 after three years at Le Bec-Fin, has joined Kite & Key Tavern (1826 Callowhill St. in Franklintown). Hoke said he left T31, seeking a better opportunity.
Logic dictates that as pricer restaurants tighten payrolls, their chefs will seek employment farther down the food chain -- a boon to the gastropub crowd. The gastropubs seem to be weathering this economic crisis better than the fine-dining houses (expense accounts are down) and the midrange BYOBs (which can't sell alcohol to offset higher food prices).
Hoke says he'll "keep it simple and fun." Also new in his kitchen, as sous/pastry, is Dennis Crowley, last at the Water Works.