Archive: June, 2011
Michael Klein, Philly.com
Michael Chow is venturing even farther from his Chinatown home base for a fifth Sang Kee, the duck destination he founded 30 years ago on Ninth Street.
Chow is planning for an early August opening of Sang Kee Noodle Bowl at 4755 West Chester Pike in Newtown Square. He is consulting for owners Win and Sutida Somboonsong. Menu is here. (DOC)
The couple recently closed Parker's Prime, which two years ago replaced Roux 3.
Michael Klein, Philly.com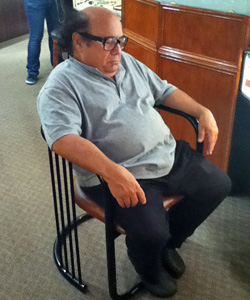 The cast and crew of the Fx comedy It's Always Sunny in Philadelphia have been working in town this week, shooting exteriors on their annual pilgrimage to the hometown of creator/star Rob McElhenney.
Thursday (June 24) had them on the 700 block of Sansom Street, aka Jewelers Row, as they shot a scene in which the Sunny-ers are stuck in traffic.
Since last year, McElhenney and his costar/wife, Kaitlin Olson, have become parents (son Axel was born Sept. 1).
Michael Klein, Philly.com
Fresh off his win on Food Network's Chopped, chef Olivier Desaintmartin plans to offer his cuttlefish entree at Caribou Cafe (1126 Walnut St.) during dinner Thursday, June 23 through Sunday, June 26.
The dish, which he made up on the fly and priced at $23, is dubbed cuttlefish vol au vent with tequila Provencal sauce.
Judges loved the puff pastry.
Michael Klein, Philly.com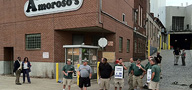 The Inquirer's Joe DiStefano passes word that Amoroso's, the region's largest roll baker, was vexed overnight by a wildcat strike by its drivers. Blog post here.
---
In a few months, the Northeast will get its first Five Guys burger outlet. It's the former commercial bread bakery on Grant Avenue just east of Roosevelt Boulevard -- and smack across the street from Nifty Fifty's.
---
If you're D.C.-bound: Starr Restaurant alumnus (and Top Chef runner-up) Mike Isabella will open his first restaurant, Graffiato, at 707 6th St. N.W. in D.C.'s Chinatown on June 23. It's billed as a no-frills Italian bistro serving artisanal pizzas, house-made seasonal vegetable dishes, locally procured meats and cheeses and small plates.
---
Michael Klein, Philly.com
Taste of the Nation, the food/drink event benefiting the anti-childhood hunger cause Share Our Strength, is up for Monday, June 20 at the Loews Hotel (1200 Market St.). Jennifer Carroll of 10 Arts (one of the chefs participating in Philly.com/food's July 7 launch event at Reading Terminal Market), is the chair. Info is here. Share Our Strength says 100 percent of the $85 ticket goes to the cause; if you seek a discount, Foobooz.com has a 15% discount code.
---
Han Dynasty, the Old City Chinese destination (and a three-bell recipient from The Inquirer's Craig LaBan), has applied for a liquor license at 108 Chestnut St.
---
Landmark Americana Tap & Grill is opening another college branch later this year at St. Joseph's University at 54th Street and City Avenue. The chainlet has other locations in Glassboro (Rowan), West Chester (WCU), and at 3333 Market St. (Drexel).
Michael Klein, Philly.com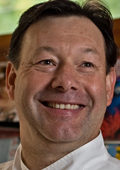 Olivier Desaintmartin of Caribou Cafe and Zinc, recently inducted into the Maitres Cuisiniers de France, gets an hour on the tee-vee, Tuesday, June 21 (10 p.m.) on the Food Network series Chopped.
In typical reality-show vagueness, the description goes like this: "In the appetizer round, one chef rushes with less than two minutes left on the clock to plate all of the ingredients. The competitors give their entree dishes a kick with tequila, but a surprising ingredient inks away the competition. Then, one finalist second-guesses what to do with simple ingredients in the dessert basket."
Desaintmartin's competitors are three NYC-based chefs: Jonathan Doar (Fishtail by David Burke), Stephen Hartigan (No More Take Out), and Emily Sims (Ici in Brooklyn).
Michael Klein, Philly.com

Indians eat kulfi, all right. How about Philly water ice?
Trevose's Rita's Italian Ice, now in 18 states, is now working the international circuit, as it's seeking franchisees in Asia and South Africa.
Nation's Restaurant News recently included Rita's in a story about U.S. franchisors exploring opportunities in India. Rita's joined reps of brands such as Applebee's, Carl's Jr., Denny's, and Wendy's in an April trade mission to three Indian cities led by the Commerce Department.
Michael Klein, Philly.com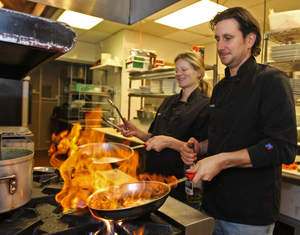 Horizons on Seventh Street just below South, one of the few polished vegan spots around, has set July 2 as its closing date.
Owners/spouses Kate Jacoby and Rich Landau will resurface within Center City with a vegan concept focused on vegetables. Tofu will be involved. So, to a minor extent, will seitan. The restaurant's name has not been announced.
For Horizons' final month, Landau will bring back some classic dishes as he changes the menu frequently. Among his past hits will be the sopa de tortilla (with a green-chili broth), the Yucatan salad, and a certain pecan and sage-baked seitan dish that Landau says he yanked from the menu after Inquirer critic Craig LaBan quibbled that it wasn't the same that Landau had prepared in Horizons' previous location, in Willow Grove.