Archive: May, 2011
Michael Klein, Philly.com
Gunners Run, the pub at the Piazza at Schmidt's, lost chef Shawn Sollberger shortly after its opening. It has brought in Sarah Mays, a Chicago native and a Johnson & Wales University baking and pastry grad whose Philly experiences include FARMiCiA, Day
By Day, and Artisserie Bakery & Cafe. Her new dishes include Fried Mac & Cheese, Grilled Goat Cheese sandwich, and, as part of a solid vegetarian/vegan menu section, what she calls the Super Veg. It's a vegan entree consisting of roasted vegetables, herbs, and sautéed greens, served with a side of quinoa and black bean salad.
---
Perch Pub, the former Upstares at Varalli at Broad and Locust Streets, will sell half-price burgers on Memorial Day (May 30). The beef is custom-ground by butcher Pat La Frieda. You have to say "rooster" to get the discount.
---
And a shocker in the non-meat-eating world: Citizens Bank Park is now ranked second by People for the Ethical Treatment of Animals in terms of ballpark food. For four years running, CBP was No. 1. In rankings announced Monday, AT&T Park in San Francisco got the top spot. "The only thing sweeter than a World Series championship is knowing that no animals had to suffer for a tasty ballpark meal," PETA crowed. "Mouthwatering meat-free options at AT&T Park include veggie dogs, veggie burgers, portobello mushroom sandwiches, meatless burritos, grilled vegetable sandwiches, and noodles with ginger, sesame, and veggies."
Michael Klein, Philly.com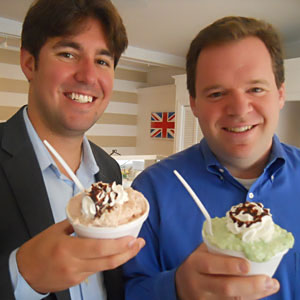 A shop dedicated to pudding?
As Mike Leibowitz and Bret Binder observe: You have ice cream and fro-yo stores, right?
The friends, who met at Villanova Law School, are about six months into Pudding Lane (7 Brookline Blvd., Havertown, 610-449-2772). It started as a way to solve their entrepreneurial dreams beyond mere real estate investing.
Michael Klein, Philly.com
Tony Rim, who owns Raw Sushi at 1225 Sansom St. (and The Corner at 13th and Chancellor), tells me that he is 95 percent on board with a plan to take over the never-occupied Speck space at the Piazza at Schmidt's.
It will be another Raw.
You may recall that in March, with construction all but finished, Speck landlord Bart Blatstein changed the locks, shutting out chef Shola Olunloyo.
Michael Klein, Philly.com
Saturday, May 21 is the Rittenhouse Row Spring Festival, in which Walnut Street is closed from Broad Street west to the square for a giant block party from noon to 5 p.m. (The resulting traffic jam will dovetail nicely into the Apocalypse.) Philabundance will be at the 19th Street side, collecting canned goods. Donors can get chances to win two prizes from Starr Restaurants, whose seven RitRow locations will be doing demos and selling food on the 1800 block. You get one raffle ticket for each canned good donated or seven raffle tickets for every five cans donated. You also can buy your way in: one ticket for $1 and seven for $5. Prize #1: Dinner for two at each of Starr's 16 Philadelphia restaurants. Prize #2: Dinner for four at the winner's residence, catered by Stephen Starr Events. Drawing will be at 4:45 p.m. The goal is to double the amount raised last year, which totaled $3,800 and 710 pounds of non-perishable food, which in turn provided up to 14,000 meals to families in need.
---
Also on the nonprofit side: Night Market Philadelphia, the University City street-food festival hosted by the Food Trust, will return, bigger, on Thursday, June 9, from 6 to 10 p.m. at 39th and Market Streets. (Rain date: June 16.) Organizers say the 30-plus food carts will include Guapos Tacos, from Jose Garces; hot dogs from Dapper Dogs; Nomad Pizza, with its wood-fired oven in a 1949 REO Speedwagon (Nomad will be assuming the location of Horizons, 611 S. Seventh St., this fall); Indonesian foods from Hardena; and ice cream from Little Baby's. The Blockley will set up a beer garden. Two more Night Markets are planned for 2011. They will be announced at nightmarketphilly.org.
---
August Moon, the Korean-Japanese mix in Norristown, has reopened, eight months after closing for renovations. It now has a serious sake program of about two dozen varieties.
---
Michael Klein, Philly.com

With about five months until the projected opening, here's an update on the mega-dining project coming to 600 N. Broad St., former home of Wilkie Buick, as part of Eric Blumenfeld's $43 million commercial-residential redevelopment.
The venture will include Stephen Starr, Marc Vetri, and Joe Volpe. (So far.)
Michael Klein, Philly.com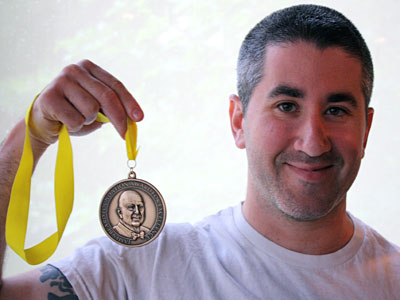 On his first day back to work at Zahav after winning his James Beard Award, Michael Solomonov sat down for a chat about himself.
Bullet points:
Born in Israel, moved to Pittsburgh as a tot, moved back to Israel at 15, hated it and moved back to Pittsburgh, returned to Israel, and so on.
Jennifer Carroll, now at 10 Arts, was the meat chef who "kicked my [ass]" at Avenue B years ago.
Marc Vetri is like a brother to him.
He and wife Mary are expecting a son in July.
He keeps the Beard medal in his office, in a crawl space above the restaurant.
Michael Klein, Philly.com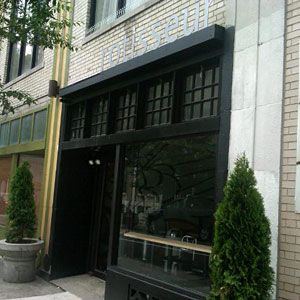 This week marks the soft opening of Rotisseur, a cafe/takeout on 21st Street between Chestnut and Sansom Streets.
For now, lifelong pals Dean Kitagawa and Aaron Matzkin are serving rotisserie chicken (and sides) in their 23-seater in a former dress boutique (215-496-9494).
A Friend of The Insider reports: "Had a dark meat quarter with sides of fried kale seasoned with garlic and an excellent red potato salad with celery and onions. Regular price is $6.25. This week they're offering a 15% discount." A half-chicken is $8, a whole is $14. Meal deals are available, too, such as a half-chicken and two sides for $10.
Michael Klein, Philly.com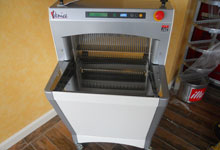 Georges Perrier has a spring in his step, for two reasons:
The Art of Bread, his Main Line bakery-cafe, is about 2½ weeks out at 920 Montgomery Ave., across from the Staples in Narberth. In a serious kitchen, Perrier and crew will bake for retail, for his restaurants (Le Bec-Fin and Georges'), and for commercial clients. The cafe will serve illy coffee, as well as tartines, pressed sandwiches, quiche, and pastries and cakes. Perrier also will sell a line of prepared foods.


From June 26 to July 1, Perrier will close Le Bec-Fin for a project that will include a kitchen renovation as well as the gutting of Le Bec's downstairs bar, known for nearly 30 years as Le Bar Lyonnais. The bar top itself will go. The space will be larger, as he's taking out the coatroom and the safe. The menu will be retooled with small plates and classics. The look will be modern. And as for the name: Tryst. "I'm bringing sexy back," he said this morning.