Archive: April, 2012
Michael Klein, Philly.com
You have nine hours to snag a $5 discount to April 28's Flavors of the Avenue, the annual East Passyunk Avenue street fest.
In one big top tent, 21 chefs will offer samples of signature dishes, including pork belly anticuchos with fava bean salad and margaritas from Cantina Los Caballitos, chilled lobster miso soup from Izumi, roast porchetta from Le Virtu, and wild boar pate from Fond with a lemon poppyseed cake for dessert from Belle Cakery. The VIP hour includes craft beer from Philadelphia Brewing Company, wine and a sizable cocktail selection.
After 11:59 p.m. April 19, a VIP ticket is $50 (includes an extra hour in the tent from noon to 1 p.m with limited attendance and premium menu items). General admission is 1 to 4pm and costs $30. For tickets and more info: www.visiteastpassyunk.com/flavors.
Michael Klein, Philly.com
Kayur Popat did not set out to get into the Indian restaurant business.
Popat, 39, born in Uganda to Indian parents, bought into a fast-food franchise that went cold. Then he hit it big with two Saxby's coffee shops. He also bought Bonte, the waffle shops.
Back home in Mechanicsburg, Pa., he was offered a stake in a pizzeria in 2009. His family suggested that he add Indian cooking. So Friends & Family Pizza Buffet became Bombay Junction & Pizza Buffet - a fitting meld of this fun-loving, easygoing American guy interested in maintaining his cultural heritage. (And talk about heritage: He traveled to India to find a bride. After a year of diplomatic red tape, his wife, Mona, joined him in Philly recently.)
Michael Klein, Philly.com
Tuesday, April 24 is the public go-live for Rittenhouse Tavern, inside the grand Art Alliance on the edge of Rittenhouse Square (251 S. 18th St., 215-732-2412).
Le Bec-Fin alum Nicholas Elmi is at the stove, under the direction of chef Ed Brown and Restaurant Associates. Elmi told me that the cooking is refined but definitely not French. His menu includes Deviled Eggs with pork scrapple; Spring Bean Salad with soft egg, cured and crunch pork; New Jersey Striped Bass with Tuscan kale, hedgehog mushrooms, hibiscus-red wine; Rack of Berkshire Pork with crisp belly, purple mustard, quinoa crust, endive; Brown Butter Cake with rhubarb, lavender, crème fraiche sorbet; and Blueberry Red Wine Soup with thyme, lemon-sage ice cream.
LaFrieda is doing a custom burger blend. There's a family style whole fried Amish chicken, served with buttermilk biscuits and a side.
Michael Klein, Philly.com
Dan Dan Noodles for University City!
Han Dynasty, the rapidly growing Sichuan empire from Han Chiang (Royersford, Exton. Old City, Manayunk), will grow to a fifth location later this spring.
It's taking over the former Midatlantic at 3711 Market St., in the Science Center. (The center confirms that the lease was signed today.)
Michael Klein, Philly.com
Huge news for East Passyunk: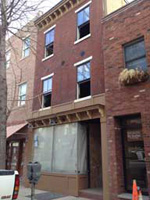 Pumpkin chef de cuisine Christopher Kearse, whose resume includes Chicago's Tru, Alinea, and Charlie Trotter, Napa's French Laundry, and Philly's Lacroix and Blackfish, is going solo.

Kearse has signed a lease at 1911 E. Passyunk Ave,, which the nonprofit Passyunk Avenue Revitalization Corp. has been rehabbing.
Michael Klein, Philly.com
Jose Garces will be on the Dr. Oz show on Wednesday April 18 (4 p.m., Fox29), cooking with homemade adobo marinade. (Topic: adding flavor without extra calories.)
The show will be rerun on Wednesday, April 25 at 11 a.m.
Michael Klein, Philly.com
Starting with the bad news: Eiselen's Pastry Shoppe, in Roxborough's Ivy Ridge Shopping Center for five decades, is closed, as reported on the Roxborough-Manayunk Patch. You might want to know why, I suppose, so I called owner Lucy Eiselen. Though hesitant to get into it, she told me that she and her husband had been on a month-to-month lease since last October, as the shopping center wanted them to sign a 10-year lease. But Rick Eiselen just got a new hip, and the couple's three kids have all pursued non-baking professions, so the long-term future is up in the air. Lucy, however, says they want to continue in the business. Know of an empty bake shop that could use a tenant famous for cream doughnuts? Let me know, and I'll forward to her.
Classic Cake of Cherry Hill and Washington Township, under the direction of Le Bec-Fin alumnus Robert Bennett, has been named the official bakery for the Camden Riversharks, which means fans get to eat "Finley" cupcakes at concession stands.
Michael Klein, Philly.com
Comcast workers at its corporate cafeteria got a visit from the Phillie Phanatic. who stopped up to plug Saturday's Comcast Cares Day, the company's annual day of service.
This year's event - the 11th - is expected to attract 67,000 volunteers nationwide to more than 630 sites.
Michael Klein, Philly.com
Pixels have been expended lately about Divan Mediterranean Grill at 622 S. Sixth St. (opening tonight), coming as it has just after the closing of Divan Turkish Kitchen & Bar across town in the Graduate Hospital/Southwest Center City area.
The logos look identical, so are they related? Yes and no.
Not by ownership. Ilker Ugur, who owned the now-closed Divan, told me he has nothing to do with the new one.
Michael Klein, Philly.com
Italian Village, at 902 MacDade Blvd in Milmont Park, will subject itself to a makeover at the hands of Robert Irvine and his crew from Restaurant: Impossible on the Food Network.
Restaurant: Impossible will shoot on April 19 and 20, and the restaurant is taking reservations for the "after" meal on the 20th.
To apply to be shown on national TV with food in your mouth, call 610-237-0200.