Archive: February, 2009
Michael Klein, Philly.com
Chef David Katz, who owns Mémé at 22d and Spruce Streets, is bringing in one of his teachers and another old friend to cook dinner on March 17.
The teacher is Corbin Evans, whose name may ring a bell among foodies (BLT's Cobblefish in Manayunk, Topeka on the Parkway, Pollo Rosso in Chestnut Hill, Lilies on 12th in Wash West). Katz worked for him at Lilies and Pollo Rosso. For the last dozen years, he's been in New Orleans, where he owned and operated Lulu in the Quarter and Lulu in the Garden District Hotel -- both well-received and both destroyed during Hurricane Katrina. Also joining them will be Joe Lakavage, who worked with Evans and Katz at Lilies. (In case you're racking your brain: Lilies is where Les Bons Temps is now, on 12th Street near Sansom.)
There will be two dinner seatings -- 6 p.m. and 8:30 p.m. -- limited to 30 people each. Five-course menu has not been set but will include five courses or $55, or $70 with wine. (Res: 215-735-4900.)
Michael Klein, Philly.com
Avram Hornik, owner of Loie, Lucy's Hat Shop, Noche, Drinker's Pub and Drinker's Tavern, is going into the old O'Hara's Fish House space at 39th and Chestnut Streets with a brick-oven pizzeria.
He and partner Mark Fichera have "Duo" as the working name, and an August target for the opening.
Michael Klein, Philly.com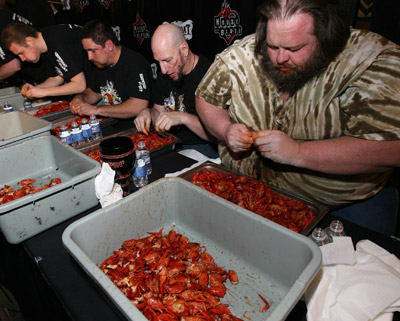 If your mail in Haddonfield has a slight perfume of seafood today...
Dave "US Male" Goldstein of Voorhees, 41, a regular at Wing Bowl and letter carrier, won the 2009 Showboat Mudbug Eating Championship.

Mudbugs? They're more popularly known as crawfish, and yesterday's contest at the House of Blues at the Showboat in Atlantic City was Mardi Gras-themed.
This was a major upset -- and not upset as in "stomach." Goldstein, who ate 4.99 pounds of the critters to get him a $1,500 prize, was ranked #28 by the International Federation of Competitive Eating.
Michael Klein, Philly.com
MovieMaker is out with its list of the 25 best places to live if you're an independent filmmaker.
Philly came in at #15, down from #5 on the 2008 list.
Chicago and Atlanta occupy the 2009 top spots; they were not even on the '08 list. New York rose a notch, edging in atop Shreveport, La., and Albuquerque, N.M.
Michael Klein, Philly.com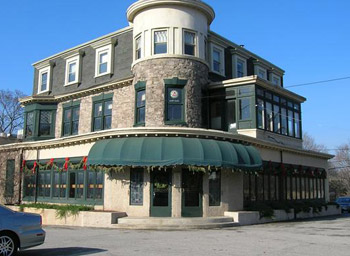 The Bent Elbo Tavern, a fixture for decades at the corner of Skippack and Bethlehem Pikes in Fort Washington (it was the old Fortside Inn), is closed and under agreement of sale.
Settlement is planned for Tuesday, says prospective owner John Dolaway, who with his brother Paul own MaGerks Pub & Grill, with locations in Baltimore and Bel-Air, Md.
John Dolaway, who grew up in Blue Bell and now lives in Horsham, says he respects the Bent Elbo's history, as it was where he celebrated his 21st birthday about 22 years ago. The MaGerks in Fort Washington will be a family friendly operation, though its bread and butter will be as a nightspot with live entertainment starting at 10:30 p.m.
Michael Klein, Philly.com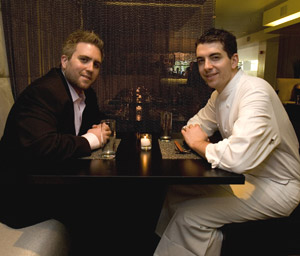 Ari Weiswasser, who endured the drama that was Pearl, is relocating to NYC to become exec sous chef at Corton in TriBeCa. He'll be #2 in the kitchen at the restaurant owned by Drew Nieporent and chef Paul Liebrandt.
Before helping to open Pearl -- which is now a Japanese gastropub called Akaya, with a nightclub upstairs called Pearl -- the Gladwyne-raised Weiswasser, 29, was chef at the late Striped Bass. He previously cooked at Le Bec-Fin and at NYC's Picholine and Daniel.
In an e-mail, Weiswasser thanked Philly for the warm reception.
Michael Klein, Philly.com
Randy Kotz has been let go from WMMR, where he'd been the fifth jock (overnights, weekends) since 2000. He worked at WMMR from 1978-'81, and from 1981 to '89 was at WYSP. He later had a tour at Star 104.5.
Kotz, whose last shift was Wednesday overnight, called the parting amicable but was not specific about the reason.
In a memo to staff, WMMR program director Bill Weston wrote: "While partings can be difficult, Randy can be proud of the accomplishments during his tenure. I wish nothing but positive things and future success for Randy and thank him for his years of service. We will post the full-time airshift opening and begin recruitment shortly."
Michael Klein, Philly.com

Former CN8 reporter/anchor Kevin Walsh, now freelancing for Comcast SportsNet, is shopping for a publisher for his book "The Marrow in Me," which he describes as a faith-based memoir about his relationship to an unrelated 16-year-old leukemia patient, to whom he was the only match for a blood-marrow transplant.
The story begins a dozen years ago when he was a news anchor and reporter at Honolulu's KGMB.
The day after he finished the book, he got a call from the producer of "Seize the Day," a show on the Catholic Channel of Sirius/XM satellite radio. He'll be interviewed on the show at 9:30 a.m. Friday.