Archive: December, 2010
Michael Klein, Philly.com
The Philadelphia affiliate of Susan G. Komen for the Cure has produced a video starring NFL alumni cheerleaders dancing to Jay Sean's "Do You Remember."
For every view here, UnitedHealthcare of Pennsylvania will donate 10 cents to Komen Philadelphia to fight breast cancer.
The lawyers of Cozen O'Connor's Media, Entertainment and Sports Law Practice Group donated their legal services to the project pro bono. This explains a meeting this summer in Atlantic City among Komen, NFL cheerleader reps, and Sean.
Michael Klein, Philly.com
While construction crews work night and day at 18th and Sansom Streets on the Stephen Starr-owned pub called The Dandelion, English chef Robert Aikens is holed up in his kitchen, training staff on the food.
Opening is now up for 3 p.m. Dec. 31.
Aikens generously gave me a few moments last week, and shared a curious but crucial fact about his kitchen. That is: every recipe is written in metric measures, meaning that each of Aikens' cooks has to get the grams and liters through their ounce and cup-lovin' heads. Why? "More precise," says Aikens, who has settled in South Philly.
Michael Klein, Philly.com
Salt & Pepper, the BYO last at Sixth and Fitzwater Streets, is aiming at Dec. 28 for its opening at 1623 E. Passyunk Ave. This spot will have a liquor license. Meanwhile, Mike Stollenwerk's Little Fish is due to take that Sixth and Fitz location, effective New Year's Eve (the evening's sold out). Stollenwerk also awaits a Dec. 22 zoning hearing for Fathom at 200 E. Girard Ave. in Fishtown

Jet Wine Bar, which opened last month at 1525 South St., has started lunch/brunch, meaning that daily hours now start at 11 a.m. Menu includes soups and salads, and owner Jill Weber is pushing "Breakfast Bourbon" -- hot bourbon with maple syrup and butter. It's meant to complement the savory bread pudding, Weber says.

Congrats to Charlie Haney and his Melting Pot location in Atlantic City. Not only was it the top-grossing franchise in the fondue chain, but it's on its way to a second consecutive win in the chain's annual fund-raising drive for St. Jude's Hospital.
Michael Klein, Philly.com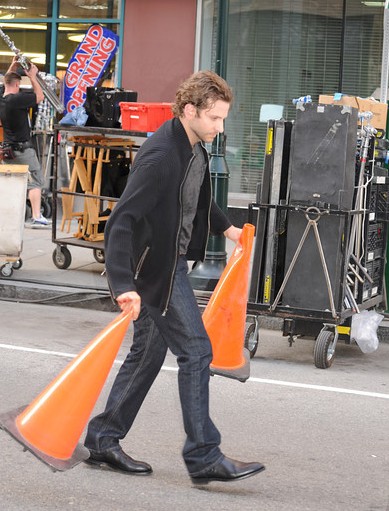 Last spring, Bradley Cooper, Robert De Niro, and Abbie Cornish were set up here for a couple of months to shoot a thriller called The Dark Fields, a tale about a struggling writer whose fortunes change radically after he discovers a magical pill.
With a March 18 release, producers of the Neil Burger-directed film -- now called Limitless -- have started the publicity campaign.
The conventional trailer has been released, as well as a clever short teaser, done up like a drug ad for "NZT," aka "The Clear Pill."
Michael Klein, Philly.com
Whatever became of Scott Swiderski, who left Buddakan last summer after 12 years as executive chef?
He's surfaced at the corner of 13th and Drury Streets in Wash West at a resto-bar called The Corner (102 S. 13th St.) in the former site of a short-lived bar/lounge called Apothecary and later APO. It debuts Friday night (12/17).
Here's the comfort-food menu, which Swiderski wisely has kept small -- befitting his small open kitchen that looks out to a counter and a wee little bar dispensing 7 whites, 8 reds, 5 sparkling, 9 beers, and a load of $11 cocktails bearing names such as Burning in Water, Drowning in Flame and Mary Kelly's Last Breath, as well as classics such as a tequila old fashioned. The drink menu is here.
Michael Klein, Philly.com
Cliff Lee and family may be going the Center City route during the baseball season.
The new Phillies pitcher toured the 17th-floor condo still owned by former Phillie Pat Burrell at 16th and Locust Streets. It's a roomy 5,417 square feet, according to city records.
My source said he is still looking.
Michael Klein, Philly.com
If you're keeping score: The count of sushi spots in the ground floor of Center City One (1326 Spruce St.) is about to hit five -- and only in the last three years. First, Miraku, which folded at the end of 2007. Then, Missu. Then, Muntin. Then, Hasu. Next up, in early January: a branch of Makiman Sushi, which happens to be my go-to spot in Five Points in Northeast Philly.

New: Yamaki Sushi Bar (209 S. 20th St., 215-545-2388), which has two small tables and a seven-seat sushi bar. The friendly owners Patrick Yuen and Erwin Wu do the usual: rolls, sushi/sashimi, and the unusual: "cheese steak," which are maki stuffed with steak and cheese, topped with tempura crunch, and served with rice and seaweed salad.
Michael Klein, Philly.com
If you haven't caught Erin O'Hearn on Action News lately (and if you're wondering why her bio is not on 6ABC.com), here's what's up:
She's off her feet during her pregnancy, which she made public last month.
She's expected back after the delivery, a station source says.