Archive: December, 2009
Michael Klein, Philly.com
Upper Darby native Jamie Kennedy and Jennifer Love Hewitt were having dinner Wednesday at Jack's Firehouse in Fairmount with Kennedy's mother, Josie, brother, Robert, and his sister-in-law.
The actress asked Firehouse owner Mick Houston about Eastern State Penitentiary across the street, and he came through with details about the landmark.
She was intrigued, so he called an ESP staffer.
Michael Klein, Philly.com
Actress Eva Mendes, who spent a few days here this week, had lunch Wednesday at Rouge on Rittenhouse Square with boyfriend George Augusto and two women. Mendes had the salmon, while the others had burgers.
Meanwhile down the street: Check out this gingerbread house set up in the lobby of the Barclay. It was created by the pastry chefs from Barclay Prime steakhouse: Frank Urso, Amber Otis, and Leah Lanteri, and shows the landmark building, including snow on the roof.
Yes, I'd much rather post photos of Mendes, but especially this time of year, we must be thankful for what we have.
Michael Klein, Philly.com
My in-box is filling with New Year's Eve restaurant promotions that include open bars.
At the risk of being a killjoy, I will relay the word on that practice, from the state Liquor Control Board:
It's not allowed.
Michael Klein, Philly.com
Manayunk watchers should note that chef Joe Scarpone is now saying "early January" for his projects Agiato (paninoteca/wine bar at 4359 Main) and Agiato Bread Company (4351 Main), with Main Street Market to follow (4345 Main).
Developers Richard Rivera and Rob Nydick also are creating Rubb, the associated BBQ joint up the street (4445 Main), and it received its zoning approval.
But Matt Levin, the onetime chef at Lacroix at the Rittenhouse, will not be running it, said Scarpone, adding that Rubb's operator would come from Agiato's ranks when the time was right.
Michael Klein, Philly.com
Philly's Four Seasons Hotel is cutting back most Sunday brunches (except for certain holidays*) as well as Monday dinner service in its signature Fountain Restaurant.
Effective in January, the hotel will serve Sunday brunch from 10 a.m. to 2 p.m. only in the neighboring Swann Lounge. It will offer a la carte Sunday breakfast in the Fountain (7 a..m. to noon).
The Fountain will be open for breakfast and lunch on Mondays, and will continue to maintain standard operating hours the rest of the week, but Monday dinner will be served only at the Swann.
Michael Klein, Philly.com
Firecreek in Downingtown has a series of themed Tuesday night chef's tables.
Just when you're sick of ham or turkey or turducken or seven fishes or pastas, Firecreek is offering offal this coming Tuesday night (12/29).
Theme is "Alternative Body Parts."
Michael Klein, Philly.com
Two restaurants are in the throes of management changes.
Shang Skipper, who's run Center City's Del Frisco's steakhouse over its first year, got a corporate promotion within Sullivan's. He's leaving in late January to become a regional manager for Sullivan's properties in King of Prussia, Wilmington, and Baltimore. His replacement, to be formally announced at the Del Frisco's anniversary party on Jan. 27, will be Rich Furino, an 11-year Sullivan's veteran who runs the Sullivan's in King of Prussia.
Franco's Trattoria lost Franco Faggi (he's going to the Presidential on City Avenue to open Franco's Osteria), but the trattoria, off Kelly Drive, has new management: It's the crew from Water Works on the Art Museum end of Kelly Drive. East Falls developer Mark Sherman is a friend of Water Works owner Michael Karloutsos. "It's a friend helping a friend," said Karloutsos. "It's a nice little place." He and his crew have renovated the second floor into private dining. He's not sure how long the arrangement will run.
Michael Klein, Philly.com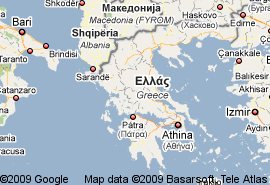 Washington Square West is in line for not one but two new Greek-theme restaurants, effectively doubling the Center City neighborhood's Hellenic dining destinations (e.g. the BYOBs Kanella at 10th and Spruce and Effie's at 1127 Pine, though I am splitting hairs by excluding the posher Estia across Broad at 1405-07 Locust).
The new projects carry liquor licenses.
1. George Tsiouris, whose extended family has been in the local restaurant business for half a century, will go before the Washington Square West Civic Association tonight with plans for a Greek-Mediterranean concept that he and his sister, Vasiliki, are (for now) calling Opa, at 1311 Sansom St. George Tsiouris says they'll cook traditional family recipes. The contemporary/modern/funky look, he says, will take inspiration from Athens' Gazi neighborhood. Opening is projected for spring. It's in the thick of what is emerging as the city's fastest-growing restaurant district. It's smack between Bar (due to open shortly) and Time; the soon-to-open Zavino is at the corner.