Archive: December, 2008
Michael Klein, Philly.com

Something odd is happening... Restaurant closings... In December, traditionally the busiest month of the year...
Last weekend saw the departure of Root on Spring Garden Street near 11th, which lasted all of four months.
South Jersey has seen a few fairly established establishments go under, including Emerald Fish, whose last night is Friday, plus Onasis across from Garden State and Food for Thought in Marlton.
Michael Klein, Philly.com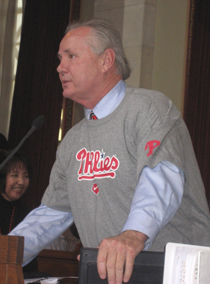 Back in early October, just before the Dodgers and Phillies got down to the National League Championship Series, L.A. Councilman Tom LaBonge and Philly Councilman Curtis Jones Jr. made a friendly bet. (Jones was feeling a bit giddy, as he had won a case of Usinger's sausage from a Milwaukee alderman after the Phils beat the Brewers in the division series.)
The L.A.-Philly stakes were a case of Dodger dogs, books about L.A. history and pumpkin bread baked by a cloistered order of nuns at the Monastery of the Angels just beneath the "Hollywood" sign against a six-foot cheesesteak, books about Philly and a case of Tastykake.
LaBonge went one better as the loser. He wore a Phillies shirt to a council meeting.
Michael Klein, Philly.com
Havertown's Denny Somach interviewed a bunch of performers (Joe Perry, Slash, Jeff Beck, Richie Sambora, Billy Gibbons) for a radio special he's produced about guitar legend Les Paul.
During his chat, Joe Perry let on that he's working on a solo album and that Aerosmith will tour in April after a Feb. 1 show in Caracas, Venezuela. Other band members have hinted at this over the past few months.
"We've been off the road for a lot longer than I thought," Perry told Somach. (Must be tired of playing Guitar Hero). The last tour wrapped in September 2007.
Michael Klein, Philly.com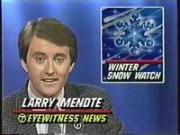 "We, the undersigned, want to see Larry Mendte return to network news in Philadelphia," begins a petition on YouChoose.net, a site where folks can post petitions for various causes.
The goal of "Bring Back Larry Mendte" is to get the former CBS3 anchor hired again in his hometown. (That is, after he serves the six months' house arrest; he pleaded guilty last month to snooping on former coanchor Alycia Lane's e-mails and passing along the info to the gossip pages.)
This is more than a mere petition. The organizer, identified as a Marylander named Jeff J., set it up so that with one click, it e-mails a "hire him" message to news executives at CBS3, 6ABC, NBC10, Fox29 and Comcast.
Michael Klein, Philly.com
Kendra Wilkinson -- the Playboy Playmate/fiancee of the Eagles' Hank Baskett -- is back-pedaling furiously from her outrageous comments Monday on a podcast of Fox Sports' Best Damn Sports Show.
In sum: I was kidding. I was nervous. I am sorry. I am mortified about the fallout. (Baskett is not too happy with her.)
"I just jokingly said stuff," Wilkinson told me by phone this afternoon, in a call out of the blue. "I didn't have any intentions of causing any problems."
Michael Klein, Philly.com
Back on Feb. 29, before the Philadelphia Soul's 2008 Arena Football League season premiere, Soul co-owner Jon Bon Jovi called into the Preston & Steve show on WMMR (93.3).
Sidekick Nick McIlwain boldly asked Bon Jovi if the band would "put together a free concert for . . . WMMR listeners" if the Soul won ArenaBowl XXII.
"Deal," Bon Jovi said
Michael Klein, Philly.com
Emerald Fish: The seafood BYOB that's been in Barclay Farms shopping center for about 10 years (four years under Mark and Ann Rowand) will be gone after Friday 12/19. Mark Rowand says he simply did not want to re-sign a five-year lease for Emerald Fish in this economy. He also pointed to a downturn for Cherry Hill restaurants after the openings of Cheesecake Factory and McCormick & Schmick at the mall.
Bibou: Pierre Calmels, who recently left the chef de cuisine post at Le Bec-Fin, is about to hammer out a French BYOB at 1009 S. Eighth St. in the Italian Market -- the former spot of Pif. Calmels' wife, Charlotte, will work the front of the house at the 28- to 30-seater. She says the experience will be akin to dining in their own home. (Yeah. Except you get a bill at the end.) Calmels left LBF under great terms, and Georges Perrier himself is talking up this place, which is penciled in for February.
Mims Food & Drink: John Mims, who left Les Bons Temps and Carmine's rather suddenly last summer, has surfaced at the Freehouse (110 N. Wayne Ave. in Wayne). Plan is for him to take over just after New Year's and call it Mims Food & Drink.
Michael Klein, Philly.com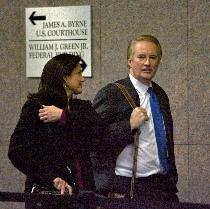 Fox29's Dawn Stensland sat for an interview with Vicki Glembocki for January's Philadelphia Magazine.
Under the headline "Dawn's Dark Days," the story will describe how Stensland kept it together while the feds were probing and prosecuting her husband, Larry Mendte, and as her own station was among those covering the story about Mendte's snooping on onetime colleague Alycia Lane.
Mendte attorney Michael Schwartz was present during the interview, which Fox29 knew about.