Archive: November, 2010
Michael Klein, Philly.com
It's pretty much officially Christmas time in the city, as WBEB (B101) went to Christmas programming at 3 p.m. Nov. 18 with "It's the Most Wonderful Time of the Year" by Andy Williams.
The format will remain through Christmas Day.
The station's light rock has migrated to HD channel 101.1-2.
Michael Klein, Philly.com
WPHT (1210) is ripping up its lineup, effective in the new year.
The bullet points:
Morning man Michael Smerconish moves to afternoon drive.
There's a new hire from the Midwest to do mornings.
Dom Giordano gets the late-morning shift.
Glenn Beck and Sean Hannity are gone.
Smerconish has been burning the candle at both ends, what with his morning show and a syndicated show, his writing (columns for The Inquirer and Daily News and books), and his nighttime work on MSNBC. Effective Jan. 17, Smerconish moves to 3 to 7 p.m., with a locally focused program from 3 to 4 p.m., which adds a national bent from 4 to 7 p.m.
Michael Klein, Philly.com
Said it here before, but...
South Philly's two longest-delayed projects may finally see the light of day.
Nick Miglino says Sticks & Stones, his pub at 1909 E. Passyunk Ave., will give away food and beverages on one of the busiest drinking nights of the year -- Thanksgiving eve (11/24). It will soft-open Friday (11/26) and Saturday (11/27) at 5 p.m., and host an industry night starting at 7 p.m. Sunday (11/28). Miglino has Eric "Elvis" Walsh running the bar. The delay? Family issues, says Miglino.

Opening is not quite at hand for 943, the Argentinean-Italian BYOB from Pat Cancelliere at 943 S. Ninth St. Though the place looks finished, Cancelliere says he must wait for PGW to install a new meter. Then come city inspections. Up by Christmas, he says. I believe he means Christmas 2010.
Get the flash player here: http://www.adobe.com/flashplayer
Michael Klein, Philly.com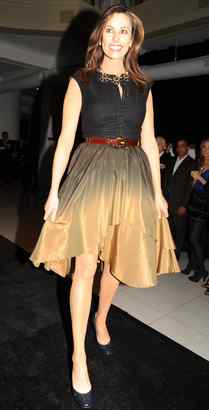 Fox29 alumna Kerri-Lee Halkett has landed on her feet.
She's been signed as a reporter/anchor at WVIT in West Hartford, Conn., aka NBC Connecticut, as the station's news director, Mike St. Peter, told me this morning.
Start date is Dec. 13, he said, adding that Halkett will be fill-in anchoring at the outset to cover for holiday vacationers.
Michael Klein, Philly.com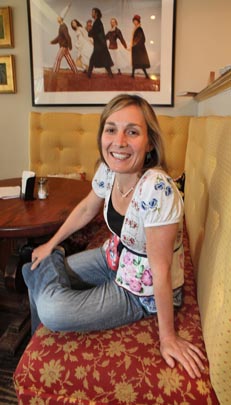 Aimee Olexy and Stephen Starr are opening a restaurant together, both have confirmed.
Olexy, of Kennett Square's Talula's Table, had a tryout of sorts over the summer as they created a pop-up restaurant at Starr's former Washington Square restaurant (210 W. Washington Square).
Olexy plans to open a restaurant in the space in spring 2011. She told me that she has no defined concept or name yet, and will keep Talula's running.
Michael Klein, Philly.com

Olympic speed-skating hero Apolo Anton Ohno has rescheduled his Philly area appearances, at which he'll sign his book, Zero Regrets.
He's due at 4 p.m. Friday (Nov. 12) at Chester County Books & Music in West Chester. He's due at 8 p.m.* Friday at the Barnes & Noble store in Cherry Hill.
* Time was changed.
Michael Klein, Philly.com
Philly coffee baron La Colombe is opening a cafe in the Residences at the Ritz (15th Street at South Penn Square) in about 11 weeks, to supplement the flagship store on 19th Street north of Rittenhouse Square and two in New York City. The founders, Todd Carmichael and Jean Philippe Iberti, are in Chicago signing a lease and plan to open in L.A. They're expanding in different cities to boost their business of wholesaling to fine restaurants. That's really using their bean.

Freshii, a fresh, fast-serve concept, is also under construction at the Residences at the Ritz.

Get Gino's burgers at 1970s prices on Sunday (Nov. 14), as the revived Gino's (across from the King of Prussia Mall, on Route 202 at Allendale Road) does a rollback from noon to 3 p.m. to coincide with its ribbon-cutting. Founder and football legend Gino Marchetti, 83, will be there. CEO Tom Romano is expecting 1,000 people to show up. Here's some history.

On a personal note: Today we'll send off Fran Alberstadt, who lost her blessedly short final battle with cancer on Monday at age 82. Aunt Fran, my father's sister, was a Mad Woman, writing ad copy in the '60s. In retirement, she and her husband, Joe, traveled the world. Her Zagat-like knowledge of local restaurants was honed from an aversion to cooking that the kids in the family actively supported. Years ago, Fran volunteered to host a holiday meal. She put a fully frozen turkey, giblet bag still in the cavity, into the oven, set it to 450, and wondered why it wasn't done after three hours. Little wonder that she and Joe dined out five times a week.
Michael Klein, Philly.com
Friday, Nov. 12 saw the debut of the Wayne branch of White Dog Cafe (200 W. Lancaster Ave., across from Anthropologie). This spot has been nearly two years in the making. Menu from chef Zach Grainda (previously at Daddy O hews to the locavore American fare making the rounds today. (See dinner menu here. Lunch will start Nov. 16.) The handsome interior gives off mixed signals -- the dog pictures on the wall and the dark woods in the bar area seem right out of Radnor Hunt, while the bright, whitewashed look in two dining rooms has a Pottery Barn feel. Don't miss the "library," which has a series of books whimsically suspended from the ceiling. As for opening, owner Marty Grims awaits approval from the LCB. If you're one of those first-nighters who feels obliged to one-up your friends about your travels, you'll have to call 610-225-3701.

Shake-up at Reading Terminal Market: The Beer Garden, which has been there for 25 years or so, has been sold to veggie guys Vinnie and Jimmy Iovine, who plan a gastropub to be called Molly Malloy's Bar & Grill.* The transfer of ownership will take effect when the Iovines' liquor license application is approved, possibly within 90 days from now. Then it's renovation time. The Beer Garden is still open under Tony Novelli. *- Name changed

Mark Coates, who closed his Bebe's BBQ shop in the Italian Market, has taken to Facebook and Twitter to announce that he's now chef at Fergie's Pub. He spent Tuesday picking up a smoker for the restaurant.
Michael Klein, Philly.com
HeadHouse, the craft-beer bar in Society Hill (122 Lombard St.) that opened in June and closed a month later, has a grand reopening up for this weekend (Nov. 12-13-14). Madame Saito, who owns the business, has drafted chef Daniel D'Angelo, a chef-instructor at the Art Institute. The menu now covers America and Asia -- sliders and wings and sushi, oh my -- and there are 20 beers on tap plus 150 by the bottle. For the grand opening, food and drinks will be priced at $5.

Old City's Khyber Pass Pub (56 S. Second St.) returns Tuesday (Nov. 9) in soft-reopening mode with a Southern-influenced menu by chef Mark McKinney, who runs the kitchens at sibling operations Royal Tavern and Cantina Dos Segundos. He's importing bread from Leidenheimer Baking Co. in Louisiana for the po'boys. Here's a sample menu. The official opening will be Nov. 18.
Michael Klein, Philly.com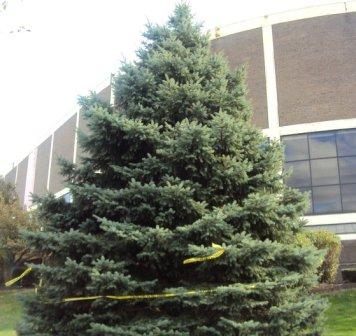 While a thousand scavengers picked the Spectrum clean of its remaining contents on Saturday, one arena fixture is spoken for:
The nearly two-stories-tall blue spruce on the west side of the arena, near the subway station.
The Spectrum has donated this 40-plus-year-old tree to the city, which will truck it up Broad Street in a couple of weeks.