Archive: October, 2009
Michael Klein, Philly.com
What to make of this?
Comparing viewership between Games 1 and 2 of the World Series, the numbers were up nationally.
Fox is crowing that 18.9 million viewers tuned in last night -- a spike over Game 1's audience of 17.7 million viewers.
Michael Klein, Philly.com
Breakfast or brunch around 17th and the Parkway ... ?
Con Murphy's, an Irish pub now open in the odd-shaped space at the Windsor that was the old Peacock on the Parkway, is serving the rooms upstairs, so owners Maurice Collins and Liam Kelly decided to serve the public from morning till late night, as well.
Starting this weekend (10/31), Con Murphy's is serving brunch from 9 a.m. to 3 p.m. Menu is here.
Michael Klein, Philly.com

The gorgeous waterside setting on King of Prussia Road in Radnor that's now Pond and previously was Passerelle will become a Euro-style American comfort-fooder called Floret.
Opening is aimed at December. Pond will remain open through the transition. Pond owner Raelyn Harman will maintain an ownership interest and will honor Pond gift certificates and party reservations.
Floret won't be a big-budget affair. Owners Scott Morrison, who runs Berwyn's Nectar, and Dan Kremin, who cheffed at Barclay Prime and Buddakan, are aiming to draw frequent repeat business with entrees under $20.
Michael Klein, Philly.com
In the middle of Wednesday's Pearl Jam show at the Spectrum, singer Eddie Vedder called out: "I wonder what the score is."
On cue, a boxing-style ring-card girl bopped onto the stage with a giant scorecard reading, "Phillies 1, Yankees 0." She kept the crowd updated through the game/show.
Vedder dedicated "Wishlist" to his "close personal friend, Raul Ibanez," "Given to Fly" to Shane Victorino, and "Save You" to Brad Lidge.
Michael Klein, Philly.com
Quinnipiac University, usually known for political surveys, took the time to poll New Jerseyans on their preferred team in the World Series.
Quinnipiac discloses that New Jerseyans favor the Yankees by a 58 - 28 percent margin -- except in the South Jersey Philadelphia suburbs, where the Phillies lead 80 - 10 percent.
Shocker.
Michael Klein, Philly.com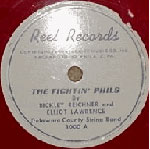 Back in 1950, the last time the Phils were in the Series with the Yankees, the Delaware County String Band cut a tune called "The Fightin' Phils Polka."
Give a listen here, courtesy of the Polish American Cultural Center.
Lyrics, should you want to sing along at home (a-one anna two anna...):
Michael Klein, Philly.com
Con Murphy's, the Irish pub at 17th and the Parkway, opens Friday (10/30). More here.
The deal to bring a small-plater called Cicchetteria to 267 S. 19th St. has fallen through, chef Bill Murphy confirms. The restaurant is still operating as Di Vino Wine Bar. Murphy says he and partners are looking in New Hope.
Liquor-license issues... Poky contractors... The crop of fall restaurant openings may become a crop of winter openings, if the current delays continue. Here are a few tentatives:
Michael Klein, Philly.com
Parties always surround major sports events, and the swankiest World Series shindig will be the Phillies party Friday night at the Comcast Center.
An enormous tent was erected Wednesday on the plaza at 17th Street and JFK Boulevard.
This one is private, and the Phillies are not talking.

My sources say security will be tight as hundreds of people gather for cocktails and food on the plaza, in the lobby beneath the signature video wall, and in the subterranean marketplace.