Archive: October, 2008
Michael Klein, Philly.com
Bravo TV says restaurateur Stephen Starr will judge the "Restaurant Wars" segment on the next season of Bravo's Top Chef.
The fifth season of the reality series premieres Nov. 12 and there are no Philly contestants in this New York-set series. Starr's appearance date is not set.
Michael Klein, Philly.com
Who could time the opening night of a sports bar better than World Series Game 5?
Tonight is the opening of Mikey's American Grill & Sports Bar, replacing Ecco Qui at 32d and Chestnut Streets, in the Left Bank building. The look includes exposed brick and polished concrete floors, plus eight 50-inch flat screens and Wii.
Michael Klein, Philly.com
If you don't want to be seen in Center City, perhaps it's not a good idea to go to Continental Mid-town for dinner on a Friday night.
Downstairs patrons at the meet market were instructed not to talk to the strapping young fellow who turned heads when he walked in with a bodyguard, a younger couple and a middle-aged couple.
Dan Ceisler, vice chairman of the Philadelphia Youth Commission, recognized the guy as Rays third baseman Evan Longoria. Ceisler says Longorio got his wish. After his tablemates cut out, Longoria sat at the table, playing with his Blackberry, and he was roundly ignored. Phillies fans saved all their love for "Eva" at the ballgame.
Michael Klein, Philly.com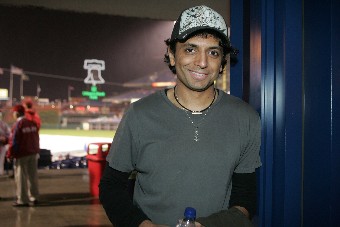 Director M. Night Shyamalan took in Saturday's Game 3 of the World Series.
Alas, from all Signs, he did not wear his Phillies colors, so you couldn't say, "I see red people."
Michael Klein, Philly.com
How far Jose Garces has come in his seven years in Philadelphia, and now he'll going the casino route, first in Las Vegas and then in Atlantic City.
Garces told me that he has plans for a branch of Amada at the Fontainebleau under construction in Vegas (late 2009) and branches of Amada and Distrito at the Revel project up for 2010 in Frantic City.
These will follow his current projects: Chifa (a Peruvian-Chinese concept) to open around New Year's at 707 Chestnut St., and Village Whiskey (that's what he plans to call his upscale whiskey bar featuring high-end burgers, American cheese plates, bar snacks and creative cocktail list), next to Tinto at the northwest corner of 20th and Sansom Streets; this decidedly non-Latin venture is up for January or February.
Michael Klein, Philly.com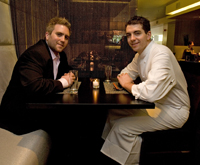 Amid a feud among owners at the Rittenhouse Square nightspot Pearl, chef Ari Weiswasser has gone his own way.
Weiswasser, whose past includes Striped Bass and New York's Daniel, says all is amicable between himself and owners. "I just don't think Pearl is recognized as a restaurant," he says. "It's been overshadowed by the club upstairs." The perception translates into slow weeknight business in the restaurant. Weekends are busy, he said.
Weiswasser he wants to do his own restaurant.
Michael Klein, Philly.com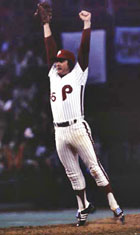 CW Philly will rebroadcast Game 6 of the 1980 World Series at 3 p.m. Saturday, leading into the Game 3 prelims.
Seldom does a press release manage to elicit goosebumps, but just dig this late-innings recap from the station's Shelley Hoffman:
This rebroadcast of Game 6 will treat viewers to some of the most nerve-wracking, intense and memorable moments of the 1980 World Series which occurred in the last two innings of this game. Phillies' ace Steve Carlton began the game in dominating fashion, holding the Royals scoreless through 7 innings. But after allowing the first two batters to reach base in the top of the eighth inning, Philadelphia manager Dallas Green inserted veteran closer Tug McGraw to finish the job.
McGraw got out of the eighth inning, only allowing one of Carlton's base runners to score on a sacrifice fly.
But McGraw struggled in the top of the ninth, giving up a walk and two singles. The Royals had the bases loaded with only one out. The atmosphere was tense. Frank White was the next batter and McGraw got him to pop up a foul ball on the first base side. Catcher Bob Boone chased it down and it appeared that he would make a routine catch. But as he was catching it, the ball popped out of his glove. An alert Pete Rose, also converging on the ball from first base, snatched the ball before it hit the ground to record the second out of the inning. That play remains one of the most-talked about foul pop-outs in baseball history.
Knowing he only needed one more out, McGraw was invigorated and went after Willie Wilson 1-2 early in the count. The next pitch was a fastball that struck Wilson out swinging
at 11:29 p.m. as McGraw leaped into the air and the crowd erupted into wild pandemonium as the Phillies captured the only World Series title in franchise history to date.
The 1980 World Series had many exciting moments, but Game 6 was arguably the most pivotal and memorable game of the series. And every Phillies fan most likely remembers where they were when "that pitch" took place.
Michael Klein, Philly.com

To answer the burning question, "Who will sing the national anthem at Citizens Bank Park for the Philly World Series games," I can tell you that teen country crooner Taylor Swift is up for Saturday's Game 3 and Philly diva Patti LaBelle is up for Sunday's Game 4.
Tim McGraw, son of 1980 World Series hero Tug McGraw, will be joined by a local member of Boys & Girls Clubs of America, to deliver the first game ball to the mound at Game 3.
Michael Klein, Philly.com

Action News reporter/weekend anchor Jessica Borg will return to her native New York at the end of the year after four years at 6ABC. Her agent, Mark Turner, says Borg has a new opportunity, which he would not disclose.
"Jess has had a great experience at Action News and enjoyed being part of a phenomenal team, but is now looking forward to her next challenge," Turner says.
Michael Klein, Philly.com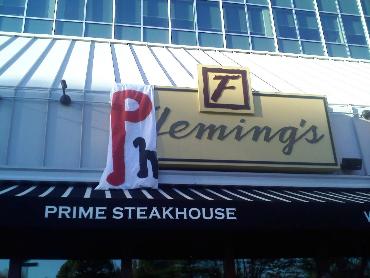 Pat English, general manager of Fleming's in Radnor, ordered up some phun.