Archive: October, 2008
Michael Klein, Philly.com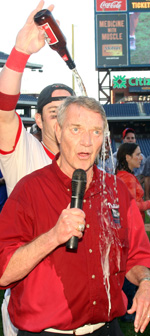 The Phillies normally cut off beer sales after the seventh inning at home games at Citizens Bank Park.
What will they do for Game 5, which will start in the bottom of the sixth inning?
The beer sales continue till "sometime near the end of the game," says spokeswoman Bonnie Clark, adding that the "sometime" has not been determined.
Michael Klein, Philly.com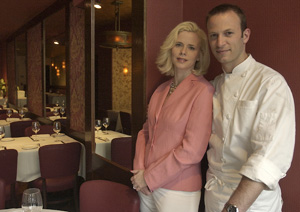 The chef-driven Sovalo, arguably the swankiest restaurant in Northern Liberties, closed over the weekend.
Co-owner Joe Scarpone, who got great notices (including a three-bell from Craig LaBan) for his Napa-style cuisine, featuring fresh pasta, says weeknight business had slacked off, probably because of "big companies tightening their belts. Weekends were strong, he said, but sales were still down from a year ago. He has another restaurant idea that he plans to pursue.
Post updated 2:15 p.m.
Michael Klein, Philly.com
Bravo TV says restaurateur Stephen Starr will judge the "Restaurant Wars" segment on the next season of Bravo's Top Chef.
The fifth season of the reality series premieres Nov. 12 and there are no Philly contestants in this New York-set series. Starr's appearance date is not set.
Michael Klein, Philly.com
Who could time the opening night of a sports bar better than World Series Game 5?
Tonight is the opening of Mikey's American Grill & Sports Bar, replacing Ecco Qui at 32d and Chestnut Streets, in the Left Bank building. The look includes exposed brick and polished concrete floors, plus eight 50-inch flat screens and Wii.
Michael Klein, Philly.com
If you don't want to be seen in Center City, perhaps it's not a good idea to go to Continental Mid-town for dinner on a Friday night.
Downstairs patrons at the meet market were instructed not to talk to the strapping young fellow who turned heads when he walked in with a bodyguard, a younger couple and a middle-aged couple.
Dan Ceisler, vice chairman of the Philadelphia Youth Commission, recognized the guy as Rays third baseman Evan Longoria. Ceisler says Longorio got his wish. After his tablemates cut out, Longoria sat at the table, playing with his Blackberry, and he was roundly ignored. Phillies fans saved all their love for "Eva" at the ballgame.
Michael Klein, Philly.com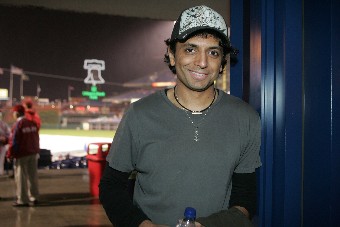 Director M. Night Shyamalan took in Saturday's Game 3 of the World Series.
Alas, from all Signs, he did not wear his Phillies colors, so you couldn't say, "I see red people."
Michael Klein, Philly.com
How far Jose Garces has come in his seven years in Philadelphia, and now he'll going the casino route, first in Las Vegas and then in Atlantic City.
Garces told me that he has plans for a branch of Amada at the Fontainebleau under construction in Vegas (late 2009) and branches of Amada and Distrito at the Revel project up for 2010 in Frantic City.
These will follow his current projects: Chifa (a Peruvian-Chinese concept) to open around New Year's at 707 Chestnut St., and Village Whiskey (that's what he plans to call his upscale whiskey bar featuring high-end burgers, American cheese plates, bar snacks and creative cocktail list), next to Tinto at the northwest corner of 20th and Sansom Streets; this decidedly non-Latin venture is up for January or February.
Michael Klein, Philly.com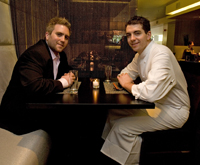 Amid a feud among owners at the Rittenhouse Square nightspot Pearl, chef Ari Weiswasser has gone his own way.
Weiswasser, whose past includes Striped Bass and New York's Daniel, says all is amicable between himself and owners. "I just don't think Pearl is recognized as a restaurant," he says. "It's been overshadowed by the club upstairs." The perception translates into slow weeknight business in the restaurant. Weekends are busy, he said.
Weiswasser he wants to do his own restaurant.