Archive: January, 2009
Michael Klein, Philly.com
For the first time ever, morning show rivals Artie Lange (of Howard Stern fame) and Jim Norton (of Opie and Anthony) will take the stage together at the Tower Theater in Upper Darby.
The show, expected to be announced on the air Tuesday, will be Feb. 21.
Live Nation will put tickets on sale Friday at 9 a.m. only at LiveNation.com, by phone at 1-877-598-8696, at the EFC Box Office (111 Presidential Blvd., Bala Cynwyd) and the Tower box office (69th and Ludlow Sts.; first day of on-sale and day-of-show only).
Michael Klein, Philly.com
An orange sign has popped up on the spot in the Windsor (17th and the Parkway) that formerly housed Peacock on the Parkway, followed for about five minutes by Kujaku.
Its name will be SnugBar, which sounds Irish. Fittingly, talk is that a former owner of Tir na Nog, the bar a block away in the Phoenix, is behind the project. Stay tuned.
Michael Klein, Philly.com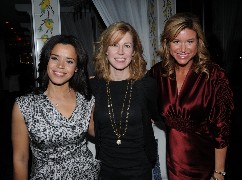 CBS3's Saturday morning newscasts, which featured Anne-Marie Green, Lesley Van Arsdall and Carol Erickson, have been eliminated, a CBS3 spokeswoman confirmed.
The Saturday lineup now starts at 6 a.m. with Inside Edition, followed by Storm Stories, the Saturday Early Show at 7 a.m., and from 9 a.m. a steady diet of kiddie fare: Strawberry Shortcake, Care Bears, Cake, Horseland, Dino Squad and Sushi Pack.
Green, Arsdall and Erickson are part of Sunday morning's newscasts (6 to 9 a.m.), which are unaffected.
Michael Klein, Philly.com
WYSP morning man Danny Bonaduce and former baseball star Jose Canseco went three rounds in a Saturday night celeb match at the Ice Works Skating Complex in Aston, Delaware County, and it ended in ... a majority draw.
Two judges scored one round for each and one round a draw. One judge gave Canseco two rounds, Bonaduce one.
Bonaduce, outweighed by 80 pounds and outsized by 10 inches, took some big shots to the head but peppered Canseco with some impressive body shots and a couple of over-the-top rights. They hugged after the fight.
Michael Klein, Philly.com
Susanna Foo, the renowned Walnut Street temple of French-Asian cuisine, will start delivery service to a limited area next week as it introduces a menu whose prices are similar to those of many neighborhood spots.
It's another sign of the sagging economy, as battered white-tablecloth restaurateurs are advertising discounts in an effort to bolster business in what is traditionally one of the slowest months.
In another bid to drive traffic, the Center City District announced that its semiannual Center City Restaurant Week, in which 108 restaurants offer three-course dinners for $35, will be extended for a second week.
Michael Klein, Philly.com
Michael Klein, Philly.com
One of the city's biggest casting directors, the owner of a car-rental company, the Teamsters health-and-welfare fund, the Greater Philadelphia Film Office and more than 1,000 crew members and extras who worked on a recent Philly-shot Bollywood film are crying foul.
They say their final paychecks and payments -- well over $100,000 worth -- have bounced, and producers are not responding to their calls and e-mails. Extras had been told to hold the checks till Jan. 9.
Dharma Productions, one of the biggest film studios in Mumbai, contracted with Australia's Swish Group to produce the romantic thriller starring real-life couple Saif Ali Khan and Kareena Kapoor. Swish's Mitu Bhowmick Lange -- who praised Philadelphia to the heavens in an interview three months ago -- is not answering her phone.
Michael Klein, Philly.com
Ryan Seacrest starts Monday on Q102.
His syndicated On Air With Ryan Seacrest -- music and shtick -- will be heard weekdays from 10 a.m. to 1 p.m. (not 1 to 4 p.m., as station insiders had been suggesting).
Sign of the times: This will create a seven-hour block of syndication that starts with Elvis Duran from 6 to 10 a.m.