Hot pot - that Chinese DIY cooking experience - is the new draw at Jane G,'s the high-style Sichuan specialist at 20th and Chestnut Streets.
For $35 a person (the whole table has to order it), you choose two broths out of "fire pot chili," chicken, or vegetable, which comes out in a tabletop cooker. Add in sauces (such as sha-cha) and a staggering assortment of ingredients such as sliced beef and lamb, tripe, pork, fish balls, udon noodles, enoki mushrooms, frozen sponge tofu, fish tofu, lotus root, and pork dumplings.
Best of all, you get a highly social experience, even if you may have to fight over the last lobster meatball.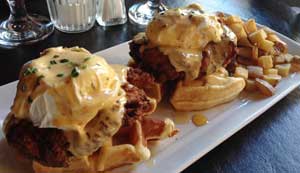 Stick to your ribs. Chef Justin Swain's new brunch menu at Rex 1516 (1516 South St., 267-319-1366) has "hearty fall/winter" written all over it. I refer to one signature dish: the Chicken & Waffles Benedict ($13, at right), which features fried chicken, Belgian waffles, Creole Hollandaise and poached eggs. You also get a side dish. (Not a stent.) .. Speaking of ribs: Cheu Noodle Bar (255 S. 10th St., 267-639-4136) has added smoked fish ribs (served with house-made tater tots and miso truffle sauce) to its menu. Cheu is also extending a 15-percent discount to people in the industry; proof of employment is required and extends to pay stub, chef's coat, or apron, etc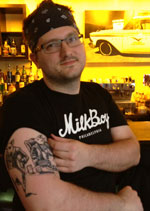 MilkBoy (11th and Chestnut Streets, 215-925-6455) has obtained the chef services of Pumpkin and Lemon Hill alumnus Joel Mazigian.
His menu - and you really have to try the Hangover Burger ($13) with Thai chili mayo, grilled onion, house bacon, egg, American cheese and pickled peppers (even if you're not hung over) - is here.
That's Mazigian and his pork-theme tatts.