They do Mediterranean at Barbuzzo, Mexican at Lolita, and Spanish at Jamonera (after an Indian sojourn with the now-gone Bindi).
The queens of 13th Street - Marcie Turney and Valerie Safran - are planning to add a red-gravy, immigrant-style Italian restaurant to their holdings.
This summer, they'll go down the street to open Little Nonna's at 1234 Locust St., which was the last incarnation of Fish beneath the Independent Hotel. In March, Safran/Turney agreed to take over the space as well as the spot on the southeast corner of 13th and Locust Streets that previously (briefly) was Rhino Bar.
Little Nonna's, a cozy 37-seater plus patio seating, will be set up to resemble an Italian grandmother's living room, circa 1950, with lace curtains, red banquettes, reclaimed oak table tops and mixed-and-matched vintage chairs, twinkling overhead lights, hanging copper pots, and faux flowers.
Wine list will be all Italian. Cocktails will be served as individual portions and in liter bottles for sharing. The signature Negroni will be served in a mason jar with one large block of ice.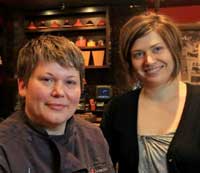 Turney has been asking around for recipes - some of which she'll present straightforward as classics (e.g. crabs and spaghetti with San Marzanos, crushed red pepper and garlic bread; house-stretched mozzarella with pickled pepperoni and grilled Liscio's seeded bread; oysters oreganata; house-ground meatballs served by themselves or over polenta) and others that will be played with a bit (e.g. goat's milk ricotta stuffed shells with a fresh baby tomato sauce).
She'll crowd-source recipes, too, so if you want to share your own nonna's Bolognese, for example, maybe she'll add it to the menu.
Photo of Marcie Turney (left) and Valerie Safran by Michael Bryant / Staff Photographer