Lorenzo & Sons, the South Street pizza landmark destroyed by fire on June 27, 2012, is targeting a soft reopening on or about April 29, says owner Giuseppe Pulizzi.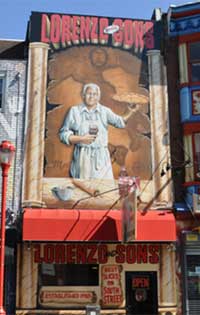 Pulizzi is in painting mode. The next step will be a wrapping of the building. Pulizzi said he got one of those companies that wraps buses to create a facade-size covering for 305 South St. The original facade had wood over the windows, which would not be allowed now under zoning regs.
The wrap will cover the windows, which will be operable. He also is having an awning installed, and a series of LED lights to make the building stand out at night.
Lorenzo's - whose pizzas measure 28 inches across - is anything but subtle.