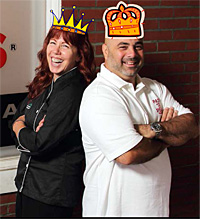 Two South Philadelphians at the vanguard of their respective professions are getting together for a little fun competition.
Frank Olivieri, owner of Pat's King of Steaks, who slices and chops beef on well-seasoned grills for a living, will take on Christina Pirello, the vegan chef, cookbook author, and TV personality (Christina Cooks), in a cook-off from 2 to 5 p.m. Oct. 27 outside of Pat's at Ninth and Wharton.
A $10 ticket, available at Pat's or via www.christinacooks.com, will get you a sandwich and voting rights.
Can Pirello's vegan "steak" outpoll the classic beef version?